Justin Storm, Creston's dedicated lumberman
Continuous learning and application of that learning keeps Justin Storm interested and engaged in the lumber business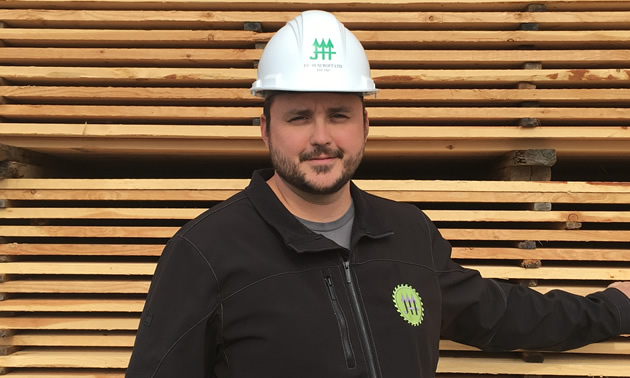 Justin Storm began his career with J.H. Huscroft Ltd. in 1999, when he was 16 years old. He apprenticed as a millwright and learned the lumber business from the ground up, becoming the sawmill manager in 2007 and general manager in 2013.
Storm was nominated for our "40 Under 40" list by Heidi Muller, who said, "Justin Storm, manager and president of J. H. Huscroft, is one of the youngest and most innovative managers in the lumber industry in the Kootenays. He's dedicated to keeping the company local and employs local people with a shared dedication to a small, vibrant community."
Storm answered a few questions for us about his work and his community.
How did you come to choose this line of work?
I started out in an entry level position, worked up through maintenance, management and then into ownership.
What is it about your work that has you excited to get out of bed in the morning?
The challenge of learning and improving different aspects of the business and the daily interaction with the family of co-workers. Implementing new technologies.
Where do you like to spend your downtime in the Kootenays?
With my wife and two children, boating, camping, skiing and curling.
What has motivated you throughout your entrepreneurial/business journey?
Providing substantial employment for the community. Being a small family-owned and -operated company competing against the larger corporations.
What makes the Kootenays attractive to an entrepreneur?
Truly what makes the Kootenays attractive to an entrepreneur is the lifestyle and the surroundings of where we live—our backyards are outdoor adventure and recreation playgrounds for all ages. Who wouldn't want to build a business here?
What trends have you observed in your community that might impact the local economy in the next five years?
The Creston Valley has built an impressive momentum that recognizes that collaborating as a community and a business community is important and that it will build a stronger local economy. This momentum is exciting to watch as a business owner. It's reassuring that the community is behind keeping the doors of businesses open and increasing opportunities for our community.
Did we miss anyone? Meanwhile, if you think we missed someone who should have been nominated, we'd be happy to consider them for inclusion on next year's list. Click here to nominate your pick for the 2018 40 under 40 list.
2016 40 Under 40 List See who made the 40 Under 40 list in 2016.