Jordan Strobel, born to be in business
For young Jordan Strobel, entrepreneurship has an irresistible appeal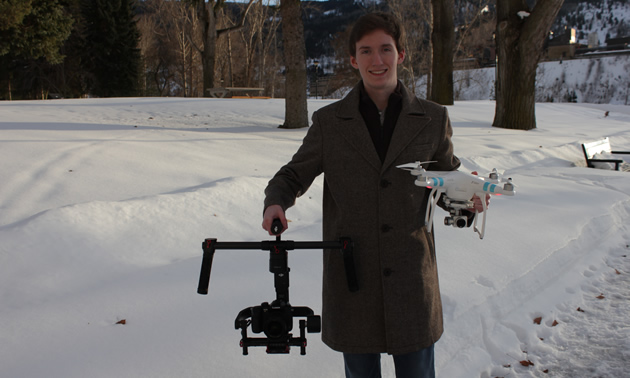 At 18 years of age Jordan Strobel of Rossland, B.C., partnered with Keelan Bourdon to found Apex Multimedia, a video production and content marketing company that has already seen some remarkable success. This was Strobel's second venture into business, after he and Tim Baldwin founded Ebon Supply Company, a sports apparel company, when they were 15.
We asked Strobel, who at 19 is a certified drone pilot and a full-time university student, a few questions to learn a little about what drives him and what he's learned.
How did you come to choose this line of work?
Being an entrepreneur has been in my blood since I was in elementary school. I started my first "business" when I was nine years old, with a production company known as Electricitee Productions. My first real venture was Ebon Supply Company, which Tim Baldwin and I started in Grade 11—and we took first place at the regional Junior Dragons Den competition. After graduation, I began pursuing my passion for video production more seriously. This became Apex Multimedia. This is the direction my life has always been pointing as long as I can remember. Being an entrepreneur is simply who I am.
What is it about your work that has you excited to get out of bed in the morning?
There really is nothing like working on something you love. It honestly doesn't even feel like work to me. I often find myself taking a "break" from school work to do work for one of the businesses, and the funny thing is even though I'm still working, it feels like a break—the work just feels natural to me.
Where do you like to spend your downtime in the Kootenays?
We live in an incredible area, and I try to make sure I set aside some time to go explore it. I just like to get out and experience as much of this area as I can, dirt biking, skiing, fishing, canoeing, or a handful of other things.
What has motivated you throughout your entrepreneurial/business journey?
Whenever we find ourselves struggling or stressed out, my business partner and I remind ourselves that this truly is the dream. Dreams aren't built in a day, and we recognize that there will be struggles throughout the journey. However, without the struggle, how will you ever know when you reach success?
What makes the Kootenays attractive to an entrepreneur?
The Kootenays really do have a lot to offer, even if the region is a small market. I think the region is the perfect size for a small business to be very successful, and there is a powerful culture here that we feel is worth capturing and sharing.
What trends have you observed in your community that might impact the local economy in the next five years?
I think we're going to continue to see some major changes in the near future, primarily from the rapid changes in technology. I've noticed a lot of new small tech companies popping up all over the region. Since people can work remotely more easily now, I think more people will be coming to the region and we're going to start to see much more economic diversity in the area.
Did we miss anyone? Meanwhile, if you think we missed someone who should have been nominated, we'd be happy to consider them for inclusion on next year's list. Click here to nominate your pick for the 2018 40 under 40 list.
2016 40 Under 40 List See who made the 40 Under 40 list in 2016.