Jordan Perkins
Marketing guru, restaurant owner, mentor to his staff, artist and proud daddy—Jordan Perkins wears these hats and more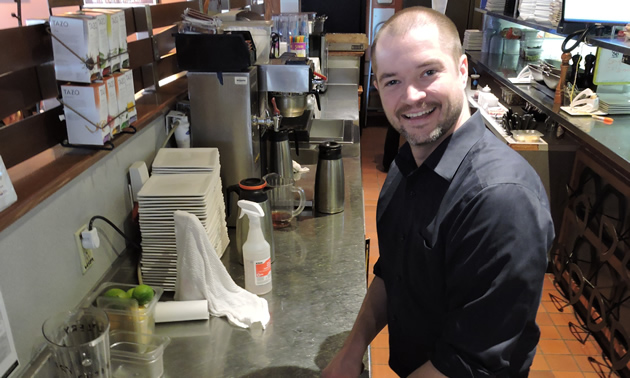 Ontario-born Jordan Perkins took over the Boston Pizza franchise in Castlegar, B.C., almost 10 years ago, when he was 26. Since then, he's involved himself in the community's economic development as well as its cultural scene.
Perkins has also become something of a big brother to his employees, mentoring and encouraging them to use every opportunity to better themselves.
How did you choose this line of work?
What inspired me was coming from a poor family—I wanted money. I was able to get a job at the age of 13, working in a pizza place, and that's what started me off. I also wanted to prove to myself that I could reach my goals with hard work and a Grade 12 education.
What gets you out of bed in the morning and excited to go to work?
It's the idea that I'm working to better my daughter's life. I want to make things easier for her. What I also like is helping my staff figure out life. We all have struggles, and keeping motivated is not always easy. I want them to know that if they're having a problem they aren't alone, and they can always talk to me.
What's your focus for 2016?
This year we are focusing on giving the best service we can. I'm hoping to develop two or more supervisors and retain as many staff as possible by treating them as we treat our guests. I'd like to partner up with some local businesses for cross-promotion. We will be doing some events with Endless Adventure—I like doing things with companies that showcase our geographical area. I believe Castlegar could be an outdoor adventure superpower and I'd like to support anyone who will help bring the outdoors people to our area.