Jana Skerlak
Jana Skerlak is a small business owner helping other small business owners build their online presence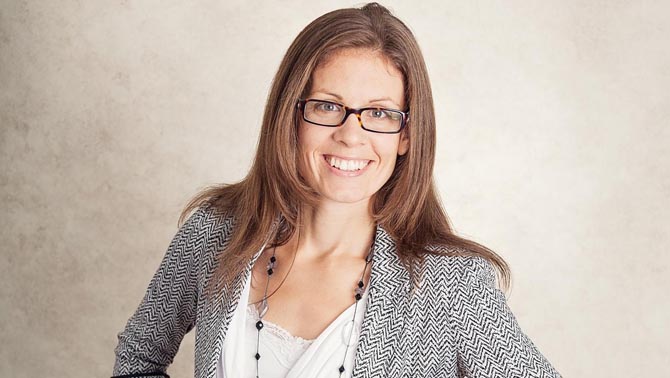 As an online marketing strategist, Jana Skerlak had to carve out a niche for herself in order to sustain her choice to live and work in the small town of Golden. Since 2009, Skerlak's business, Bullet Point Marketing, has grown to the point where it now serves a key link between the small business owners of Golden and the high-tech world of today.
As a free service to business owners, Skerlak also offers complimentary courses through Kicking Horse Country Chamber of Commerce and Tourism Golden that cover everything from understanding Google Analytics to harnessing the power of social media.
It's all very technical, but Skerlak breaks it down in a way that is easy to grasp and her customers have been happy with the results.
Below, she answers a few questions for Kootenay Business:
How did you come to choose this line of work?
I chose my line of work because I find it really balanced. It has aspects that are really technical, where I read charts and graphs and dissect mathematical information, but then it's paired with the creative sides of design, marketing slogans and understanding consumers and social behaviours. I just enjoy the balance of all that.

As for my background, I have a combination of computer science, communication and business management education. When I started my own business in 2009, I only specialized in creating websites. I very soon learned that along with a website launch, you now have this huge opportunity to put your website to work for you—keeping its content fresh, visitors engaged and ranking on top of Google's charts.

That's how my passion for Search Engine Optimization (SEO), Google Analytics and online marketing really began. Working with local small businesses, I learned that I could truly fill a gap and help in all things online marketing, not just the website build. In larger companies, this marketing role is filled with its own full-time position—but for smaller companies (and entrepreneurs especially), it also makes sense to have that kind of skill-set and expertise on your team—just more in a part-time or consulting type format. So I started advertising my help in overall online marketing, and it took off.

Now, I not only build websites, but I also help customers plan out a powerful online marketing machine, and make their website the 24/7 online sales cornerstone that it can be.
What is it about your work that has you excited to get out of bed in the morning?
I really love working directly with small business owners. A lot of decision making and discussions happen right with the person in charge, and as a team effort we usually create amazing results. It is really rewarding to see small businesses succeed and do better due to smart online marketing tactics. Many of my clients command a dominant position in their marketplace, and I love that.
What's your focus for 2016?
I'd like to work with more businesses further across the Kootenays—expand my work outside of Golden.
Why did you decide to become an entrepreneur in the Kootenays?
I love the outdoors (biking, skiing, climbing, etc.) and I love having all of those things right in our backyard. It gives me the necessary balance in life. You can't really find employment in my line of work in a small town, so becoming an entrepreneur was the only option to live here and still work in my profession. The lifestyle choice came first, followed by a way to create the type of work for myself that I truly enjoy also.