Enjoying the ride
For Andy and Shantelle Weir, running a business is like going snowmobiling every day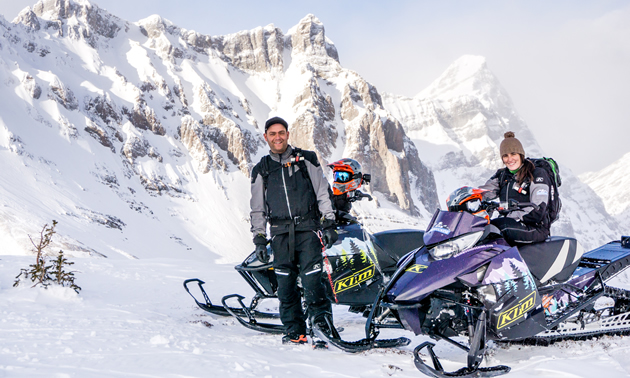 Andy and Shantelle Weir love snowmobiling so much that in 2010 they started Weir Boondocking. Based in Fernie, their business offers snowmobile riding clinics for both entry-level riders and experienced riders who are looking to develop their skills.
Less like tour guides and more like coaches, Andy and Shantelle find great joy in helping clients build confidence and improve riding abilities. With the Rocky Mountains as their training grounds, the Weirs can find the right kind of terrain to suit every kind of rider. Their business comes highly recommended and each winter gets busier and busier for this outdoor-loving couple.
Below, they answer a few questions for Kootenay Business:
How did you come to choose this line of work?
Some things just fit. We started out in 2008 thinking that guiding would be an amazing job, and then it turned out that every rider could use some coaching. We found that we had a knack for teaching the fundamentals of riding and that coaching built meaningful, long-term relationships with our clients. We're both passionate about what we do and look forward to what the future holds for us in the world of motorsports.
What is it about your work that has you excited to get out of bed in the morning?
Every clinic is different. Watching people progress and build confidence on the snow and learning to adapt our riding style to each individual is an exciting challenge every day.
Where do you like to spend your downtime in the Kootenays?
The funny thing is, we like to spend our downtime in the same place we spend our up time—in the backcountry. Sledding, fishing, dirt biking, mountain biking—basically anything in the outdoors.
What has motivated you throughout your entrepreneurial journey?
Every time we see the excitement of a client learning a new skill, which allows them to access new terrain, that puts a huge smile on their face. There's something very rewarding to us to see that progression. The clients who return year after year to keep building skills and accessing more technical riding is absolutely a driving factor. We like to push to see how far people can go.
Did we miss anyone? Meanwhile, if you think we missed someone who should have been nominated, we'd be happy to consider them for inclusion on next year's list. Click here to nominate your pick for the 2018 40 under 40 list.
2016 40 Under 40 List See who made the 40 Under 40 list in 2016.