Dawn English
Dawn English has opened Castlegar's first children's consignment apparel and toy store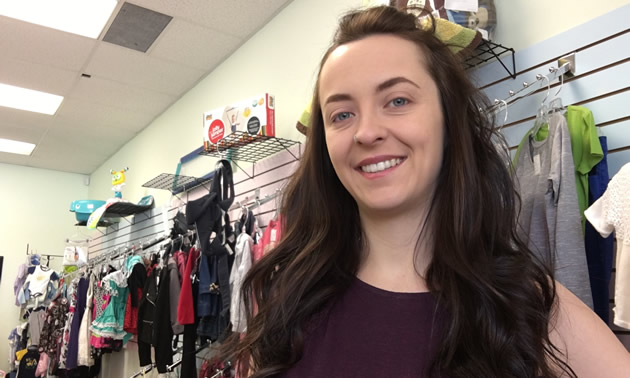 Dawn English of Castlegar opened her new business, Diggers and Daisies Children's Consignment, in October 2017, and already needs to think about expanding. English is her own bookkeeper, marketer and display artist, and her customers hail from the entire surrounding area.

English kindly answered our questions about her impressions of entrepreneurism in the Kootenays.
What qualities does a successful business person need in today's world?
1. Open-mindedness — Our world is ever so changing, and you need to be able to adapt. Change the way you think, change the way you market your product, change the way you sell your product. You cannot be sure that two days will be the same; you need to be able to be a chameleon and keep up on your professional development.
2. Confidence – don't dwell on "my business might not succeed"—be confident that you will find a way for it to succeed.
3. People skills – strong communication skills when talking to customers and employees, to grow and improve your business.
4. Strong work ethic/discipline – sunup to sundown, you're working on making your business the best it can be.
Finish this sentence: Entrepreneurs need a lot more ___.
Time in the day!
What's a common myth or misconception about entrepreneurship?
Entrepreneurs have "lavish" hours. Wrong—unless you're Mark Zuckerberg and you have millions of people throwing money at you. There's nothing lavish about all the hours put in to get your business off the ground. You give up a major chunk of time and I've missed a number of events while I was getting the store ready to open. And now even, from bookkeeping, getting clothes ready to be put out or rearranging the store for a sale, I miss out on things. I may joke about "taking the afternoon off" but it's actually probably because I have to play taxi and run my son all over town for appointments or lessons of some sort. Then people always say, "Must be nice!" but I definitely make up for it later, whether it be that night or the weekend when everyone's at happy hour. Late nights and work-filled weekends are the norm for the first little bit, and I'm still not out of that rut. I am constantly answering emails and Facebook messages at all hours of the day and night. Being your own boss comes at a price and really, you work 24 hours a day!
What makes the Kootenays attractive to an entrepreneur?
The Kootenays are such a good mix for work-life balance. Work hard, play harder! We have great weather, the lakes and mountains are beautiful and the community is so compassionate. There's always something to do, for everyone, no matter what season. Kootenay time is the best time!
What trends have you observed in your community that might impact the local economy in the next five years?
Staying LOCAL! People are understanding that buying local and keeping our money here is huge for our little community's success. Farm to table is big, with local farmers feeding people at local restaurants. There are businesses being sold and new businesses opening, from a new nightclub to personal trainers to new restaurants. With fresh starts and new ideas happening, it means we have more options to keep our money here. The city has hired an economic developer to help revitalize our tiny slice of heaven as well. There's lots going on here and I see great things happening for our future.