Dave Madden
Construction contractor Dave Madden of Nakusp is meeting impressive standards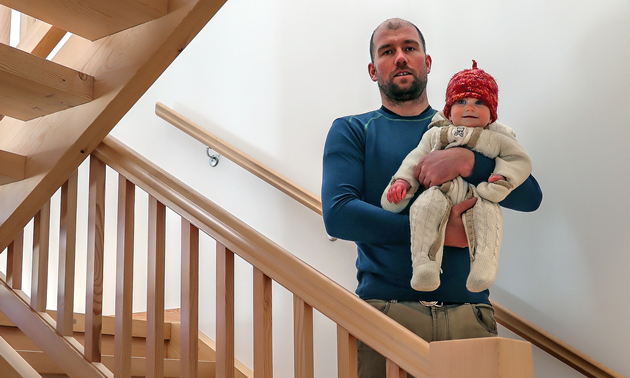 Dave Madden of Madden Timber Construction Inc. in Nakusp, B.C., is the first contractor in the Kootenays to construct a building that meets the highest standard of energy consumption worldwide, set by the Passive House Institute. The beautiful multi-unit residential facility, certified in 2017, is set on the waterfront in Nakusp.
Madden kindly answered a few questions for our "40 Under 40" list.
What qualities does a successful business person need in today's world?
It is important to focus on areas of your business which are profitable and tasks which you and your employees enjoy. We both manufacture the wood products and provide the design and construction in-house. Our clients are provided with high quality homes built from local materials.
Finish this sentence: Entrepreneurs need a lot more _____.
Entrepreneurs and expanding businesses in the West Kootenay manufacturing sector are faced with a shortage of suitable industrial and commercial land. Small-scale wood manufacturing and construction have potential to expand in the Kootenays and need support from all levels of government.
What's a common myth or misconception about entrepreneurship?
The Kootenays may feel detached from the rest of the world at times, but these days materials and products are shipped all over. Many businesses are very successful at manufacturing and shipping their products to faraway markets. I would like to see more jobs created in rural B.C. so families can live here and communities can prosper.
What makes the Kootenays attractive to an entrepreneur in your sector?
The Kootenays offer a great supply of high quality wood, which is ideal for value-added manufacturing business and wood construction. We have a culture of heavy timber construction and woodworking, and there are many skilled craftsmen in the area.
What trends have you observed in your community that might impact the local economy in the next five years?
Like most of rural B.C., Nakusp and area depend largely on forestry resource jobs. Moving away from the big forestry model will allow the rural B.C. economy to better utilize our resources and adapt to the future.