Danielle Labelle
This dedicated dance instructor helps her students reach their full potential.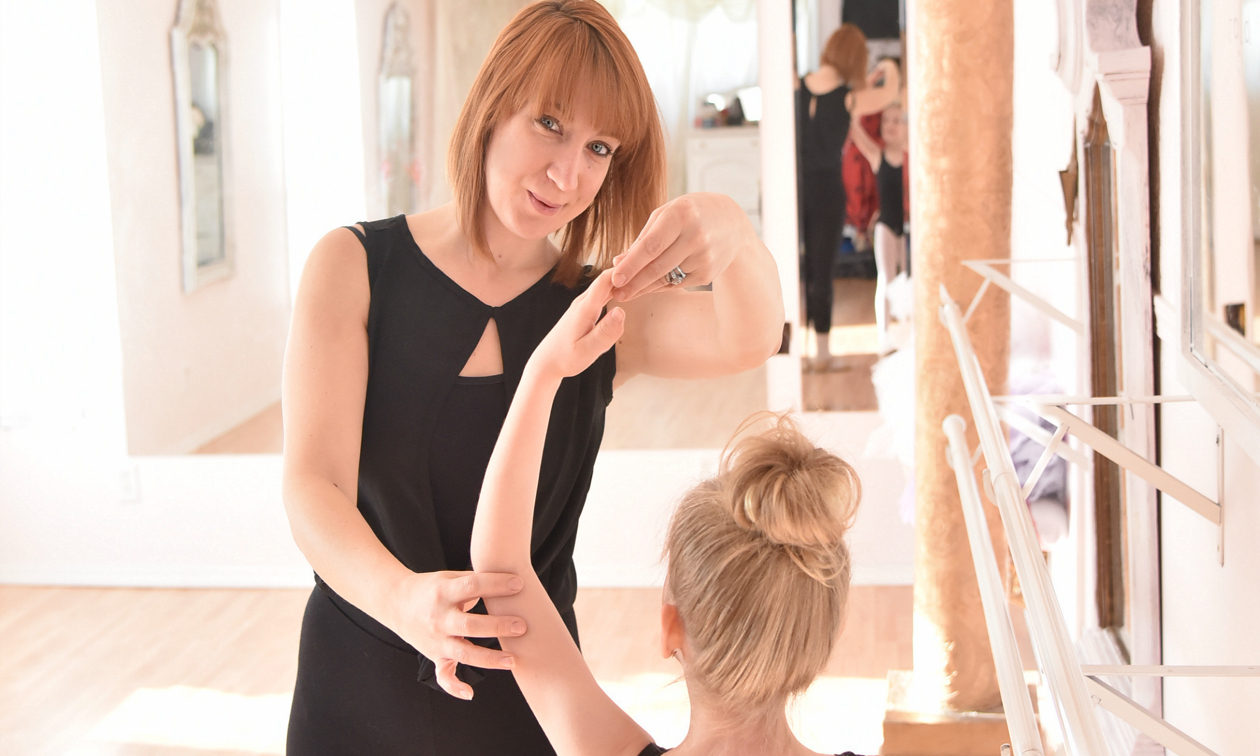 Danielle Labelle teaches classical ballet to young students aged three to 15, and also holds adult classes at Studio Labelle Dance in Fruitvale. Her inspiring approach and kind, patient demeanour were mentioned multiple times in the nominations she received. Labelle supports her dancers in reaching their personal goals and she breathes creativity into every aspect of her business and life.
How did you come to choose this line of work?
I studied ballet obsessively almost my entire life. Dance was my world growing up. I moved away from the Kootenays to pursue a dance teaching apprenticeship/career and in adulthood stepped away from dance a little… (dance pun!) After moving happily back home to the Kootenays, I had my daughters. Dance seemed the perfect fit to have a career teaching and be home with my babies at the same time - we were lucky enough to be rebuilding at the time of the decision and built a ballet studio into the lower level of our home. Now with almost 80 students it feels amazing to see the success of all that determination and sacrifice myself and my parents put into my dance career when I was young grow into an exciting company that is a thriving part of our community.
What is it about your work that has you excited to get out of bed in the morning?
Easiest question ever. You should see my students' faces as they arrive to class, or master a new technique and you wouldn't need to ask that question. There is something magical about ballet for young girls and boys and that excitement is contagious!
Each and every student I have ever taught holds space in my heart and I am so grateful and humbled to have a part in helping my students see the beauty in dance and their own abilities. Every time they get up on stage at our recitals and hear the applause, they are given value and confidence - and the poise and passion it breeds is immeasurable. I truly have such a great love for my students I seldom call what I do a "job" and they are why I get out of bed, as you said.
Where do you like to spend your downtime in the Kootenays?
My husband grew up dying to live in the mountains so now that we do the Kootenays are unparalleled for a conscientious and adventurous lifestyle. We RV most of the summers and have found some amazing secluded lakes and stunning spots to enjoy. Winter, of course, brings the hill (Red mountain is home, although after an accident I had a few years back my confidence is shaky and I tend to watch my hubby and the girls have fun at the hill while having a bevy at Rafters as opposed to joining them but I am 56 per cent determined to try again soon). Between the endless activities we choose from I also love that in the Kootenays there is always a yoga class to catch or a farmers market to explore - I mean we get our eggs from chickens my daughters hug and gardening is like a religion here!
What has motivated you throughout your entrepreneurial/business journey?
I am always and forever a creatively driven person. I tend to go over the top in all areas of my life and my studio is a constant reflection of that. My motivation is (asking myself) "what can bring the wow factor to that?" Whether it is in my choreography, recital staging, ideas for class, my photography or studio images, or even my interaction with students…. the creativity is always the driving force. That, and a quiet determination to achieve perfection that I may have picked up from years of studying classical ballet.
What makes the Kootenays attractive to an entrepreneur?
Because I work with children I see a very special demographic of parents who are massively invested in giving their children substance, education and culture. I think maybe because we are such small communities and many of us have chosen to be here as opposed to city life, we actively create an environment to build experiences for our children. This is a wonderful perk of our community and it really does translate into people truly believing in support of small businesses.
What trends have you observed in your community that might impact the local economy in the next five years?
I think it is apparent in most corners of the Kootenays that we are growing and developing in new and fresh areas and it is so exciting! I think that we have the perfect balance of passion for new endeavours and love of wholesome community in the Koots that will really welcome new prospects. In five years we will be a force!