Chad Wobshall: Creston's great crate company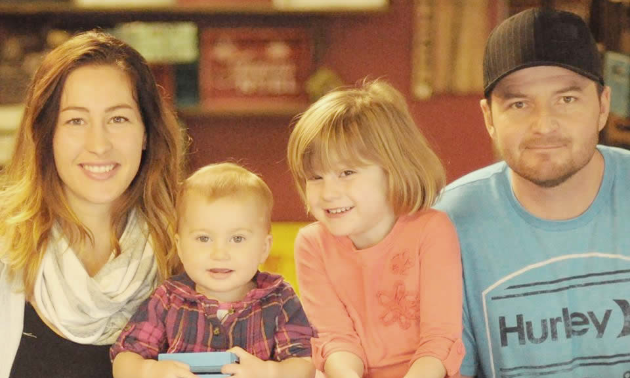 Chad Wobshall has grown his business—Kootenay Crate Co.—from the ground up and began by building crates out of his farm garage. His unique and colourful vintage crates can be seen in his downtown Creston shop as well as in major suppliers—like Leon's Furniture stores—across Canada.
His entrepreneurial spirit allows him the freedom to spend time with his young family, enjoying the beautiful Creston Valley. Chad is seeing a growing trend of young families moving to Creston to take advantage of the warm and business-friendly community, but it's his hometown.
How did you come to choose this line of work?
My wife and I purchased some old crates at a yard sale. I painted them for her to use as planters. After that, some friends wanted some and I made some for them. I eventually started selling them through buy-and-sell groups. Things progressed from there and we eventually opened a store.
What is it about your work that has you excited to get out of bed in the morning?
The freedom that self employment allows. The ability to be creative with new designs and ideas every day. Watching my business grow and develop into what I would like it to be.
Where do you like to spend your downtime in the Kootenays?
My wife and I play a lot of slow-pitch. We travel in the Kootenays with our family and friends to several tournaments every summer. We spend a lot of afternoons at the Goat River with our two children.
What has motivated you throughout your entrepreneurial journey?
Wanting a good future for my wife and kids motivates me. Knowing that if I work hard at my business, I will have more freedom to spend with my family.
Anything else you would like to tell us about your business?
We are very appreciative of all the support we have received since starting our business.
What makes the Kootenays attractive to an entrepreneur?
Beautiful climate, supportive communities. Beautiful lakes and rivers. The close proximity of towns and cities makes traveling to neighbouring towns on day trips easy.
What trends have you observed in your community that might impact the local economy in the next five years?
We have noticed an increase in young families moving into Creston over the past few years. More young families will create a need for more family-oriented businesses.
Did we miss anyone? Meanwhile, if you think we missed someone who should have been nominated, we'd be happy to consider them for inclusion on next year's list. Click here to nominate your pick for the 2018 40 under 40 list.
2016 40 Under 40 List See who made the 40 Under 40 list in 2016.