Cranbrook's Corduroy Life
Aaron and Sharon Shuttleworth enjoy the creativity and freedom of doing things their way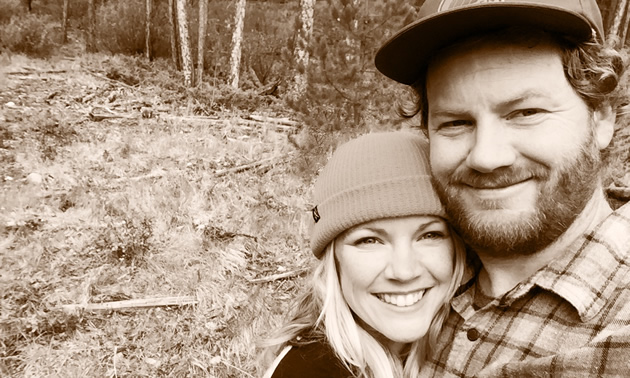 Three years ago, Aaron and Sharon Shuttleworth left the big city of Vancouver and moved to Cranbrook to be closer to family and enjoy a more relaxed, outdoor-oriented lifestyle. With them came Corduroy Life, an independant sales agency they started in 2010, which represents clothing and apparel brands for the surf, snow and outdoor industries.
From ski resorts to golf courses and breweries, the Shuttleworths work with a variety of retailers across Western Canada. Currently, they represent HippyTree and Pukka Custom Headwear.
Below, Sharon tells us what she and Aaron enjoy most about their work:
How did you come to choose this line of work?
We both started as sales reps for other brands. Aaron worked for Burton for a few years, then we met each other at a Quicksilver head office (based in Vancouver) where I was a Roxy rep and Aaron was a Quicksilver rep for Western Canada. It was a few years later when we were given the Quicksilver Wetsuit division to take independently. It was at that time we started our agency.
What is it about your work that has you excited to get out of bed in the morning?
We have some really nice accounts that we get to work with so seeing them have success with the product we sell is great. With Pukka, we have a chance to be creative, and we get to see our accounts get creative and take pride in what they're creating as well, so that's fun too.
Where do you like to spend your downtime in the Kootenays?
We moved here from Vancouver so we definitely enjoy the slower pace and finding our own areas outside to enjoy peace and quiet.
What has motivated you throughout your entrepreneurial journey?
The freedom to be your own boss is always nice. I think, like most people, pride is our biggest motivator—pride in doing our job our way, not being the pushy salesperson stereotype.
Did we miss anyone? Meanwhile, if you think we missed someone who should have been nominated, we'd be happy to consider them for inclusion on next year's list. Click here to nominate your pick for the 2018 40 under 40 list.
2016 40 Under 40 List See who made the 40 Under 40 list in 2016.