Clint Eaton: Keeping it in the family
Raised with the spirit of entrepreneurship, Clint Eaton has lived up to his parents' legacy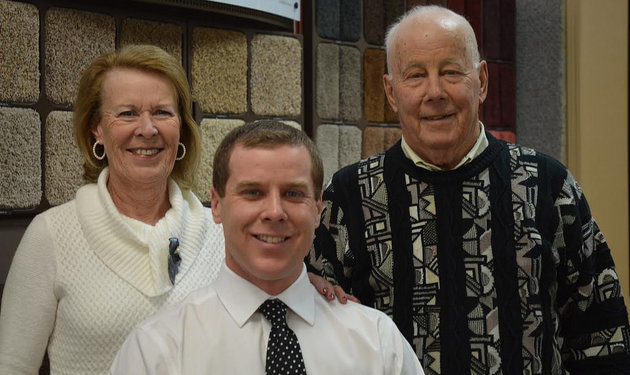 Clint Eaton has grown up with a strong work ethic and business sense. His entrepreneurial passion was passed on to him by his parents, who started Cranbrook Flooring Ltd. over 42 years ago.
Eaton was nominated by Danielle Cardozo...here are some of her comments about this skilled businessman, dedicated partner and parent, and inspirational person:
"I truly believe that Clint is incredibly deserving of being named (on the list for) 40 Under 40. Almost two years ago, Clint took over Cranbrook Flooring, as his father passed away from cancer. Since that time, I have watched Clint put an incredible amount of time, energy, and innovation into his 42-year owned family business. Clint takes pride in his work. Never in a million years would I have thought the flooring industry is exciting! Yet, the passion he has for it is infectious. He has gotten me excited about going to flooring shows, seeing the brands he carries being featured in design magazines, and coming up with new ideas and ways to use flooring. He has taught me that floors are not just aesthetic. They're not just a product he sells."
"Clint explained to me that his rule of thumb, passed down from his father, was to question if he would be able to live with it in his own home? If the answer is no, it needs to be rectified - even if it means you lose money. It's the right thing to do. He invests in his team. His team consists of seven full time in-house employees and seven full time contracted installers. His employees have worked for his dad, and now Clint, for many years. It is clear his father Harold invested in his staff, and Clint has very honestly adopted that approach. His team is a flooring family. A family who spends the holiday season, summer camping trips, and barbecues together. It is truly inspiring to me as a new business owner."
"Clint is someone who inspires me and challenges me every day, just by being the person he is."
We wanted to know more, and Eaton was kind enough to answer our questions.
How did you come to choose this line of work?
My dad, Harold Eaton, started Cranbrook Flooring in 1975. He and my mom, Peggy, built it to what it is over the past 42 years. I grew up in the store. It's all I knew as a kid. I played in the carpet rolls after school. I worked at the store when I was younger. Eventually I went away to work in the oil fields, but it wasn't long before I came back. The family business was where I was always meant to be.
What is it about your work that has you excited to get out of bed in the morning?
It's a hard thing for some people to understand that flooring is an exciting and meaningful industry, but it is. Floors can set the tone for an entire room. Trends change, taste are different, expectations are high. We are constantly educating ourselves. The best feeling is watching a family walk into the home they just built when the floors are complete. You can live off those smiles.
Where do you like to spend your downtime in the Kootenays?
At home with my family. I'm a lucky guy. I have a great family and we live on a few acres just outside of town. It's beautiful. Admittedly, I love work. My girlfriend and I are both business owners and work way too much. So when we do get downtime, we enjoy the simple things. A microbrew on the back deck at sunset. There's few things better than that.
What has motivated you throughout your entrepreneurial/business journey?
My Dad's legacy. He passed away two years ago and I want to honour him. He built Cranbrook Flooring from the ground up. He was humble about it, but he was proud of the business he and my mom built. I'm proud of how he ran it—always with integrity. Now I'm continuing that. I'm raising my own family in it. It's my kids playing in the carpet rolls. And when I'm facing a difficult situation, I ask myself, "What would my Dad have done?" It's my hope that one day my kids will be asking that question.