Charlotte Ferreux: Coach and founder
This life coach doesn't take many timeouts, except to accept awards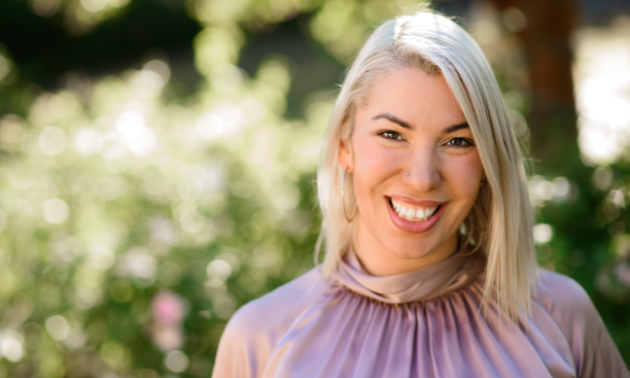 Castlegar's Charlotte Ferreux is passionate about helping others reach their highest potential. Outside of being a Certified High Performance Coach, she is the founder of Thrive Consulting. Not to mention her brand and podcast, Change by Choice, where she divulges the inspiration for her coaching.
Ferreux has 20 years of experience in leadership development and senior management roles. She is the board vice-president of her local chamber of commerce and sits on the Community Futures Central Kootenay board of directors, where she is able to give back to the business communities. She also teaches spin classes at Oranj Fitness and has a strong background in health coaching.
Ferreux was nominated by Don Freschi who said, "I have been working with Charlotte for the past two years. I was so impressed with her many talents (HP coaching, human resources, social media, etc.) that I hired her as my operations director for On The Fly Productions (North American network TV shows). Charlotte is on numerous boards in our area and always offers valuable, honest input. Charlotte will definitely be someone under 40 that will accomplish big things moving forward."
Ferreux answered a few questions posed by Kootenay Business.
How did you come to choose this line of work?
After working for lululemon Athletica for seven years, I came back to the Kootenays to raise my son (and now daughter). Five years ago, I decided to create a consulting company (Thrive Consulting) that specializes in helping businesses create a people-focused culture through the implementation of the right systems and processes, and the dig-deep approach to leadership development. Back in 2015, one of my mentors introduced me to high performance coaching and I was hooked. I became certified a few months later and started doing a lot more one-on-one coaching with my clients. All of these steps helped me create my brand and podcast, Change by Choice, and I most recently was scouted and hired by Growth as a high performance coach to mentor a world-wide client base.
What is it about your work that has you excited to get out of bed in the morning?
I get to help people level up their lives; they become more productive, develop stronger relationships, communicate more effectively, generate more financial success and have more clarity about themselves and their goals. I also get to work with businesses that are looking to build stronger teams and make a larger impact in their communities. I'm blessed to do what I love every single day.
Where do you like to spend your downtime in the Kootenays?
I spend my downtime with my children, my family and friends. My children are still young, so I try and do activities. We go to the Millennium park/ponds and lakes in the summer. My son started up hockey so this takes up lots of time in the winter and I will be getting them out on the hills next year. We love going to Ainsworth and taking the Balfour ferry. We live in such an amazing area, I try and take in as much as I can.
What has motivated you throughout your entrepreneurial journey?
My desire to help as many people as I can, and the strong belief I have in myself and my ability. I want to show my children that you can create a life you love through hard work, passion and perseverance. I have also surrounded myself with some of the most amazing mentors. They help guide me through this crazy entrepreneurial journey. They are a reflection of where I want to go in life. If they can do it, I can do it.
Did we miss anyone? Meanwhile, if you think we missed someone who should have been nominated, we'd be happy to consider them for inclusion on next year's list. Click here to nominate your pick for the 2018 40 under 40 list.
2016 40 Under 40 List See who made the 40 Under 40 list in 2016.