Carina Klassen
Carina Klassen promotes low-environmental-impact living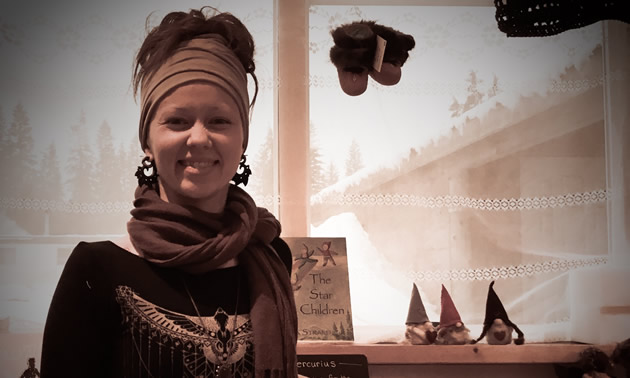 In January 2018 the business and arts communities of the Slocan Valley welcomed Spinning Fables Children's Apparel & Crafts, owned and operated by Carina Klassen. The shop features new and gently used children's clothing and toys, and fibres from locally raised sheep.
Klassen talked with us about her personal philosophy and her approach to entrepreneurship.
What qualities does a successful business person need in today's world?
To identify the junction where one's sense of purpose and values meet a true need in the world, or in one's own community. This serves the whole. This is a quality that today's world needs in successful business people.
Finish this sentence: Entrepreneurs need a lot more ___.
Grace and empathy. There is a lot of risk involved in starting up one's own small business. Often a big investment of time, money and love have gone into the endeavor. There is self-doubt. How will this offering be received? We can all improve our world by being more gracious and understanding of each other.
What's a common myth or misconception about entrepreneurship?
I suppose a possible misconception is that all entrepreneurs bring in big money. It is often not recognized that small businesses, especially retail, have so many overhead expenses and are often just struggling to survive, especially in the early years.
What makes the Kootenays attractive to an entrepreneur?
The region of the Kootenays that I live in is the Slocan Valley (Sinixt Territory). One thing I love about the Valley is that what you find here is small businesses rather than large corporations and chains. The restaurants, cafes, grocery stores, accommodations, retail stores—they're independently owned, often family-run businesses. There is so much space for creativity and originality when this is the case, and also an increased ability to serve the specific needs and desires of the community. Local businesses support the community and the families who live here.
What trends have you observed in your community that might impact the local economy in the next five years?
The 2016 projection for the Basin-Boundary Region, from the Rural Development Institute, is that the population of seniors will increase by over 40 per cent over the next 20 years. From my own observations, it also feels like more and more young families are moving to the Valley. This creates an amazing opportunity for intergenerational learning and collaboration.