Brad Pommen
The president and founder of the Nelson Tech Club is doing his part to make Nelson the next Canadian "Silicon Valley"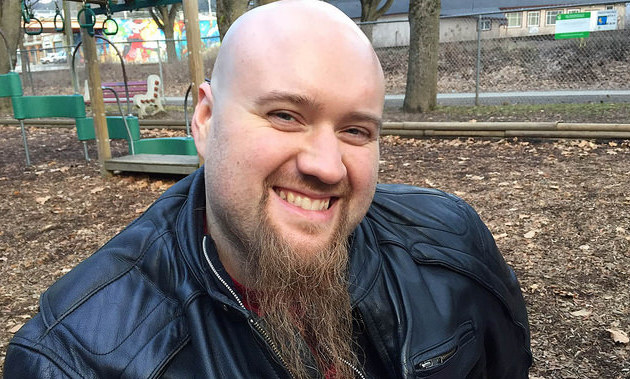 Could Nelson, the tech hub of the Kootenays, become the next Canadian "Silicon Valley?" If the city takes on that moniker, it will have, in large part, Brad Pommen to thank.
Pommen is the president and founder of the Nelson Tech Club (NTC) and has brought a desire to make technology fun and accessible to everyone—especially the youth. What started as a few friends meeting in a small basement five years ago has grown to an all-ages, weekly event called "WednesdayHackerspace." Beyond their regular meetings they have formed partnerships with Selkirk College and local school districts and have raised the collective technology knowledge within 160 kilometres of Nelson. That tech-friendly environment has contributed in attracting many talented STEAM (Science, Technology, Engineering, Arts and Math) advocates to move to the region.
About you:
Born and raised in Alberta, I moved to Nelson in 2010 searching for the perfect balance of the life and work in the Kootenays. Along with raising my two daughters (Abigail and Stella) with my wife, Amy, and living in Blewett, I work full-time in Nelson for CoreLogic, a local software technology company. With over 15 years experience as a computer programmer, entrepreneur and community advocate, I am driving technology education and adoption in the community and the Kootenay region in general. I sit on several local steering committees and actively lead the local technology scene as president of the NTC.
How did you come to choose this line of work?
Exploring science and technology has always been a passion for me. As a child, I was always inventing, exploring and taking apart my favourite toys. With very few options within the school system to explore technology subjects, I took it upon myself to endeavour in many self-directed technology explorations. Promoting the NTC in the community came about when I moved here and wanted to meet locals who also were technology enthusiasts. It started out small, in the back of computer shops with about 10 to 15 weekly attendees and has grown to an all-ages, weekly event that has up to 50 participants at our "WednesdayHackerspace."
The NTC is a community organization for technology enthusiasts who gather to share ideas, knowledge, resources and opinions in a friendly and collaborative atmosphere. We firmly put our money where our mouth is, living by our motto of "Build, Learn, Share." With support and partnerships with Selkirk College and KAST (Kootenay Association of Science and Technology), we have been highlighted as the defacto "go-to emerging technology experts" and are recognized as the "technology social glue" highlighting all areas of emerging technologies. We help raise the collective technology knowledge within every local school, district and college within 100 miles of Nelson. We eat, breathe and live technology every day within our own backyards, garages and basements.
What is it about your work that has you excited to get out of bed in the morning?
Technology surrounds us every day, and understanding how it works—that it is not simply magic—can be very empowering and influence everyone, but most especially youth, in amazing ways. When you make technology fun, accessible and non-intimidating, we are enhancing community vitality and sustainability to everyone with a curiosity and presenting it in a way that traditional educational models cannot address. A crucial step is incorporating activities and social events for youth, adults and seniors to explore technology subjects in open, safe and encouraging environments, such as Hackerspaces, Makerspaces, Tech Clubs, Fab Labs and business incubator environments, such as the new MIDAS facility and Lower Columbia Tech Club in Trail.
What's your focus for 2016?
Since the NTC started over five years ago, we have achieved over 300 registered members in Nelson alone. We have continued to flourish along with support from many local businesses, entrepreneurs and supporting associations to achieve public notoriety. Exploring the potential in the past few years, we see our reach continuing to expand our influence to Trail, Rossland, Castlegar, Slocan, New Denver, Kaslo and beyond. The past year has experienced a shift from steady linear growth to exponential growth, regularly reaching five to 10 per cent new registered participants per month. The primary goal of the NTC is to continue driving this exponential growth for the entire Kootenay region to exploit the natural talent already here, welcoming new talent to further grow this "Made in BC" technology resource and helping drive local technology careers and supporting entrepreneurship on the global scale.
Why did you decide to become an entrepreneur in the Kootenays?
The Kootenays offer a great mix of technology talent and diversity, with an important focus on community and lifestyle to create the ultimate balance of the two. Meeting new people, influencing youth career choices and providing "barrier-free" technology exploration to everyone interested have had many positive effects on myself and everyone associated through the NTC and our events, such as the yearly "RoboGames" which have seen a surge in participation. This year alone, we have more teams and participants than all previous years combined, and yet we're still seeing the demand grow exponentially year over year for future events.
Nelson and area have the potential to be the next Canadian "Silicon Valley," and every day we see more and more talented STEAM advocates moving to the region, participating and adding to the growth and success of a solid foundation. I am excited to see what we achieved in a short five years and the potential of where the next five years will take us.