Aidan McLaren-Caux: Getting back to nature
Aidan McLaren-Caux was inspired to build a multi-faceted business after the birth of his beautiful twin daughters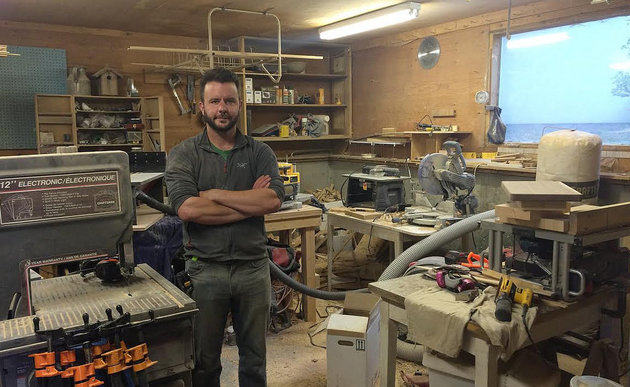 AMC Naturals is a woodworking and organic personal care product business in Nakusp, B.C. Proprietor Aidan McLaren-Caux takes his company very personally, as he was moved to create high-quality, natural, reasonably priced products after the birth of his twin daughters.
McLaren-Caux took some time to answer our questions about his business and his life in the Kootenays:
How did you come to choose this line of work?
There are two, fairly disparate, aspects to my business, so I will address each of them, although both were inspired by the birth of my twin daughters in 2012.
Woodworking: After my children were born, I was researching high chairs when I discovered a Scandinavian piece that I liked. Unfortunately, they were $300 each, and with two infants, the cost was somewhat prohibitive.
I had, throughout my life, always enjoyed tinkering with woodworking of one kind or another. Having studied the high chairs and drafting a modified plan of my own, I took the limited tools that I had and turned a small amount of framing lumber into the chairs I had envisioned.
After that, I began building all of the subsequent furniture for my home. Subsequently, after having accumulated a few more key tools, I realized that I had everything I needed to build an end-grain cutting board project that I had been eyeing up for many months.
I was given a large piece of cherry hardwood by the lovely, retired gentleman in Oliver, B.C., who sold me his used jointer. Once I had returned home with my new tool and after a few hours in my workshop, I emerged with a beautiful and functional end-grain cherry cutting board—and I still use it nearly every day!
I started making a few for friends and family and eventually took a few to a market, almost as an afterthought. The reception, however, was outstanding, and I spent most of my working hours last year either making more and different boards in my workshop or bringing them to market. Who knew?!
Organic personal care: Again, after my children were born, I was researching personal care products for my infant daughters, diaper cream, for example. I was horrified to learn that even the purportedly natural commercially available products were replete with chemical ingredients and preservatives that I wouldn't put on my own skin, let alone that of my newborn babies. So, after even more research into natural, organic, homemade solutions, I sourced out the requisite materials, ordered them and eventually starting making the products. Similar to the woodworking, I made some for family and friends, which became a big hit. So I scaled it up and started bringing my items to markets to great acclaim.
What is it about your work that has you excited to get out of bed in the morning?
There are two things that get me excited to start my work day at my home office/workshop.
For the organics, I am strongly committed to the idea that we should be treating ourselves, our families and particularly our children with natural solutions to day-to-day personal care concerns.
Furthermore, the efficacy of organically made items can often be even better than the synthetic, often petroleum-based, mainstream products. I have struggled throughout my life with a pretty painful and embarrassing skin condition, eczema, and I know how negatively affective it can be to both one's health and self-esteem.
So it brings no small measure of joy to me to be able to share a natural way to soothe people's issues, again particularly in children.
Secondly, the days that I get to spend in my workshop (of which there are many, as the woodworking is significantly more time-consuming than the personal care products) are exciting for a number of reasons.
Every piece of wood is unique, as are the infinite number of ways they can be put together to make any number of things. Even the variations of similar items made from the same tree can be fascinating to see, once the grains of the wood are revealed after some cutting or sanding.
Otherwise, much of woodworking is problem-solving, which is pretty exciting to me—even if it is sometimes frustrating. I have also been receiving a number of custom orders, which both personalizes each item and allows me to be creative artistically. Getting to be creative for a living, especially with something as visceral and natural as wood, is really a dream come true.
Where do you like to spend your downtime in the Kootenays?
As a parent of two four-year-olds, there isn't a lot of downtime, especially running a small business at the same time.
Having said that, when I do occasionally get some time to cut loose, an ideal outing for me would be to hike into a backcountry campsite in the mountains with all of my gear and my guitar.
Failing that, sitting around a backyard fire with a few friends and a nice bottle wine (and of course my guitar!) would be a close second. Other than hiking into the backcountry, I have always been a paddler. One of my next projects is to build a cedar-strip canoe that I can take my daughters out in.
A favourite spot of mine, at the risk of letting the secret out, is Gwillim Lakes in Valhalla Provincial Park. It's a pretty hard, but short, hike into a spectacular alpine campsite with ample chance for further exploration . . . and the views! It's a beautiful 360- degree panorama!
What has motivated you throughout your entrepreneurial/business journey?
My motivation throughout the first year of my business (it started officially in April 2016) has been my children. I've always wanted to raise them here (paradise, in my mind) and to be able to afford them a comfortable living in such a beautiful place while doing it on my own terms—those have kept me going, especially during the more challenging episodes.
I also want my children to know you can do your own thing, and if you work hard and apply yourself, you can be successful. Essentially, having the opportunity to raise my kids here while trying my best to be a good role model for them keeps me focused on making my business successful.