Alicia Gray
An eruption of praise for this Top 10 Business Person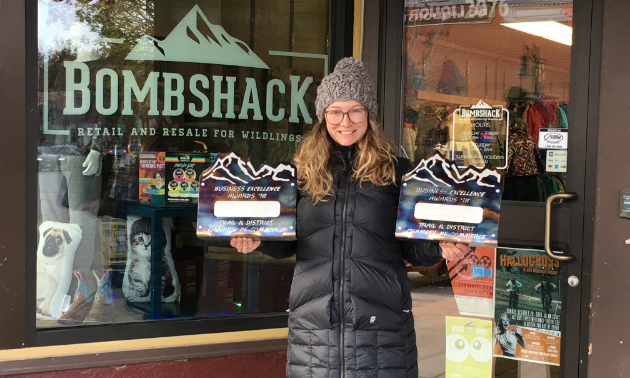 Bombshack Apparel has made an explosive impact in Rossland. In less than three years, the new-and-used children's clothing outlet has racked up plenty of awards, such as Trail Chamber of Commerce Business of the Year in 2016 and again in 2018. The business's success is due to owner Alicia Gray, who has also amassed her share of accolades, including Trail Chamber of Commerce Emerging Entrepreneur in 2018, Kootenay Business Top 40 Under 40 in 2017 and now as one of the Top 10 Business People of 2019.
Gray answered our questions below.
Why did you choose this line of work?
It was a perfect storm of desperately needing work, hatching a great idea, and being more satisfied as an entrepreneur than as an employee. Nothing else would have cut it and thus Bombshack was born.
What are some of your proudest accomplishments?
Knowing my kids have watched me build something from nothing and that they can do the same.
What's the biggest risk you ever took?
Starting the Bombshack. My aspirations for Bombshack definitely exceeded the depth of my pockets. It meant going all in with everything I had and nothing to fall back on.
At what point did you have real, tangible evidence that your business was going to make it?
This past fall Bombshack moved into a new space. I have acquired some pretty big accounts. Each new quarter is the best quarter.
What's changed in your business over the years, and what hasn't?
Bombshack continues to evolve into what I had originally envisioned it to be. Whenever I have added something that wasn't in the original scope, weeding those changes out again has proven best. With continued reinvestment in the business, Bombshack is eeking toward that original vision.
What practical advice do you have for entrepreneurs?
My advice would be to have a wishlist and priorities. Then let your BUDGET determine what and when. Patience. There is no point in buying (insert 'want' here) at the cost of putting yourself out of business. It took me almost three years to get the slush machine for my shop because the extra expense before then could not be justified, no matter how badly I wanted it.
Once you experienced some success, how do you maintain and grow your business besides just doing the same thing on a bigger scale?
I always look at Bombshack as though I were visiting the shop for the first time. If I walked in, what would I change, add, do better or do differently? Is there something Bombshack is missing? How I'm doing something might not be the best way, so what is? This keeps me moving forward and growing.
How do you challenge yourself daily?
Lists. I am an old-school, pen-on-paper list-making kind of person. I'm even starting 2019 off with a Filofax organizer. For all of the reams of work that come with owning a business, there is a sense of accomplishment as things are physically crossed from a list. It can be a challenge to not only get everything done, but to go above and beyond, finishing everything that should be done when no one is 'making' you. Lists do that for me.
Who do you admire, and why?
I adamantly admire the female entrepreneurs in our community. The Kootenays are home to the most incredibly hard-working, ingenuitive and entrepreneurial women I have ever witnessed. It's pretty humbling to stand alongside them.
What book/podcast/blog do you recommend?
Book: I highly recommend Rising Strong by Brene Brown. It was gifted to me by my sister. It has served me well in business and life.
Podcasts: I podcast for balance. I love being told a great story. I am a huge Murderino. Criminal is fantastic. I adore Reply All more than I should and, of course, Science Vs.
Blog: Although not a blog, Udemy is a pretty indispensable resource when you have a million things to learn and needed to know them all yesterday.
Finish this thought: Success is . . .
When work doesn't feel like work, and when it does, it is still worth it.