Outstanding women in the Kootenays
Outstanding women in the Kootenays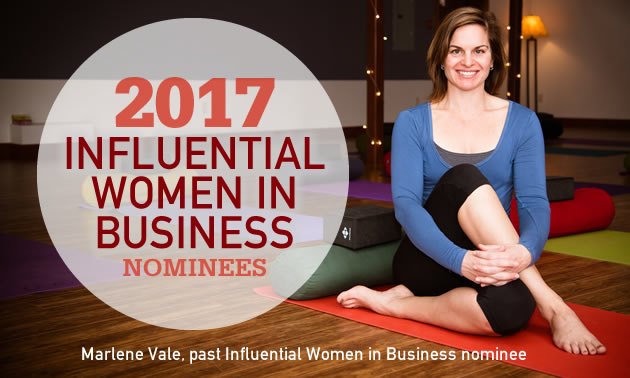 Welcome to our 6th annual Influential Women in Business Awards. Below is a list of the nominees—and a phenomenal list it is. Comments from nominators were inspirational in themselves.
These charismatic women are dynamic, talented and passionate entrepreneurs. They often serve as generous and inspiring mentors to other women and men. And these exemplary businesswomen give back to their communities by serving on boards, running events and—as one nominee said—having "a big presence in the community."
Another trait these women share is their creative spirit. In the words of their nominators:
"An original, thoughtful risk-taker"
"A bold innovator"
"Amazingly smart, always thinking outside the box"
"Big ideas are her specialty"
One of our nominees has a personal motto that could fit many of the others: "Your work is to discover your work and then with all your heart give yourself to it."
To summarize these influential women, they have "the whole package" as well as a smile on their face while they balance work and family.
To salute our nominees, Kootenay Business magazine is holding luncheons in the West and East Kootenay. Three women from each area will receive special recognition at these events.
| | | | |
| --- | --- | --- | --- |
| Business Name | Nominee | City | Region |
| OM Organics Boutique Apothecary | Kari Asselin | Invermere | East Kootenay |
| Kimberley Centex Market | Jill Bentley-Lobban | Kimberley | East Kootenay |
| PropertyGuys.com East Kootenay | Amber Biberdorf | | East Kootenay |
| Tigz Designs | Lori Cameron | Creston | East Kootenay |
| Healing Hollow Essential Oil Co. | Michelle Cubin | Fernie | East Kootenay |
| Dr. Karley Denoon Naturopathic Doctor | Dr. Karley Denoon | Fernie | East Kootenay |
| Aspire2bFit | Laurie Dickson | Cranbrook | East Kootenay |
| The Grater Good Kitchen Supply Co. | Robin Dixon | Kimberley | East Kootenay |
| Black Salt Cafe | Terry Fiddick | Crawford Bay | East Kootenay |
| Morris Flowers | Pat Fleck | Creston | East Kootenay |
| Kimberley City Bakery | Michelle Forbes | Kimberley | East Kootenay |
| Robin's Ink & Taxes | Robin Garrett | Cranbrook | East Kootenay |
| Tivoli Theatre | Bonnie Geddes | Creston | East Kootenay |
| ?aqam Community Government | Jodi Gravelle | Cranbrook | East Kootenay |
| Tourism Fernie | Jikke Gyorki | Fernie | East Kootenay |
| Portraits by Lucy | Lucy Hamilton | Kimberley | East Kootenay |
| Fairmont Hot Springs Resort | Nancy Hetherington | Fairmont Hot Springs | East Kootenay |
| New Dawn Developments | Leanne Jensen | Cranbrook | East Kootenay |
| Fruition Wellness | Allissa Keane | Kimberley/Cranbrook | East Kootenay |
| Pedal & Tap and The Shed | Nicole Leclair-Dodd | Kimberley | East Kootenay |
| Dewey's Pub & Grill | Dani Loren | Cranbrook | East Kootenay |
| Kootenay Forge | Gina Medhurst | Crawford Bay | East Kootenay |
| Ktunaxa Nation Council | Codie Morigeau | Cranbrook | East Kootenay |
| Mrs. Palmer's Pantry | Brenda Palmer | Cranbrook | East Kootenay |
| The Chopsticks Truck | Sydney Salvador | Fernie | East Kootenay |
| Nufloors Creston | Ellen Samuelson | Creston | East Kootenay |
| Best Western Cranbrook | Crystal Scott | Cranbrook | East Kootenay |
| Story & Co. | Logan Shellborn | Kimberley | East Kootenay |
| Royal LePage East Kootenay Realty | Carla Sinclair | Cranbrook | East Kootenay |
| St. Eugene Golf Resort & Casino | Sandra van Steijn | Cranbrook | East Kootenay |
| Tourism Golden | Joanne Sweeting | Golden | East Kootenay |
| Tourism Revelstoke | Meghan Tabor | Revelstoke | East Kootenay |
| MJ's Floral Boutique | Kelsey Taylor | Cranbrook | East Kootenay |
| Arrowhead Brewing Company | Leanne Tegart | Invermere | East Kootenay |
| Kootenay Therapy Center | Suzanne Thompson | Cranbrook | East Kootenay |
| Century 21 Veitch Realty | Shannon Veitch | Creston | East Kootenay |
| Barefoot Handweaving | Janet Wallace | Crawford Bay | East Kootenay |
| Realm | Kerry Taylor-Johnson & Ana Yost | Cranbrook | East Kootenay |
| Whitewater Cooks | Shelley Adams | Nelson | West Kootenay |
| Fair Realty | Joni Askew | Castlegar | West Kootenay |
| Austin Engineering Ltd. | Mary Austin | Trail | West Kootenay |
| Kootenay Valley Water & Spas | Margeaux Bauman | Castlegar | West Kootenay |
| Mountain Waters Spa and Wellness | Marni Beninger | Nelson | West Kootenay |
| Nelson Animal Hospital | Celeste Bignell | Nelson | West Kootenay |
| Nelson and District Arts Council | Sydney Black | Nelson | West Kootenay |
| Kootenay Co-op Radio | Prudence-Elise Breton | Nelson | West Kootenay |
| Pillar to Post | Sandy Byers | Nelson | West Kootenay |
| Kootenay Career Development Society | Jocelyn Carver | Nelson | West Kootenay |
| White Elephant Yoga | Colleen Coffin | Fruitvale | West Kootenay |
| Nelson Kootenay Lake Tourism | Dianna Ducs | Nelson | West Kootenay |
| Emery Herbals | Colleen Emery | Winlaw | West Kootenay |
| Thrive Consulting | Charlotte Ferreux | Castlegar | West Kootenay |
| Finley's and Sage Tapas and Wine Bar | Tanya Finley | Nelson | West Kootenay |
| Birch n' Burlap | Robin Gallant | Nelson | West Kootenay |
| Nelson & Area Economic Development Partnership and Kootenay Association for Science and Technology | Rose Hoeher | Nelson | West Kootenay |
| Columbia Gardens Vineyard & Winery | Tersia De Jager | Trail | West Kootenay |
| Village of Salmo | Diane Kalen-Sukra | Salmo | West Kootenay |
| Kaslo Sourdough Pasta | Heidi Lettrari | Kaslo | West Kootenay |
| Kootenay Gateway and Mountain Shuttle | Natasha Lockey | Rossland | West Kootenay |
| Gypsy Wagon Wood-Fired Catering and Bearcave Web Services | Johanna Mickle | Salmo | West Kootenay |
| PropertyGuys.com West Kootenay | Stephanie Moores-Jones | | West Kootenay |
| Abby Napora Counselling and Corporate Consulting | Abby Napora | Nelson | West Kootenay |
| Sun Life Financial and Naud Lester Insurance & Investment Solutions Inc. | Rauni Naud | Castlegar | West Kootenay |
| Mindful Mountain Yoga & Golden Life | Danica Pion | Rossland | West Kootenay |
| Cartolina Cards Inc. | Fiona Richards | Nelson | West Kootenay |
| Soup du Jar | Kayte Rock | New Denver | West Kootenay |
| Movin' Mountains Therapy Services | Tamsin Snodgrass | Trail | West Kootenay |
| Nelson Civic Theatre Society | Eleanor Stacey | Nelson | West Kootenay |
| Selkirk College | Deanne Steven | Castlegar | West Kootenay |
| Royal LePage Revelstoke | Tara Sutherland | Revelstoke | West Kootenay |
| Simmer Down Cafe | Evie Tjader | Fruitvale | West Kootenay |
| The Mortgage Centre | Nancy Trotman | Castlegar | West Kootenay |
| Castlegar and District Chamber of Commerce | Tammy Verigin-Burk | Castlegar | West Kootenay |
| Community Futures Central Kootenay | Andrea Wilkey | Nelson | West Kootenay |
| ClearSight Solutions | Melody Zacharias | Fruitvale | West Kootenay |