Urban living comes to Nelson
The downtown location of Nelson Commons makes it an attractive housing option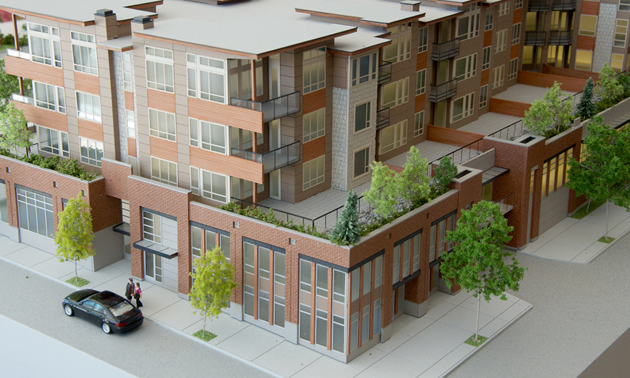 The Nelson Commons project is a multi-use complex planned for downtown Nelson, B.C. Located at the east end of Baker Street, it will be ideally situated for on-foot access to shopping, businesses, services and entertainment venues.
Deirdre Lang, the general manager of the city's long-established grocery co-operative, Kootenay Co-op, said that the co-op is the project developer and that the board of the co-op is the board that oversees the Nelson Commons project.
"The project is unique in that it's the first really significant downtown residential development for Nelson," Lang said.
With the development permit in place and just a few more units left to pre-sell, project manager Russell Precious is optimistic that the project will break ground in September.
"There's a community ownership stamp on this project," Precious said. "It epitomizes social enterprise."
The three storeys of dwelling units at Nelson Commons—54 in all—will sit above a number of commercial enterprises that occupy the ground floor, including a vastly expanded Kootenay Co-op. The design of the building will allow all of the condominiums to have terraces or balconies with mountain or lake views.
Location, location ...
The Commons will satisfy the increasing demand for downtown living space as people become less willing to spend time and money commuting, and more conscientious about decreasing their gasoline consumption. With fibre-optic broadband service available in the downtown core, Nelson is an attractive base of operations for entrepreneurs.
Many retirees, especially, will appreciate the convenience of having a large-scale grocery store just downstairs, with coffee shops, bookstores, theatres and medical clinics within easy strolling distance of home. Condominium living lends itself to a sociable lifestyle, and Nelson Commons will have a pleasant, tree-lined public courtyard that will invite strollers to linger.
Nelson Commons will be built under guidelines for environmental sustainability, and will offer the advantages of on-site underground parking, energy-efficient heating and cooling systems, and low maintenance. It will also offer the delights of its central location on historic Baker Street: heritage buildings, amenities and the vibrant energy of the city's mixed population of students, tourists and full-time residents going about their business.