Trash disposal upgrade in Nelson
The new waste transfer station in Nelson, B.C., is large, efficient, safe and removed from the waterfront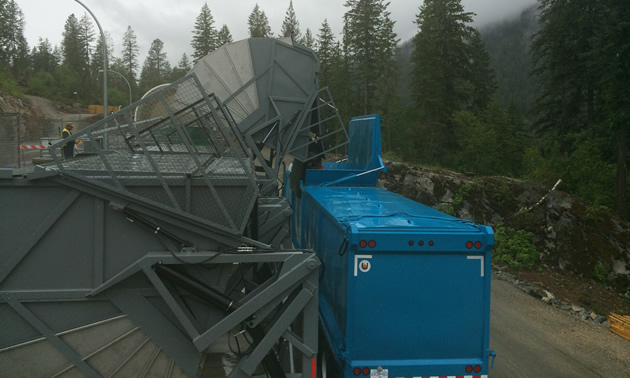 In the Regional District of Central Kootenay (RDCK) in southeastern B.C., garbage has been getting a lot of attention lately, and that attention has inspired results that deserve some applause.
Staff at the Environmental Services Department of the RDCK have been busy preparing to open the new Grohman Narrows Transfer Station in Nelson on July 8. The Grohman station, located on Insight Drive off Highway 3A, is significantly larger than Nelson's existing station on Lakeside Drive. It provides better traffic flow and efficient new transfer equipment for users, and is home to a new recycling depot. The design and features of the new facility will contribute to a safer and more convenient experience for the public.
A long-term vision
"This project is part of an overall investment in waste management facilities and infrastructure that will improve environmental performance as identified in the RDCK Resource Recovery Plan," stated an RDCK press release.
The City of Nelson's official community plan has designated the old transfer station site on Lakeside Drive as future parkland.
"This will be the first time in Nelson's history that garbage hasn't been managed down on the city's waterfront," said Mike Morrison, resource recovery manager for the RDCK. "It's a big step for us to finally change that practice. It provides long-term certainty for us and it's an investment in our infrastructure that's been delayed for decades. We're quite happy to have a long-term solution in place and to allow redevelopment of the waterfront property for higher and better purposes."
These are important issues: improved environmental performance, public safety, improved use of prime real estate, investing in infrastructure. Additionally—though admittedly not essential in the grand scheme of life—a more pleasant experience at the transfer station will contribute at least a little to the happiness level for citizens in Nelson.