Professional people movers
Queen City Shuttle & Charters is expanding its service in B.C.'s West Kootenay region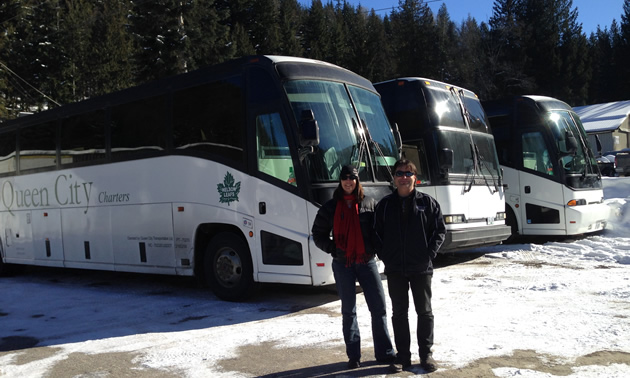 Mirek Hladik from the Czech Republic and June Ray from Australia have made a multicultural union, embracing Nelson, B.C., as family. Hladik and Ray met in Nelson while rock climbing, and became partners in life and in business.
"Our previous company did adventure tours and included a transportation department," said Hladik. "Then we bought Queen City Transportation in October 2010 and merged into one: Queen City Shuttle & Charters. We are certified carriers within the U.S. and Canada."
Agreeing on priorities
The partners agree that their main priority is safety. They want the company image to promote confidence for their clients. To achieve a high standard among the staff, Queen City hires only professional drivers who have years of experience in the charter business. Because of the challenges of the area's driving terrain and the climate, the company's criteria for drivers include charter experience, leadership skills and ability to take responsibility.
The drivers perform a detailed pre-trip inspection of the vehicles, and themselves undergo drug and alcohol testing before getting behind the wheel. They are also registered in a random testing program. The safety rules and regulations are very exacting in the transportation business, especially in the U.S.
Queen City Shuttle & Charters has nine drivers and eight vehicles now, in addition to administration staff—quite a big jump from three vehicles and two drivers in 2010. Three of the vehicles are large-size motor coaches that seat up to 56 people.
As fleet manager, Hladik makes sure the vehicles are maintained, inspected and kept clean. He looks after the charter department, dealing directly with the groups that call to book the service. Ray is the administrator, dealing with the accounting, administration and paperwork. Along with the office staff, Ray and Hladik do the dispatching, booking vehicles and drivers for charter trips and the regular shuttles between Nelson and the airports in Castlegar, B.C., and Spokane, Washington.
Expanded service
"Our target is to service larger groups," Hladik said. "We're the only operators in this area with the large coaches and the large carrying capacity. Sports teams save quite a bit of money using our service, not having to bring in transport from farther away."
From mid-December to mid-April, Queen City Shuttle now operates its shuttle from Nelson to the Spokane airport seven days per week. For Kootenay region travellers who are flying out of Spokane, this service allows them to begin and end their trip in the comfort and security of a warm vehicle with a professional driver.
"We have been working with the local tourist offices in Nelson and Rossland," said Hladik, "and (we) provide service for the snow-cat and heli-ski operations and regular skiing as well as for people travelling to warm destinations."
Ray said that another focus for the company is growth.
"We've been able to become larger employers and contribute more to this small community," she said. "That's important to us. We offer quality employment that supports families in this area."