Nelson's 2023 Business Excellence awards warmly welcomed back
Nine awards were handed out by the Nelson and District Chamber of Commerce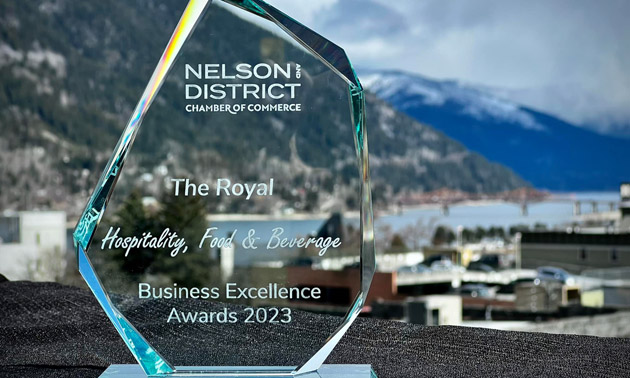 In a first since 2019, nine awards were handed out at the Nelson Business Excellence Awards earlier this spring. Normally an annual event hosted by the Nelson and District Chamber of Commerce, the event was forced to be shelved for the past three years due to the global pandemic.
Held at the Prestige Inn Lakeside Resort, the evening featured beverages, appies and the chance to network and connect with friends.
Without further ado, here are the recipients of Nelson's 2023 Business Excellence awards:
Business of the Year — Kalesnikoff
A commitment to innovative, forward-thinking business practices has kept fourth-generation lumber company, Kalesnikoff, in business for over 80 years. Their philosophy is "Take care of the land, and the land will take care of you." Located in a fertile forest valley near Castlegar, the company that started out as a horse-logging operation has now expanded into one of North America's leading suppliers of mass timber products.
Redefining the neighbourhood pub was the goal when The Royal - Nelson opened their doors during the height of the pandemic. Now one of the hippest spots in the Queen City, the venue has become Nelson's music and events hub, playing host to a variety of acts from across the entertainment spectrum. Toss in a stellar menu and the best craft beer list in town and you've got a winner!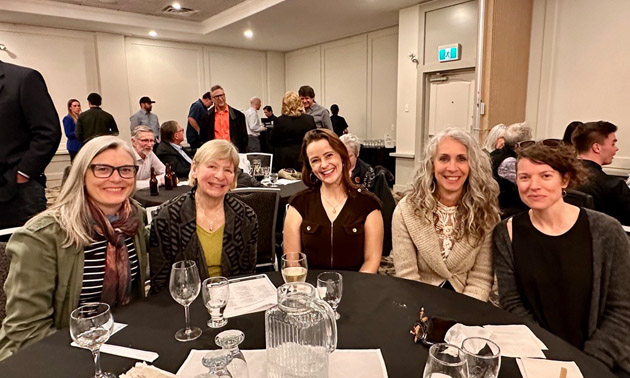 Not just for job seekers, the Kootenay Career Development Society (KCDS) also provides many valuable services to employers and businesses throughout the West Kootenay, Boundary and Central Kootenay regions. Many varied programs can be accessed, including career exploration, paid work experience opportunities for job seekers, job fairs, wage subsidies, workshops, training and more.
Acting as the voice of tourism in the region, the Nelson Kootenay Lake Tourism team showcases the spectacular beauty and culture of the area to potential visitors. As one of over 50 Destination Marketing Organizations (DMO) in the province, they work in partnership with stakeholders and other industry partners to create compelling and strategic marketing plans, designed to attract visitors and business to the region.
Nelson's Hipperson Hardware is a fifth-generation business, owned by the Hipperson-Horswill families. The company has been operating in the community since 1923. Dedicated supporters of many community initiatives and organizations, the team at Hipperson's provides top-notch customer service to their customers.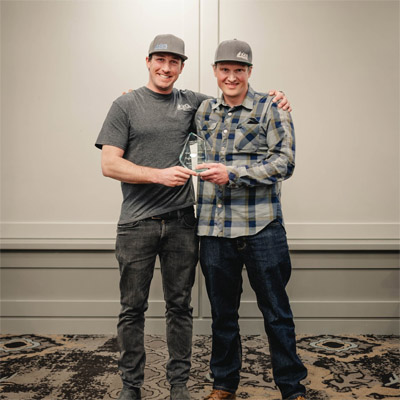 As a full-service excavation company, Kay's Contracting specializes in commercial and civil work. Established in 2006, the core value of the business is quality and this extends to everything they do—whether it's laying a foundation or paving a parking lot.
Technology-Innovation Excellence Award — Woody Nelson
Cultivation, processing and distribution of small batch cannabis is done out of Woody Nelson's 26,000 sq. ft facility. The company utilizes unique triple-tier vertical farming habitat units and state-of-the-art hardware and software that controls every aspect of cannabis cultivation.
Inclusive Employer Award — Save-On-Foods
Embracing diversity and promoting an inclusive and supportive work environment is very important to management and staff at Save-On-Foods in Nelson. A substantial portion of the workforce is made up of recent immigrants to the region and Save-On is proud to help support these new arrivals as they integrate into the local community.
Aron & Mandy Ashman went from food truck to fronting a brick-and-mortar store on Victoria Street in a little over a year—during a global pandemic to boot! Congratulations to this visionary and inspiring couple who saw a need for an affordably-priced burger joint and grilled up deliciousness for all.