Civic Theatre upgrades will fulfill a mission
With executive director Eleanor Stacey at the helm, Nelson's Civic Theatre is undergoing substantial renovations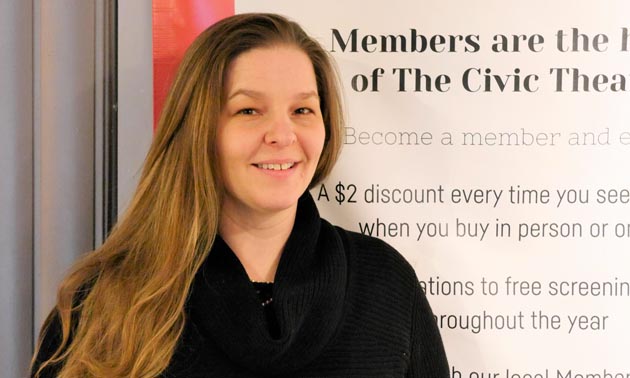 Eleanor Stacey loves her role as executive director of the Nelson Civic Theatre Society; she also loves being back in the Kootenays—Stacey grew up in Nelson, was gone for 20 years living in other places to pursue school and work, then returned with her own family in 2013.
In her role with The Civic Theatre, Stacey appreciates the perspective she gained from her experiences in other cities and countries, and she is excited about the renovation and expansion plans at the much-loved facility.
"I am passionate about community building and look for opportunities to do that in ways that have multiple bottom lines and truly impact the lives of people," she said.
Stacey was nominated by Kootenay Business readers as an Influential Woman in Business for 2019. She answered some questions for us.
What's something that happened in your business or career recently that was cause for celebration?
We have been working to raise money for a significant renovation of the Civic Theatre for the last four years, including building our community programs and services, and completing a detailed business plan that really shows why adding two more theatres is a great idea for social, cultural and economic reasons.
When Nelson City Council approved a $1 million line of credit in January 2019 to help us raise funds from other sources, it was cause for celebration. Of course, we have a lot to do still, but their confidence in our plan, our organization, our board and staff—and in me—was incredibly encouraging.
How do you give back to your community and motivate others?
As a cultural manager, part of my role is to envision new ways for audiences and artists to engage. I look for opportunities to build new relationships between cultural presentations and audiences, find new ways to collaborate with businesses and organizations in our area, and initiate programs that can increase quality of life for people in our community.
I also am committed to modelling and cultivating a positive workplace for our 16 employees and many volunteers at the Civic Theatre, where we are pleased to employ many local youth, some in their first jobs ever.
I am a member of the Nelson Rotary Club, the City of Nelson's Cultural Development Committee and the Nelson Kootenay Lake Tourism board, each of which gives me insights that help me do my own work better as well.
What's your superpower and why?
My tenacity—once I decide I want to accomplish something, I am usually in for the long ride. I know that for many people when things are hard, they can lose their momentum and feel like a task is too big to complete. I see those moments as opportunities to stop and look at the problem differently, because there is likely another way. Setbacks are not impasses, and they usually teach us something too.
In terms of your career or business, what are you most excited about for the future?
I am really excited to see our renovation take place. When we finally raise the funds for our capital project and add two more theatres, while upgrading the rest of our 1935 space to modern standards, we will have the capacity to fulfill our mission in ways that we only dream of currently.
It will not only enable us to show all the content that audiences ask us for and that we can't currently schedule but make our spaces flexible and open to other uses, like dialogue and training events, creative residencies, and more programs and services than we are capable of at this time due to budget and space restrictions.
We will be able to support the development of the regional screen-based film industry in new ways and substantially partner with and contribute to local community efforts and events. I want Nelson to have an organization like the future Civic Theatre: a self-funding cultural entity that exists to grow and feed broad-reaching community connections beyond what might be seen on a screen or a stage.