Tied for tops at the 2022 Kimberley Chamber of Commerce Business Excellence Awards
Two local businesses were awarded the Business of the Year title at the recent gala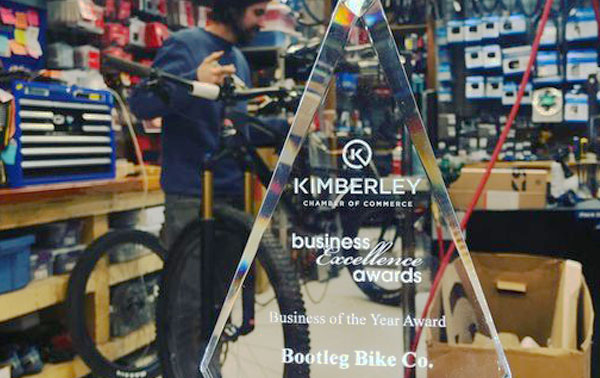 The Kimberley & District Chamber of Commerce played host to another wonderful event earlier this year, the annual 2022 Business Excellence Awards. And this year, the Chamber had such a hard time deciding on winners that they declared a tie in one category.
The stellar evening started off with a champagne toast, followed by dinner, speeches by local dignitaries and keynote speaker and the award ceremony. Thirteen local businesses and individuals were recognized and applauded for their efforts in serving the community. The night ended with live music and dancing provided by local jazz trio, the d'linquint, and the Kootenay Lately band.
Congratulations to the following remarkable businesses and individuals:
Congratulations to the Bootleg Bike Co. and Stoke Market who tied for the Business of the Year award.
The Bootleg Bike Co. lives and breathes anything bike-related. All the staff are die-hard, dedicated riders and bike enthusiasts and happy to share their knowledge and expertise with others. The store stocks an extensive selection of bicycles for all ages, including mountain, gravel, fat bikes and e-bikes. They also have an expert service department staffed with skilled technicians.
The Stoke Market is a gourmet grocery store that is packed with a huge range of products, including fresh organic produce, artisanal bread, speciality health and grocery items, cold-pressed juice and more. You can even buy fuel there!
Kickturn Coffee is an espresso bar, coffee shop and small batch coffee roastery that serves up exceptional drinks. The owner is passionate about all things coffee and delivers friendly, upbeat service in a modern and eye-catching new storefront in downtown Kimberley. The shop recently celebrated their first anniversary and looks forward to brewing up great coffee for years to come.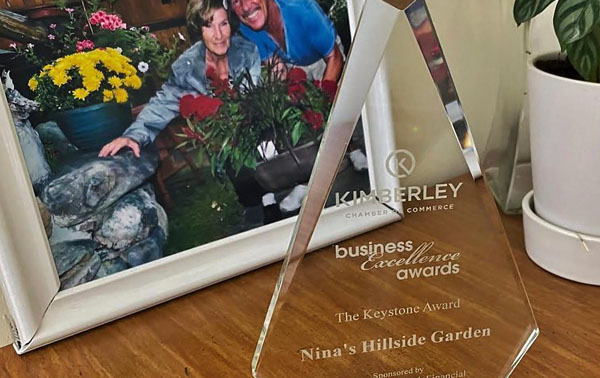 Nina's Hillside Garden is set in a beautifully-designed and landscaped setting, complete with Swiss-inspired buildings, meandering paths and gorgeous floral displays. The small restaurant is only open from mid-June to mid-September and serves up a different soup and sandwich combination every day, plus delectable desserts.
Entrepreneur of the Year Award: Jaime Gordon - Funk Haus Craft Lab
Creativity abounds at the Funk Haus Craft Lab! The store was started by three friends who wanted a place for artists to source local craft and art supplies and share their skills. As well as a wide range of products including beads, canvas and paint, clay and DIY kits, they also host fun workshops and an after-school art club.
Think of Kootenay Canine Adventures as the ultimate camp experience for dogs. Offering dog boarding, off-leash adventures & daycare, your pampered pet will have the time of its life in the care of dedicated dog lovers. Located on 28 private acres in Wycliffe, Kootenay Canine Adventures was started in 2017 by Ty Kreutzer and Justin Keeler. We talked to this energetic and upbeat couple about their puppy paradise business—read the story here.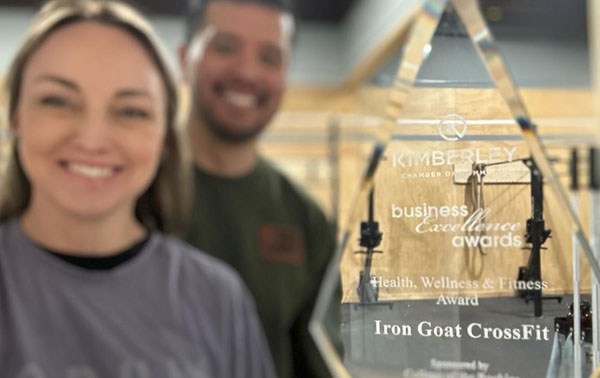 Congratulations to Iron Goat CrossFit on their second Business Excellence win in a row! Winners of both the 2021 and 2022 Health & Wellness award, this health and fitness training facility offers personal and community-style coached classes, seminars and workshops designed to get people moving and feeling their best.
With clinics in both Kimberley and Cranbrook, Fine + Well Health & Chiropractic offers a variety of treatment techniques to help improve the physical and mental wellbeing of their clients. Other services offered include customized exercise and rehabilitation programs, training routines and health and wellness direction.
This independent, locally-owned toy store has been bringing smiles to kids and adults alike since opening in 2018. Located on Kimberley's Platzl, the store is filled to the brim with a huge assortment of fun, educational and entertaining products—everything from puzzles and games, to building and STEM toys, novelties, arts and crafts, books and so much more. Congratulations to the Treehouse Toy Co. on their Retail Service award!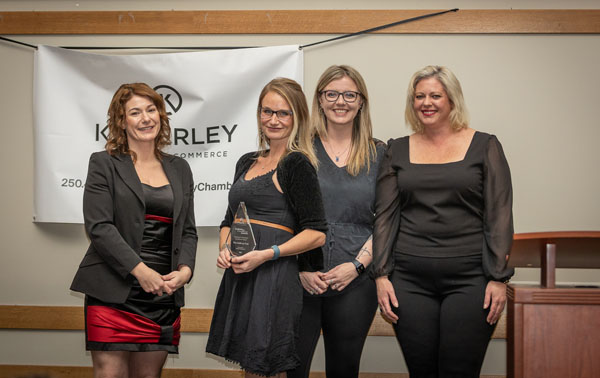 Tourism & Hospitality Excellence Award: The Sullivan Pub
Affectionately known as "the Sully" to locals, the Sullivan Pub has been around since 1925 and is named after the now-defunct Sullivan Mine. The pub is known for great homemade food and hospitality in a friendly, laid-back atmosphere.
Shannon Duncan serves as the Food Recovery Depot Coordinator at Healthy Kimberley, a local organization that is dedicated to promoting physical activity and healthy eating. Through the Food Recovery Depot, surplus food that would otherwise go into the landfill is collected from local grocery stores and businesses and distributed to agency partners and people in need. Congratulations Shannon for your dedication to community service!
Trades Business/Person of the Year Award: Sommer Electric
With 19 years of business experience, Sommer Electric is an electrical contractor for residential, commercial and industrial projects. They've been in business in the community for over 19 years.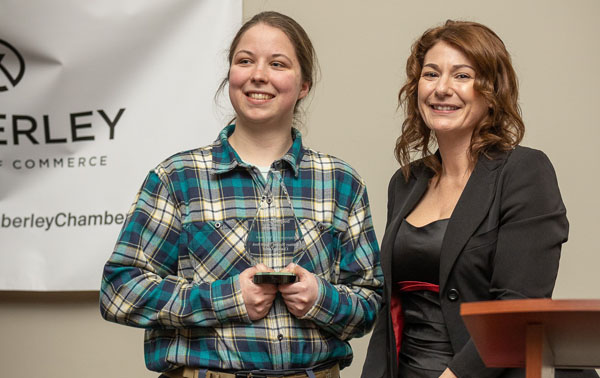 \When you walk into the Spirit Rocking Climbing Centre, Brittney McLean is one of the smiling faces at the front desk. She's also involved with the Kids Rock! Program, Spirit After School, climbing camps and birthday parties. Congratulations, Brittney, on your Employee of the Year award!
Nicole Leclair specializes in branding photography. Through her camera, she connects businesses and customers through emotionally-based photography that captures the essence of a company. She's also no stranger to winning kudos as she's a two-time winner at the Business Excellence awards. She works with a diverse clientele from across the Kootenays and beyond.