Internet-in-a-box helps Wikipedia to spread medical knowledge
It was a slow night in the emergency room several years ago when Dr. Heilman discovered his love of Wikipedia.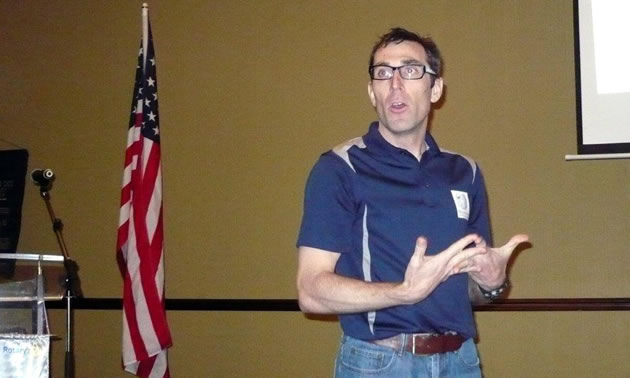 He's a former Saskatchewan "farm boy," an ultra marathoner, an emergency room physician and "just for fun" he likes to edit and correct articles in Wikipedia.
You may have seen Dr. James Heilman riding around town on his "fat tire" mountain bike, but you would have had no reason to suspect his many unique talents especially when it comes to Wikipedia, the world-wide go-to reference source now that paper-based encyclopedias no longer cut it in the Internet Age.
Asked if he's a "geek" at heart, the dark-haired, 38-year-old pauses. "Well, not really . . . but I find editing Wikipedia extremely relaxing to do. I don't watch TV much or go to movies, so I edit Wikipedia."
It was a slow night in the emergency room several years ago when Dr. Heilman discovered his love of Wikipedia. "I was just looking around on the Net and I came across this article on obesity and I thought it wasn't very good and then I suddenly realized I could fix it."
An editor extraordinaire
Since then, Dr. Heilman has edited more than 10,000 Wikipedia medical articles and now sits on the board of directors of the Wikimedia Foundation. The famous online encyclopedia contains more than 35,000 medical articles in English, and almost 200,000 medical articles world-wide based on 1.4 million health source citations in 279 different languages. Despite this mountain of credible medical information, Dr. Heilman advises against self-diagnosis and using Wikipedia as a sole source of information. "No one should make any important medical decision without consulting multiple sources," he said.
Dr. Heilman acknowledges that Wikipedia has its critics. "But I think as a group they're becoming less and less." He added that it shouldn't come as a surprise to people that many physicians use Wikipedia today. However, he points out that the doctors use Wikipedia mainly as a supplement to the many years of medical education, training and mentoring they've already received.
The advantage to Wikipedia is that the medical information is all in one spot and it's "readily searchable," which is not the case with medical textbooks. "Sometimes as practising physicians you're just looking for something to trigger your memory and in the real world of medical practice you have to come up with answers very quickly and textbooks are slow," said Dr. Heilman. He also points out that today's physicians have "grown up online" and don't have the fear and bias some physicians have against seeking information electronically. Electronic medical information is also continually updated, he said.
Introducing Internet-in-a-Box
As well as updating medical articles on Wikipedia all the time, Dr. Heilman is involved in a unique Wikipedia project that builds and distributes an amazing electronic medical device known as "Internet-in-a-Box." The device is about the size of a small matchbox with a microSD card that contains the entire medical content of Wikipedia up to October 2017. Hooked up to an external power source like a battery or solar cell, it can display the content on a smartphone, a tablet or a computer screen without needing access to the Internet. The device can be made for less than $50 using easy-to-acquire computer components and is rapidly becoming a major and inexpensive method of bringing medical knowledge to Third World countries like Cuba, the Dominican Republic and Haiti where Wi-Fi and the Internet are often unavailable.
The Wiki Project Med Foundation, along with other NGOs and private partners, is deeply involved in bringing Internet-in-a-Box technology to the Third World, said Dr. Heilman. And it's all done by volunteers on a shoestring budget and without Wikipedia resorting to advertising to raise money, he said. "There's an entire movement behind this and it's a very idealistic movement but I think we're doing a good job of developing its potential," Dr. Heilman said.
As for what Wikipedia has done for him, Dr. Heilman doesn't waste any words: "I think it's made me a better physician."