Day2Day Books in Golden cultivates efficiently-run businesses with cloud-based accounting services
Owner Marloes Van Lent and her team provide full-service bookkeeping services for clients large and small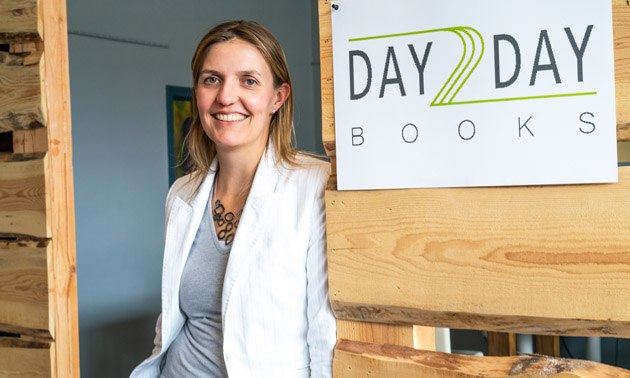 One of the most intimidating aspects of owning a business is the endless bookkeeping and accounting that need to be done. For the entrepreneur who doesn't have a head for numbers, the task can be a real headache and often gets pushed aside.
Day2Day Books, based in Golden, B.C., provides cloud-based accounting and bookkeeping solutions for small and large businesses across the province. Owner Marloes Van Lent and her team of six employees offer an all-inclusive approach to managing bookkeeping services for clients, including one-on-one training on how to do your own financial record-keeping.
"Together with the business owner and their team, we assess what systems would be most effective for their business," said Van Lent, "This includes email and document management, payroll and time tracking, employee contract reviews and compensation analysis, POS implementation and online payment processing."
As well as being a QuickBooks Pro Online Advisor, Van Lent is a dedicated advocate of cloud-based accounting systems and specializes in helping business owners improve and streamline their financial processes.
"When I started out my bookkeeping career 20 years ago," said Van Lent, "I remember receiving piles of paperwork, dealing with flash drives and multiple versions of backup files."
With cloud-based systems, owners and entrepreneurs can say goodbye to the old and out-dated "shoebox method" of bookkeeping. Cloud-based financial systems enable clients to upload all their financial information into one centralized location online, thus allowing a shared approach to record-keeping between owners and accounting professionals.
"Having live data available is such a game changer for business owners," said Van Lent. "Besides this, it allows owners to be flexible. They can work from home if they want when the kids are in bed without having to be at their office."
Day2Day Books works with three core clientele: small business owners, large corporations and nonprofit/charitable organizations. Some of the company's long-term clients include Whitetooth Brewing Company, Zimmerman Construction, Shade Sails Canada and the Golden Kicking Horse Alpine Ski Team.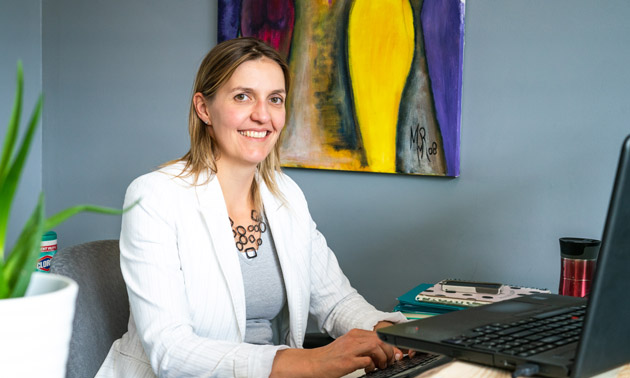 "It's a great mix and adds plenty of variety for myself and my team," said Van Lent. "[We] stay engaged and on our toes!"
Speaking of variety, Van Lent has dipped her toes into several other community ventures and organizations since she first moved to the area back in 2009 from the Netherlands. She's the current president of the Kicking Horse Country Chamber of Commerce and also the owner of the Go-Lab Co-Working space in Golden. Here's what Van Lent had to say about bookkeeping, business in Golden and how the community is bouncing back from the challenges of a global pandemic.
Why did you decide to start a bookkeeping business in Golden?
After working three years in finance at Kicking Horse Mountain Resort, I wanted to stay in Golden. To make that work, starting my own business was the best option. That way, I could combine multiple part-time jobs as bookkeeping in a small town for small businesses often doesn't provide enough work for a full-time employee. I started Day2Day Books in 2014. Once I started to gain some momentum, I hired my first employee in 2016.
What are your most popular services and why?
We help businesses grow by offering cloud-based solutions with a focus on bookkeeping. The term bookkeeping has a broad definition—from data-entry clerk to CFO-on-the-go. Day2Day Books is definitely more the latter. We offer an all-inclusive approach and we look at the whole picture. We like to sit next to the business owner to help them run their business. Due to our experience with so many different businesses and processes, we have a wealth of knowledge we love to share.
What are the benefits for a business owner to use online bookkeeping services and cloud-based accounting as opposed to traditional bookkeeping?
The ease to collaborate with your professional team. Your bookkeeper and accountant have instant access to your books and they can review everything before they get in touch with you. All the documents you used to drop off, like bank statements and receipts, are all stored in the [online] system so professionals can get to the actual analyzing and advising versus collecting documents.
Aside from the Kicking Horse Country Chamber of Commerce, do you volunteer for any other local groups?
You could say that my other business is more or less volunteer work. In December 2019, I started Go-Lab Coworking from the old courthouse in Golden. Due to COVID-19, things have been a bit rocky but lately we seem to be killing it. People are really starting to find us. We have drop-in desks, monthly memberships and a meeting room for people who don't want to work from their kitchen table or hotel room.
The plan is to create networking events and offer workshops for small businesses. Hopefully, we can publish a schedule for this fall sooner rather than later.