2017 Influential Women in Business Awards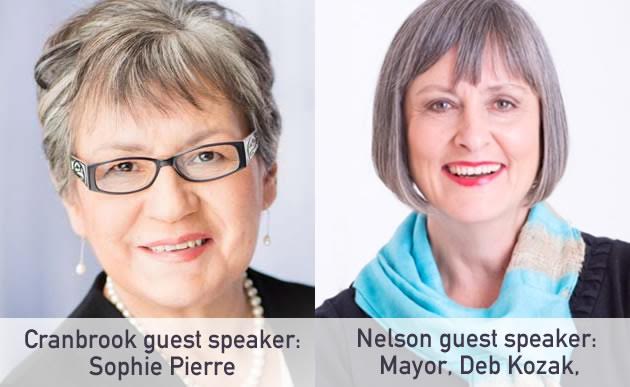 East Kootenay awards:
Where: Heritage Inn Hotel & Convention Centre in Cranbrook
When: Thursday, June 8 from 11:30 a.m. to 1:30 p.m.
Guest speaker: Sophie Pierre, Ktunaxa Nation citizen and recipient of numerous awards including the Order of Canada
West Kootenay awards:
Where: Prestige Inn Nelson
When: Friday, June 9 from 11:30 a.m. to 1:30 p.m.
Guest speaker: Deb Kozak, Mayor of Nelson
Welcome to our 6th annual Influential Women in Business Awards.
These charismatic women are dynamic, talented and passionate entrepreneurs. They often serve as generous and inspiring mentors to other women and men. And these exemplary businesswomen give back to their communities by serving on boards, running events and—as one nominee said—having "a big presence in the community."
Another trait these women share is their creative spirit. In the words of their nominators:
"An original, thoughtful risk-taker"
"A bold innovator"
"Amazingly smart, always thinking outside the box"
"Big ideas are her specialty"
One of our nominees has a personal motto that could fit many of the others: "Your work is to discover your work and then with all your heart give yourself to it."
To summarize these influential women, they have "the whole package" as well as a smile on their face while they balance work and family.
To salute our nominees, Kootenay Business magazine is holding luncheons in the West and East Kootenay, sponsored by Scotiabank. Three women from each area will receive special recognition at these events.
For more information, call 1-800-663-8555 or email [email protected] For a list of nominees, check out this article.