Baked Alaska freezes out MasterChef contender
Creating a less than perfect baked Alaska was Danielle Cardozo's last attempt to win the MasterChef Canada title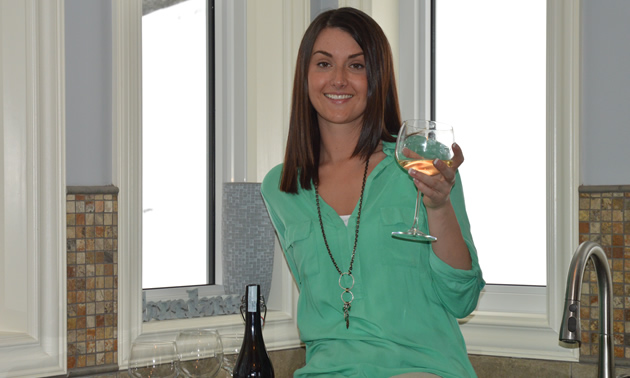 "There you have it," said Danielle Cardozo. "My (MasterChef Canada) journey ends at Top 8. I can only laugh at the irony of being sent home on a cake!"
Irony because just three years ago, Cardozo was briefly involved in a cupcake business with her sister. She has always claimed that desserts are not her strong suit, and in her defense, the cake that ended her MasterChef Canada adventure wasn't just any cake—it was baked Alaska.
Starting with a plan
Cardozo went into the MasterChef Canada competition with a plan. Having done her research and having her share of common sense, she knew that success following the series—win or lose—would depend on her ability to capitalize on the experience and the contacts she made, and on working hard.
Work hard she has. She's the mother of three young children, and along with her job as business development co-ordinator with the St. Mary's Indian Band, Cardozo has been working part-time at The Heid Out Restaurant since November. She has pursued more culinary learning, spending time with chef Dave Bohati of Market Restaurant in Calgary and producing a special collaborative dinner with him.
In the last four months, Cardozo has also been busy creating her own website, which she announced after the MasterChef episode on March 24. Though she intends to continue to produce and share wonderful food, Cardozo is not planning a long term career as a line cook.
Focus forward
"I am in love with the business of food," she said. "My goal is to eventually own a restaurant, and I want to be the first in, the last out, and the person who knows every aspect of her business. I respect that the restaurant industry is one of the hardest out there. So before I open a restaurant, I plan to spend a couple years learning more about the industry. The best way to do that is by sharing what I learn. For this (purpose), I'm announcing the launch of my website, www.daniellecardozo.ca, and my new brand, Taste Life."
Cardozo is looking forward to spending two weeks in Tel Aviv, Israel, in April, learning techniques from chef Alexander Lachnish, a specialist in micro gastronomy.
"While (I'm) there," she said, "we will be creating a series of cooking lessons, which I will post on the website. I will also be posting all of my recipes and culinary experiences to the site. It's going to be a little bare in the beginning, but I hope you'll follow along as I continuously update the blog. I will of course include my food and travel experiences in Israel."
Thank you, thank you, everyone
Cardozo extended her thanks to Heidi Romich and the staff and patrons of The Heid Out Restaurant and Brewhouse, and for support from the public and the local media. She is also grateful to everyone involved in the creation of her website: Chris Botteril of Genex Marketing, Chad St. Pierre of Chad St. Pierre Photography, Jennifer Mouly and Denai Bell of Velvet Ginjer and Jody McInnis of HM Productions.
"My MasterChef Canada experience is about to launch into something so much more," Cardozo said. "Life is good."