Creston Driving Academy
The clients at Creston Driving Academy range in age from 16 to 88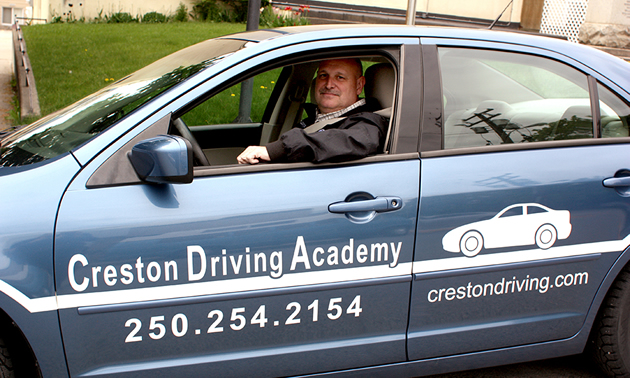 After 30 years in law enforcement, William Doeleman changed careers. He opened Creston Driving Academy in December 2015, and is enjoying the opportunity to teach people how to do things right—behind the wheel, anyway.
"I do lessons for new drivers—mostly young people—and retraining for seniors," Doeleman said. "I also put a lot of energy into helping people with special issues like anxiety or physical disabilities—personal attention is critical in those cases. We get quite a high number of people with those challenges."
Creston Driving Academy was acknowledged by readers of Kootenay Business magazine as a favourite driving school, and we asked Doeleman a few questions about his success.
Among other businesses like yours, what makes Creston Driving Academy special?
Personal attention. I focus on giving my students one-on-one attention whenever possible, because people get the most benefit out of that.
What's a recent trend in your business that you've noticed or are excited about?
I'm getting more and more seniors come to me. I think in the future, driving schools will be helping older people maintain their skills and therefore their independence. We all develop bad habits over time, and for the most part people are coming to me voluntarily because they don't want to lose their licences. I get a ton of referrals, particularly from seniors. When I'm able to help one person, the word spreads.
People realize that their skills may deteriorate over time, and we work on getting them to a level where they're safe, and I love doing that. And if they're not safe behind the wheel, I have no qualms about telling them that. Then, the final decision is with ICBC.
What is your favourite product or service that you offer?
I think it's a tie between training new drivers and retraining seniors. With new drivers, you get a chance to teach them how to be safe—getting your first licence is one of the milestones in getting to be an adult, and I get to share in that. It's really rewarding.
What's the superpower you personally bring to the business?
Calm and patience, and the ability to make people feel comfortable so they can learn. I love having the opportunity to help people gain and keep their independence.