Celebrating the Creston Valley: The little farmers market that could
The Creston Valley Farmers Market is an economic game changer for the community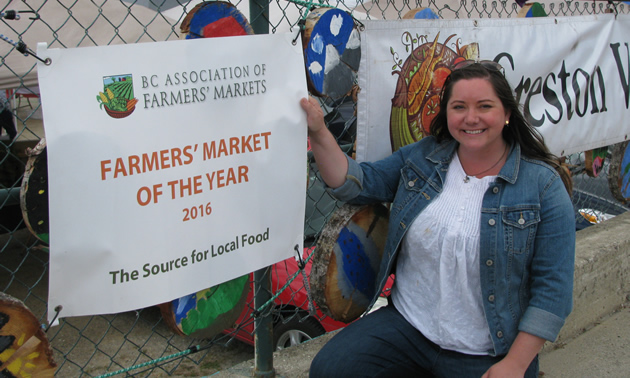 Jen and Joel Comer made good on their plan to return to the Kootenay region to live after graduating from university, and seven years later, their enthusiasm for the area is still strong.
"Going to university in Victoria was lovely," Jen said, "but the Kootenays have the lifestyle we want. In Creston there's an authentic flow rather than a high-powered rush, and yet we have the awesome, epic mountains just a short drive away. Every day, driving back and forth to our farm, there are so many different layers on the horizon—it's just beautiful."
A liberal arts degree was no guarantee of finding work, but Jen was determined to study what she was passionate about. She earned a BA in geography, focusing on community development and local food systems. In 2010, Jen's last year at UVic, her mother-in-law advised her that the Creston Valley Farmers Market (CVFM) was advertising for a manager. Jen's application for the position—via Skype—was accepted.
"Knowing the potential for Creston because of the soil and climate, knowing about the local food movement and the people who are looking to get back to the land—for me, it was a perfect match of lifestyle and entrepreneurism," she said.
Formerly managed by volunteers, the market now runs 38 times per year and has more than 135 vendors. Megan Holland, who laughingly calls herself "the muscle" of the team, assists Jen every Saturday with the market setup and tear-down, and with some of the computer work.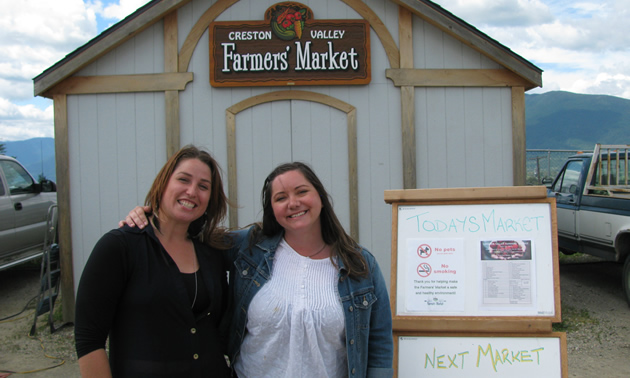 "To make it so I didn't get overwhelmed or burnt out or lose my mind, it was important to develop systems and have the necessary checks and balances in place," said Jen. "I've been lucky that my husband, Joel, is a super-awesome geek who builds websites. He's been hugely helpful.
"Everything that we set up for the market has been about streamlining and collecting information and meeting targets and celebrating what we have in the valley and showcasing that."
Jen's role takes her out into the community where she's happiest to be working, seeking ways to build partnerships, work with other organizations and help support businesses. That collaboration has had some gratifying results. The B.C. Association of Farmers Markets named the CVFM the Best Medium Sized Market for 2016, and Jen herself was named Market Manager of the Year.
In 2016, Jen used a method called Tools for Rapid Market Assessments to study the impact of the CVFM. She calls the market an economic impact game-changer, with entrepreneurs and business people revamping their business plans to focus more on the local market. For a town of 5,000 people with a surrounding area of an additional 10,000, the numbers revealed by the assessment are impressive:
The CVFM has 40,000 visitors annually, and during some long weekends it averages up to 3,500 shoppers in a four-hour period.
Shopping trends for the market show a current economic impact on the Creston Valley of $2.13 million annually—up from an estimated $1.72 million in 2012—and growth of about nine per cent annually since 2012.
Jen runs the market under the oversight of the Creston Valley Food Action Coalition, a non-profit society. She appreciates that while the various boards and individuals with whom she works are very supportive, she has a lot of autonomy.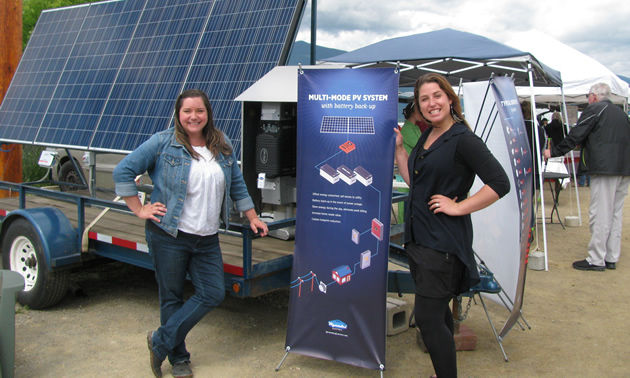 "I think that passionate people can get a lot done if you just give them some appropriate direction and let them run with their ideas," she said. "That's worked really well for me."
In the 2014 municipal election, Jen expanded her reach with a successful bid for a position on the Creston town council.
"At university, community planning and OCPs (official community plans) and community vision and policies were a big part of what I learned about," she said. "Coming to Creston at the time when the OCP needed to be updated, and knowing it's a huge community endeavour . . . I wanted to be part of the work and of setting the vision and the priorities moving forward.
"I've found Ron Toyota (mayor of Creston) to be one of the most forward-thinking, collaborative and common-sense kind of people that I've ever met. Watching the community consultation process and policy development, I've seen the community grow and turn into something even bigger and better than I could have imagined.
"It's been incredible watching the vision for Creston develop. We're looking forward to a really exciting few years coming up."