Danielle Cardozo, influencer
In a short time, Danielle Cardozo's circle of influence has expanded greatly in her home community of Cranbrook, B.C.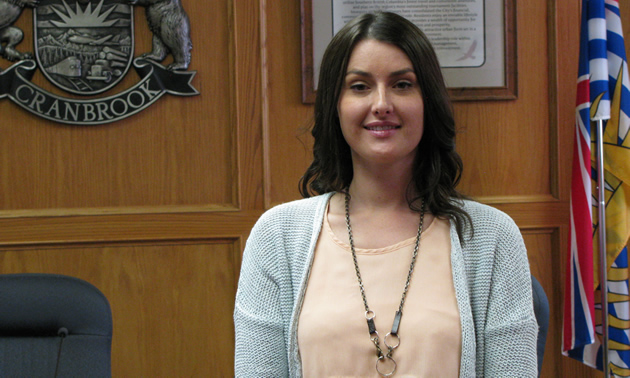 Danielle Cardozo's life has recently acquired a momentum that is exciting, fulfilling and sometimes makes her nervous. Since her appearance on CTV's first Master Chef Canada series, Cardozo—a single mother of three with a full-time job—has combined her local celebrity status with her love for the Kootenay region, and gained a position on Cranbrook City Council.
Cardozo said that her life's highs and lows have taught her to understand her capabilities and to ask for help when she needs it.
"I think the biggest reason why people miss out on opportunities is they don't ask for help," Cardozo said. "When I was going through my divorce, I had to swallow my pride and admit I couldn't do everything myself if I wanted to create a better life for myself and my children. That meant going to the food bank for help, and asking a friend if we could live in her camper trailer for a few months."
Her guiding principles
Cardozo said that she's honoured and excited to be in a position to inspire or influence women in the business community at just 29 years of age. She is a firm believer in planning for seven generations; according to her First Nations heritage, you never make a decision based on just your own generation—you have to consider how future generations will be affected.
There are two more concepts that Cardozo depends on to guide her in her decisions. The first is "Be authentic," and she credits her mentor, former Cranbrook mayor Scott Manjak, for emphasizing the importance of the concept for her.
"I admire Scott a great deal for the good work he did on council and as mayor," she said. "Shortly after he hired me to work for the St. Mary's Band, he left his position and moved to Sparwood, but I held him to his promise to mentor me. He always reminds me to be authentic. Even if it costs me votes, I have to say what's true for me. Being an authentic leader means maintaining your integrity, and that's something I will continue to do.
"On a personal level, it's important that I'm honest with myself. I've learned that work-life balance is different for everyone, and I've had to figure out what works for me and to quietly put other people's judgements aside. If I don't, I'll be insecure. Listening to judgements makes it very difficult to be successful."
The other concept—the one that sometimes makes her nervous—is, "Be willing to take a leap of faith." Making changes can be frightening as well as exciting, but, Cardozo said, "I've learned that leaps of faith are what have created success for me. It's uncomfortable, but it comes back to that core of authenticity."
Cardozo said that three women have had great influence on her: her mother was a positive force in her personal life; Robyn Beattie-Laine, the aboriginal advisor at College of the Rockies, influenced her academic choices; and in her business and professional life, she considers Sophie Pierre, former chief of the St. Mary's Indian Band, to be the embodiment of a powerful aboriginal woman.
The next step
Cardozo has accepted an invitation from Kootenay Business to speak at its fourth annual Influential Women in Business award presentations in Cranbrook and Nelson.
"We have a unique opportunity to do what women have not been able to do in the past," she said, "and that is to truly encourage each other and build each other up to succeed in business. There are more of us in the business world than ever, and we need to bring the power of our traditional supportive instincts to the workplace.
"I would hope that I am a positive influence for women, and in particular for moms, letting them know that it's possible to be a single mom of three and still have a successful career."
Cardozo is on the verge of taking another leap of faith. In June she will be leaving her position in business development with the St. Mary's Band to begin a full-time position with the Jim Pattison Broadcast Group.
"During my 18-month contract with CTV, I learned a lot about brand recognition and marketing, and I think that will help me in my new position," she said. "Fingers crossed—here I go!"