Castlegar Chamber of Commerce plays host at 2022 Business Excellence Awards
This year marked the 24th annual Castlegar Chamber of Commerce Business Excellence Awards.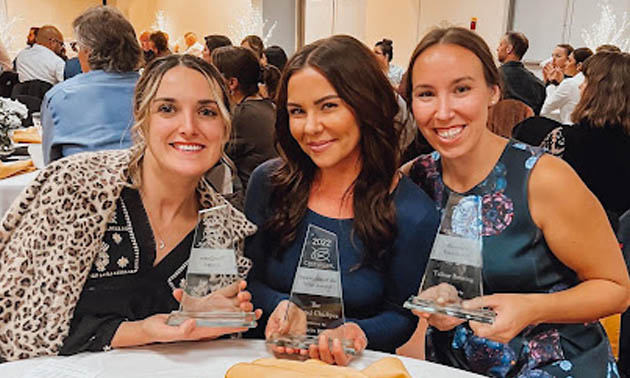 The 24th annual Castlegar Chamber of Commerce Business Excellence Awards were celebrated in style at the Castlegar Complex on November 5, 2022.
A total of 15 awards were handed out, recognizing both long-standing businesses in the community and newly established companies and entrepreneurs. Winners included a small boutique business focused on sustainability and supporting local makers, a youthful and passionate fitness buff intent on sharing his love of health and wellness with others and a humble coffee shop manager.
Read on to find out the winners of this year's Castlegar Chamber of Commerce Business Excellence Awards.
Business Person of the Year: Harold Chernoff, Trowelex
Trowelex is the largest rental business in the Kootenays, providing industrial equipment and supplies as well as being an official Honda and Bobcat dealer. The company was originally founded in 1968 by Nick Chernoff, Harold's late father. A true family-run business, Harold took over the helm in 2016 and plans to continue being part of the community of Castlegar well into the future.
Tailout Brewing, one of Castlegar's homegrown success stories, recently celebrated their third year in business. They're also celebrating their third win at the annual Chamber of Commerce Awards, having snagged the Young Entrepreneur and Green Awards at last year's gala. This popular community hub is the spot to come and enjoy good beer, shared with good friends and lively conversation.
Customer Service Excellence: Blue Barn Pet
Since opening his business in 2016, animal lover Kris Koop has expanded into two locations plus a thriving online store. Every year, Blue Barn Pet holds several different fundraising events to support local B.C. charities, including a calendar that features photos taken by customers and an annual Pet Food Challenge. Staff are dedicated pet lovers themselves and knowledgeable about all kinds of animals. Congratulations to Blue Barn Pet on their Customer Service Excellence win!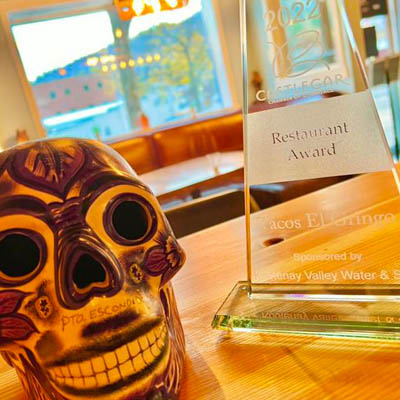 Hola amigos! If it's authentic Mexican flavours you're looking for, a visit to Tacos el Gringo will fit the bill. This extremely popular little family-run restaurant has only been in operation for 8 months and already has a huge following. The menu includes mouth-watering choices like enchiladas, chimichangas, burritos and tacos, made with the freshest ingredients available.
This charming little shop is home to a wealth of locally created and crafted goods from artisans across the East and West Kootenays. From dog treats, to teas, bath products, art and even vintage clothing, customers will be sure to find a treasure to take home from Moonrise Boutique.
The team at Sun Life are experts when it comes to your financial goals. They offer a range of options including RRSPs and RESPs, mutual funds, life insurance, critical illness insurance and more. Congratulations to Sun Life Financial on their Professional Service award win.
PNT Contracting is a family-run business that specializes in commercial and residential roofing, renovations and new builds, including soffiting, custom flashings, sheet metal work and dump trailer services. As a repeat winner at the annual Castlegar Business Excellence awards, it's apparent that this hard-working team is appreciated by the community! Read our story about this reliable and award-winning contractor.
The Sculpturewalk is an outdoor gallery that features art installations from local and international artists. Now in its 12th year, the submitted sculptures are displayed throughout the community and viewers vote on their favourites. The People's Choice winner is purchased by the City of Castlegar and placed on permanent display.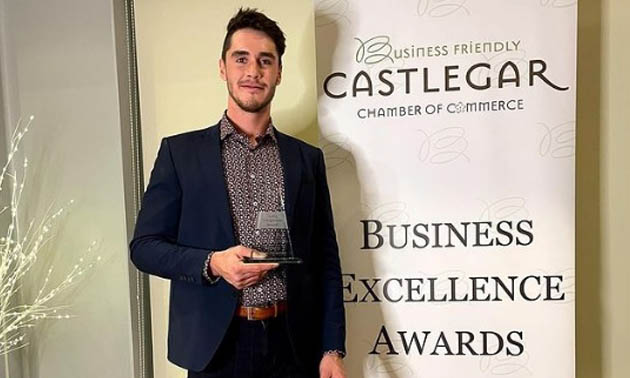 Young Entrepreneur Award: Solomon Burk, Train with Solly
Solomon Burk is passionate about fitness and health and started his business to share that passion with others. He offers a range of services, including custom-designed online fitness programs that can be done at home. His past experience as a semi-professional athlete gives him a wealth of knowledge and experience that he uses to motivate others on their own path to health and wellness.
The mission of the Castlegar Hospice Society is to provide compassionate palliative care to those who need it, along with support to family and friends. Offering a range of services along with a team of dedicated volunteers, this non-profit organization provides physical, emotional, psychological, spiritual and practical support to people with a life-threatening illness.
"A whole lot of magic in a single human," is how the team at Humble Bean Coffee Co. describes their manager, Sally Diep. Similar sentiments are expressed by the coffee shop's many customers who continually sing the praises of this fun, happy and hard-working woman. Humble Bean Coffee Co. is a popular shop located in downtown Castlegar and is home to great coffee, yummy food, board games and local art.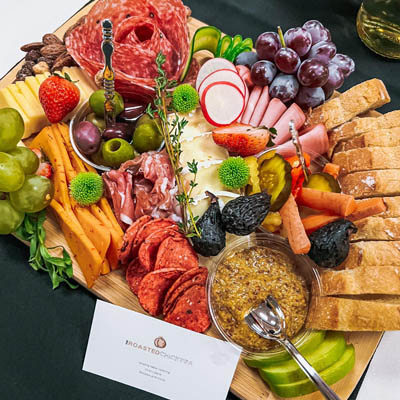 The Roasted Chickpea started out as a simple online blog for sharing plant-based recipes and has now expanded into a successful business. Offering healthy and nutritionally-dense meals available locally, as well as meal prep and table catering, the Roasted Chickpea is passionate about plant-powered food.
The Board of Directors Choice Award: Grateful Table
The restaurant may have a different name, but the family behind the Grateful Table are still the same. For over 23 years, the Salivaras family has been involved in the community, cooking up delicious Greek food and delicacies. Known by several different names over the years, the most recent transformation to the restaurant emphasizes the virtue of gratitude. The residents of Castlegar are certainly grateful to having this award-winning restaurant on their doorstep.
Lifetime Achievement Award: Kalesnikoff
A true family-run business, Kalesnikoff has been in the forestry industry for over 80 years. Through hard work, foresight and finding new avenues for growth, the company has managed to thrive despite many economic challenges over the years.The company is home to a state-of-the-art, multi-species mass timber facility, thanks to a $35 million-expansion project in 2019. Read our article about the longevity of this Kootenay-grown success story.
Congratulations to Into the Wild Off Leash Adventures on their second award win in a row! Winners of the 2021 and 2022 Home-Based Business Award, this company definitely hasn't gone to the dogs. Owner JD offers fun-filled pack adventures for your canine friends, as well as housesitting and overnight care.