Castlegar's 2021 Business Excellence Awards celebrated after two-year hiatus
Fifteen awards were handed out during the gala dinner and event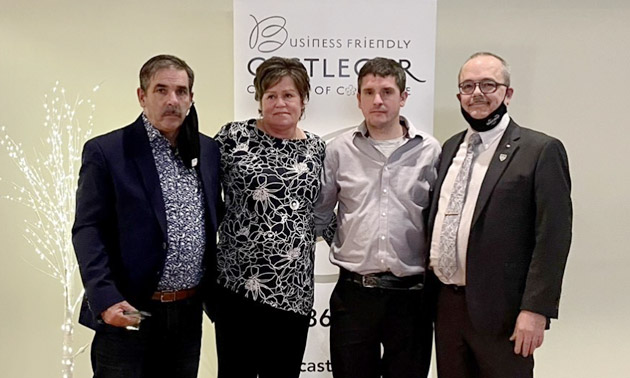 The Castlegar & District Chamber of Commerce celebrated its Business Excellence Awards on Saturday, November 13, 2021. Due to pandemic restrictions, the annual event had been on hold for two years, so this gala evening to celebrate local businesses was especially welcome.
Fifteen awards were handed out and the evening also included a celebratory dinner, music and a silent auction. Congratulations to the following winners of the 2021 Business Excellence awards:
Since 1974, Ernie's Used Auto Parts has been serving customers across Canada and the United States. Family-owned and -operated, this third-generation salvage-yard specializes in used auto parts from domestic and foreign-made vehicles from 2007 and newer. The company has an extensive searchable inventory of used parts and an eBay store and is affiliated with Green Parts, an eco-friendly program that allows the re-use of quality, tested parts from original equipment manufacturers.
The team at Sun Life Financial provides exceptional service for their insurance and financial investment products. They offer a range of options including RRSPs and RESPs, mutual funds, life insurance, critical illness insurance and more.
A comfy, cozy coffee shop located in downtown Castlegar, the Humble Bean Coffee Co. boasts a loyal clientele. Find a wide range of delightful pastries, cakes, breakfast and lunch selections along with creative coffee concoctions and fun board games to play.
Congratulations to Collin Ludwar, this year's Business Person of the Year. Ludwar is the owner of The Affolter Financial Group Inc., a financial planner for Assante Financial Management and also the president of the Castlegar Rotary Club.
Castlegar's hip hub to hang out, Tailout Brewing brought home the Green Award at this year's Business Excellence awards. This outdoor-inspired brewery features rustic decor and a taproom where customers can get their fill of some of the finest craft beer in B.C, made using locally-sourced ingredients.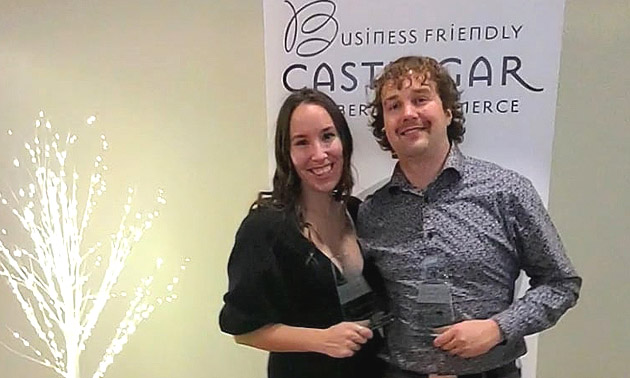 According to Hedin Nelson-Chorney, the only thing lacking in Castlegar was a cool spot to hang out and drink craft beer, so he created one back in 2020. Owner of Tailout Brewing, Nelson-Chorney is a big outdoor enthusiast, and the decor and atmosphere at Tailout reflect this. Want to know more about this up-and-coming entrepreneur? Read our story about Tailout Brewing.
Helping patients to feel their best is at the heart of Head 2 Toe Holistic Health Clinic. The team consists of chiropractors, a registered massage therapist and an Acupuncture & Traditional Chinese Medicine practitioner. The Head 2 Toe Holistic Health Clinic is dedicated to providing the utmost in professional and patient-centred care.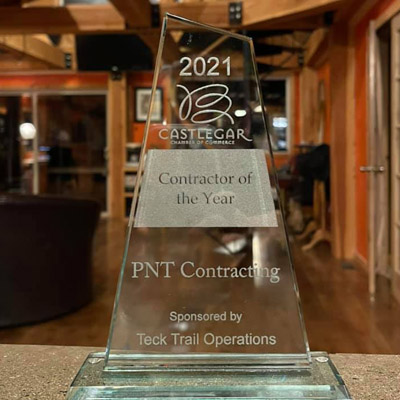 A family-run business, PNT Contracting specializes in roofing, renovations and new builds for residential and commercial customers. The company has 20 employees and regularly gives back to the community through various charitable organizations, including the Rotary Club and the Royal Canadian Legion. Read our story about this reliable and award-winning contractor.
Castlegar is known as the "The Sculpture Capital of Canada" thanks to the popular Sculpturewalk. Now in its 11th year, the annual exhibit attracts attention from talented local and international artists. Submitted sculptures are displayed throughout the community and favourites are voted on through a ballot system. The winner of the People's Choice Award is purchased for permanent display by the City.
Since 2017, the Castlegar ReStore has been keeping salvaged building materials and hardware, used household goods, furniture and other products out of local landfills. All inventory at the ReStore is 100 per cent donated by contractors, businesses and individuals. Funds generated from the ReStore go back into local Habitat for Humanity home-building projects.
Dogs need exercise and socialization, but due to busy lives and obligations it's not always possible to give our four-legged friends what they require. Here's where Into the Wild Off Leash Adventures comes in. Owner JD offers two-hour daily pack adventures for your dog, as well as housesitting and overnight adventures. Judging by the rave reviews he's garnered on social media, his many canine friends (and owners) are very appreciative of his services.
This family-friendly pub, housed in a replica Tudor-style building, features a selection of 12 B.C.-brewed beers on tap along with a mouth-watering menu. Their pork ribs, chicken, beef brisket and sausage are all prepared fresh on-site using their in-house barbecue smoker.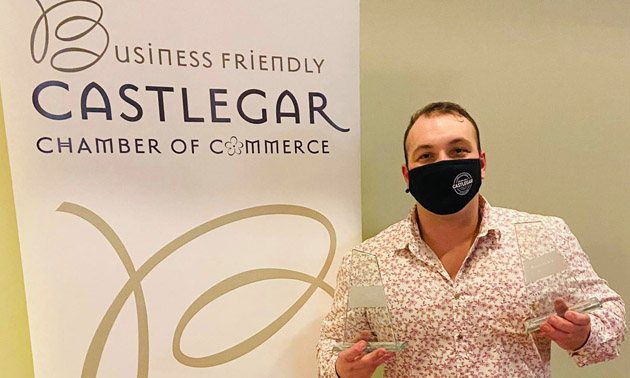 Throughout a tough couple of years for the hospitality industry, Shaun Bates, manager of the Lion's Head Smoke & Brew Pub, and his staff managed to continue delivering great food and service to their many customers. Congratulations, Shaun, on winning this year's Manager of the Year award.
In over 80 years of business, the Kalesnikoff Lumber Company has seen much change in the forestry industry. By staying focused and finding new avenues for growth, the company has survived many market downturns and challenges over the years. In 2019, the company invested in a $35 million-expansion project to build a new mass timber facility. Read our article about the longevity of this Kootenay-grown success story.
Locally-owned and -operated, Mallard's Source for Sports is part of a nationwide chain selling sporting goods and equipment. In addition to sportswear and products, Mallard's also offers equipment repairs, skate sharpening, ski and snowboard services and more.