For a local gem, visit this health food store in Grand Forks, B.C.
The New West Trading Co. 1985 won a Gold Best of Business Award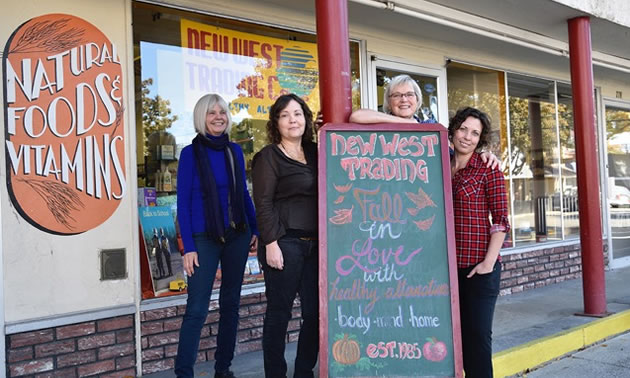 The New West Trading Co. 1985 is "lovingly owned by a local," said Connie Sorensen Lawrence. She should know—she's been the owner since 1985. The Grand Forks store opened in 1983.
Lawrence and her husband moved to Grand Forks in 1979. At the time she said, "This is it—I love it here. I'm staying."
The store won Gold in the Organic Food Store category of Kootenay Business' Best of Business Awards for 2017. "We are the original style of a natural foods store," said Lawrence. "Our focus has always been on providing certified organic food to our customers."
Lawrence answered a few questions for us below.
How has your business evolved over time?
Our staff includes a certified natural products advisor, reiki master, holistic nutritionist, homeopathic consultant, certified aromatherapist, herbalist, soap maker, FloraEssence coaches, Spirulina advisors and a certified belly dance instructor. These women offer years of experience and a wealth of knowledge of natural foods and alternative health choices.
Tell us a fun fact about yourself.
My husband and I chose to become vegetarians in 1970. We had both our children at home and raised them vegetarian. Our two biological grandchildren were born at home and are being raised vegetarian.
What's a recent trend in your business that you're excited about?
New West Trading Co. 1985 has seen the mainstreaming of organic foods into supermarkets and pharmacies and online ordering through the years. Our strengths of individual service and knowledge of natural foods and healthy alternatives is genuine, because each of us lives this way. Our passion to this lifestyle shines through, and our customers trust the products we provide are of the highest calibre available.
Our focus on Canadian suppliers and distributors and local suppliers supports sustainability and helps to protect the environment we all share and our planet.
What activity is your passion outside of work?
I love gardening and planting for beautiful flowers. One can never have too many flowers, especially lilies. Spending time with our grandchildren and taking them on special trips is a real joy.
Who is your hero and why?
Anyone that does what they do for the good of the whole.