Line up to get your Mugshots
You don't need to be a criminal to get Mugshots in Fernie, B.C.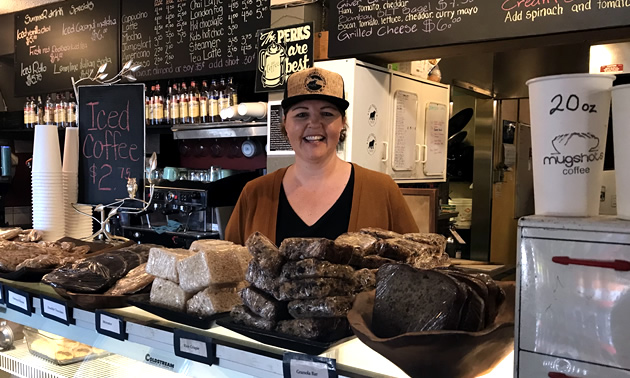 Shauntelle Nelson, the current owner and operator of Mugshots Café in Fernie, B.C., is honoured to carry on the legacy of Mugshots Café that was started almost 20 years ago. While there are many day-to-day challenges that face her, she says the privilege of serving the people of Fernie makes the hardships worthwhile.
Shauntelle agreed to answer some of our questions about what puts Mugshots Café on the map.
What are your most popular dishes?
• The legendary pumpkin chocolate chip muffins made fresh every single day for almost 20 years. They sell out fast!
• The breakfast burrito made with eggs, chorizo, black beans, peppers, corn, onion, cheese and tomato, all wrapped up and grilled for a quick and delicious breakfast.
• Our made-from-scratch soups—we serve two options daily. Curried Coconut Red Lentil, Borscht, Pacific Salmon Chowder, Chipotle Black Bean, Beef Barley, Satay Chicken Noodle, Corn Chowder and Italian Wedding are a few of the favourites.
What is your biggest challenge and greatest reward?
Being a transient, resort-destination town creates challenges with staffing. High turnover rates, along with individuals' desire to balance work with time/freedom to enjoy all that Fernie and this beautiful valley have to offer, result in constant juggling when it comes to filling positions and maintaining a full staff rotation.
On the flip side, my greatest reward has been relationships with staff and customers over the years. Mugshots is a place where locals gather. I am now over 10 years into serving this incredible, tight-knit community through Mugshots Café and the people are what make it for me!
What is your favourite thing about Mugshots Café?
It's hard to narrow down my favourites. I think my most favourite thing is that Mugshots feels like home to so many different people. My goal has always been to provide a warm, comfortable, positive environment . . . and great food of course! I love the retired guys that meet every single day to solve the world's problems over coffee. I love the groups of moms with wild kids that play with toys and leave a trail of muffin crumbs when they go. I love the business lunches, the breakfast meetings and the police officers that start their days sharing breakfast here. The laughter and joking that goes on all day long between me and my staff. Mugshots was started almost 20 years ago by a couple of amazing women, and I am so honoured to be the one that carries it on today.
What's your favourite kitchen tool?
My favourite kitchen tools would have to be my food processor and my Vitamix.
To find out more about Nelson and Mugshots, visit the café's Facebook page.