Do you wanti some gelati?
Gerry's Gelati in Invermere, B.C., is scooping its way into our hearts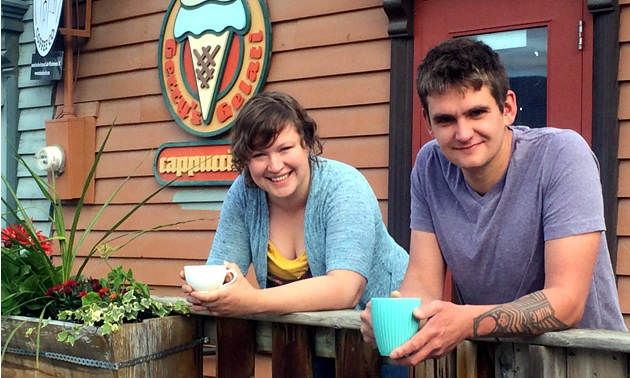 Stuart Cope and Crystal Leonard are the owners of Gerry's Gelati, Stolen Church Coffee Company and Leo Burrito, popular restaurants in Radium and Invermere, B.C. Their mission is to keep producing high-quality gelati (what one calls several kinds of gelato) and maintain the fun, inviting atmosphere that has made Gerry's Gelati great for 14 years.
Cope and Leonard took over Gerry's Gelati in January 2017. They now produce all the gelato and roast the coffee themselves, and they have locations in both Invermere and Radium. They hope to open a third for the summer of 2019. The two started Leo Burrito five years ago and ran Gerry's Gelati in Radium. When Gerry Taft was looking at selling his business, the time was right for Cope and Leonard to take over.
"Our gelato is all made in Windermere and is definitely the main reason people come to visit us," said Leonard. She answered a few questions for us:
What's your best seller?
The Raspberry Cheesecake and the Chocolate Burnt Caramel are the two most popular. Our Lemon Sorbet closely follows behind, being made from the zest and juice of lemons. Last year, we added waffles to the menu. We now have freshly made Sweet Liege and Savoury Brussels Waffles. Our most popular is the Zippity Do Da, topped with brie, spinach, roasted garlic, Dave's Hot Pepper Jelly and balsamic reduction.
What is your biggest challenge and your greatest reward?
Throughout the years the usual challenge has been finding staff and having enough time in the day to complete all of our ideas. Fortunately, this year we have some really amazing staff that have freed up our time so we can accomplish some of our goals. Definitely the biggest reward is the ice cream-covered smiles on the little kids' faces.
What's your favourite thing about Gerry's?
Being creative! We come up with new gelato and sorbet flavours weekly. The newest one is Mojito Mint Sorbet. It has been a lot of fun creating new waffle toppings, soups, salads, muffins and treat recipes . . . Possibilities are endless and we have the perfect laboratory to play and invent new creations.
What's your favourite kitchen utensil?
It has to be the Gelato Spade (a kind of ice cream scoop that is specially made to suit the consistency of gelato).
For more information about Gerry's Gelati and the two locations, visit the website.