A new electric-ready ferry is set to arrive on Kootenay Lake in 2022
The MV Balfour is being put out to pasture for a ship that leaves greener waters in its wake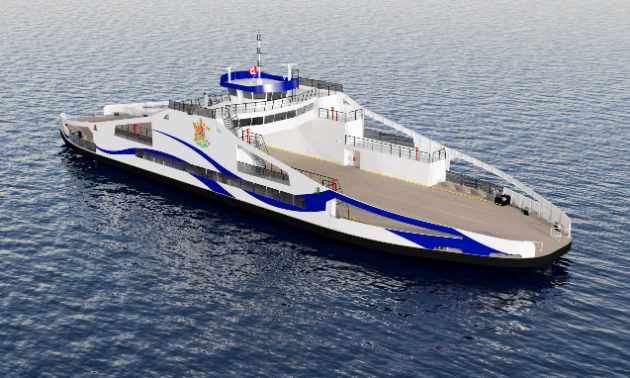 After 60 successful years of service plying the waters of Kootenay Lake, the MV Balfour ferry has a retirement party to look forward to in 2022. That's when the old boat will be swapped out for a new, larger, electric-ready replacement that will be capable of carrying 50 to 60 vehicles, which is almost twice the capacity of the MV Balfour.
"Because it's a newer ferry, it should provide a more reliable service," said Michelle Mungall, MLA for Nelson-Creston. "It'll replace an aging piece of infrastructure that's on its last legs. It's time to retire."
The new vessel will be sailing throughout the year and be used in tandem with the larger MV Osprey 2000, which will still only run in the summer season and the shoulder seasons.
In the short term, the new vessel will run on diesel but will be able to switch to electricity when supportive infrastructure is in place at the Balfour and Kootenay Bay terminals. The decision to make the new ferry capable of running on an electric battery coincides with the province's CleanBC plan, which aims to further reduce greenhouse gas emissions by 2030.
Along with a new ferry, service upgrades will be made at Kootenay Bay and Balfour terminals, including new washrooms, sheltered waiting areas, improved lighting, greater parking and better terminal access for drivers along both Highway 31 and Highway 3A.
To cover the costs of the ferry and terminal updates, the federal government will contribute up to $17 million dollars and the provincial government will provide up to $37.5 million.
"I think this is really exciting," Mungall said about the new ferry. "I'm looking forward to everyone in the region coming out to celebrate the first launch of our new ferry, whatever its name may be, in 2022.
"Because it'll be a larger sized vessel, there'll be less waits, particularly in the summer when we see an increase in use of the ferry service. If you're that car that's the last one and you didn't make it on, you're going to love a bigger ferry. I've been that car. I bet you have too."