Keeping the Kootenays up to speed with eco-friendly electric trikes
Grant Sharam and Jim Cunnington saw the need for affordable, green transportation—leading them to start eTrikes Canada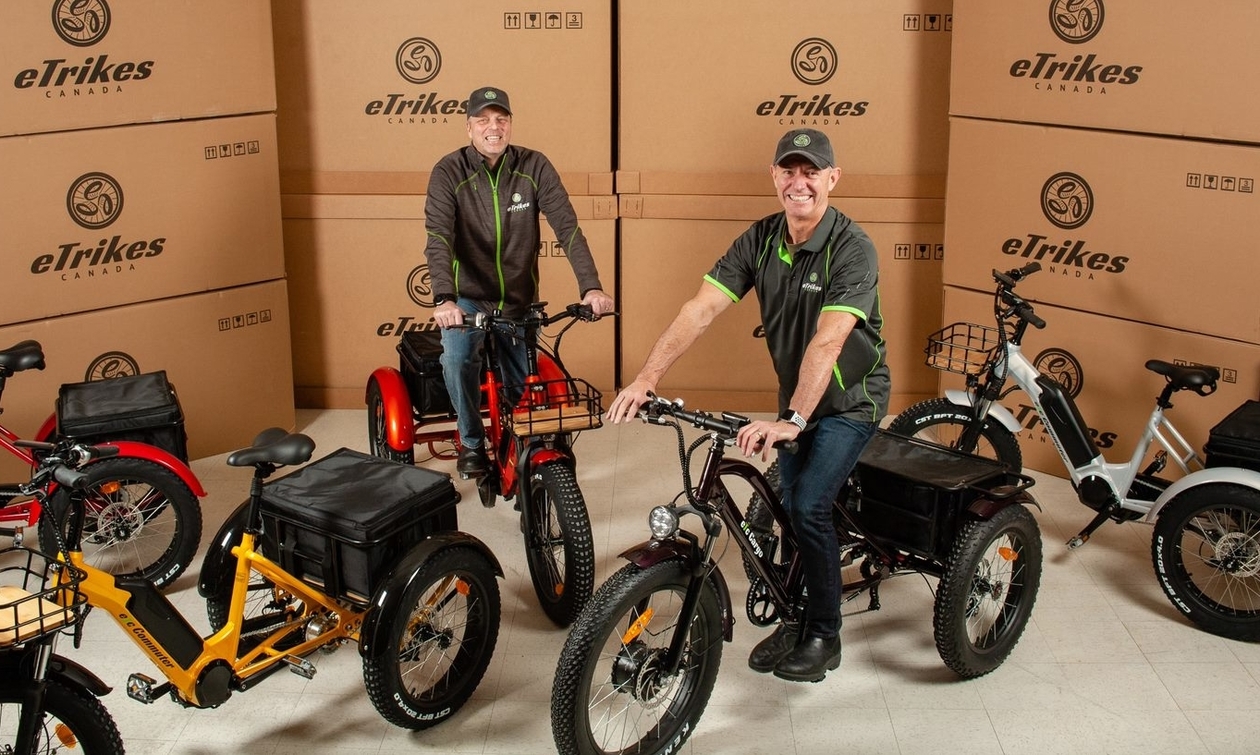 Electric trikes are popular among several demographics, appealing to those with mobility limitations, those trying to save money and even those simply wanting to reduce their environmental footprint. The trikes have also been used in the tourism industry, as their three-wheel stability and basket for cargo make them ideal for these customers.
Kimberley entrepreneurs Grant Sharam and Jim Cunnington saw this golden opportunity and decided to start up eTrikes Canada in 2017.
Sharam moved to Canada from Australia 20 years ago, originally drawn to the ski hills of Canmore, Alberta. He owned and operated a boutique wine store there, but climate and living costs inspired him and his wife, Jennifer, to move to Kimberley when their son was born in 2008.
Cunnington was born in Ontario, but spent 15 years in Sydney, Australia, before moving to Kimberley, B.C. He worked for a few years with a publicly listed e-commerce software company before going on to co-found one of Australia's leading location-based digital marketing agencies.
We asked to know more about their entrepreneurial journeys, and they sat down to answer our questions:
What led you to start eTrikes Canada in Kimberley?
Sharam: Kimberley has been home to both of us for over 10 years. So when we started to germinate the idea of a business focused on electric trikes for adults, it grew organically from our home offices.
Has the idea of relocating to a hub like Vancouver been discussed?
Cunnington: Sure. There are some obvious logistical advantages to a coastal operation—but so far, we have been able to solve those issues without having to leave our favourite mountain town.
Our trikes ship to customers fully assembled, which requires movement of a quite large and heavy carton. Fortunately, in the early days of the business, we were introduced to Manitoulin Transport in Cranbrook.
Manitoulin handles all our Canadian shipping as well as some of our international orders at rates that work for our business model. Certainly, we may be able to reduce some international importing freight costs by being closer to the ports of the West Coast but then warehousing space would be higher, so we are happy to stay where we are.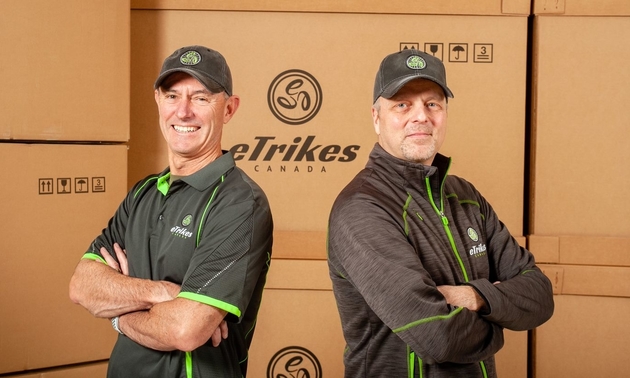 Sharam (left) and Cunnington (right) are proud of what they have brought to the Kootenays. - Photo courtesy eTrikes Canada
What can you tell me about your initial start-up?
Sharam: We opened the business in 2017 but went through a couple of different business models before we settled on our current representation and distribution strategy. Our initial focus was in establishing relationships with reliable manufacturers that produced quality products. We felt we needed to do several on-site inspections and hold face-to-face discussions with a variety of suppliers before feeling comfortable forming partnerships with a select few. Our current suppliers are consistently delivering quality trikes and allow us a great amount of input into design and specification changes.
A major part of the equation is, of course, customer awareness of our product. The goal of every online start-up is to score highly in search engine ranking. Luckily, this is something that my partner Jim Cunnington knows a little about. With a background in digital marketing, Jim was quickly able to put eTrikes Canada in the top rankings for several highly searched keywords.

The last piece of the puzzle is the need to finance the business. Electric trikes are an expensive product, and acquiring sufficient inventory across several models stretched beyond the initial shareholder loans. Schaun Goodeve, the Kimberley Director of Economic Development at the time, introduced us to Community Futures East Kootenay. With traditional banks not being enamoured with start-up businesses, CFEK understood and trusted our business plan and backed us in the establishment of a significant inventory purchase.
How have you managed to weather the challenges posed by COVID-19, and how has it affected your business?
Sharam: Monty Python had a famous skit—"Nobody expects the Spanish Inquisition." When we started eTrikes Canada, a global pandemic did not feature in the "threats" section of our S.W.O.T. (strengths, weaknesses, opportunities and threats) analysis.
The first event to make us sit up and pay attention was the month-long closure of our suppliers' factories. At the same time, demand for all things bike-related doubled pretty much overnight. Lead times for production went from four months to 12 months. The cost of shipping skyrocketed from $2,000 in 2020 to $16,000 per container in 2021. Shimano, our trike gear manufacturer, had millions of gear sets on backorder. Electric bike battery suppliers—Panasonic, LG and Samsung—could not keep up.
So, like every bike retailer in North America, in the peak season of summer 2021, we ran out of stock and had to wait till October to fill backorders. On the bright side, this means that we are fully stocked coming into the spring of 2022.
Furthermore, restrictions on international travel have put a stop to factory visits. We have had to revert to ordering samples for inspection of new models. Introductions to new suppliers have been done via Zoom calls, and searches for new product design are now online rather than in person at international trade shows.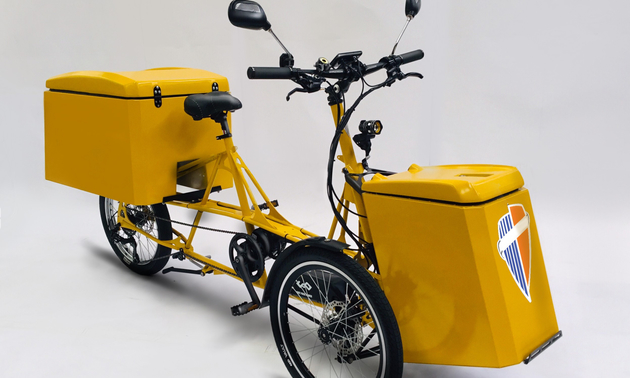 This model is designed specifically for commercial use, with convenient front and rear cargo boxes. - Photo courtesy eTrikes Canada
What advantages are there to owning an eTrike?
Sharam: At eTrikes Canada, we like to think of an electric trike as a way of offering enhancements to your health, wealth and happiness. Health is an obvious one. Anything that gets you out in the fresh air and gets the body moving is good for your mental and physical health. Many of our recreational customers are seniors or have balance issues. We have eTrike riders who live with multiple sclerosis, Parkinson's disease, cerebral palsy and even limb amputations. Riding a traditional two-wheel bike is not an option for many people, so to discover an option that will allow them the freedom of riding again can be life-changing.

Not only is an eTrike good for your health, it is also good for your wallet. With gas prices increasing, registration and insurance costs, and general maintenance expenses, Canadians spend between $9,000 and $13,000 a year on their car. To charge your eTrike battery in B.C., you will use about 13 cents worth of power. Combined with the range of modern e-bike battery cells, you'll get about 400 kilometres for every loonie you spend.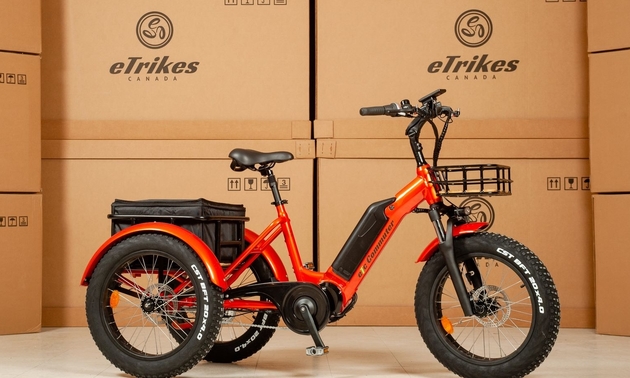 - Photo courtesy eTrikes Canada
What makes eTrikes an excellent choice for those who are environmentally conscious?
Sharam: Most people are aware there is currently a shift from fossil fuel vehicles to electric power. Climate change is a topic on every political agenda. In North America, the typical family owns two or more vehicles, and by 2024 we will be looking to dispose of one million used car tires every day. Yet, globally, our average car trip is only 15 kilometres and our average speed per car trip is 30 kilometres per hour, a journey that can easily be managed on an electric trike.
It may be a challenge to get Canadians to give up their cars completely, but do we really need more than one vehicle, and do we need to drive every time? The advantage of a three-wheel trike over a traditional bicycle is the cargo space and stability, making it useful as an alternative to a regular vehicle. Your four-legged friends can even come along for the ride. We have taken our trikes to the Okanagan and toured the wineries. We managed to fit two cases of wine in the rear cargo basket. We have hitched a golf trailer to a trike for a round of golf. We have even added studded tires and chains to a trike and ridden it all winter.
The environmental benefits of replacing a gas-powered vehicle with an electric trike grow exponentially in a commercial application. For example, (logistics company) DHL has replaced four delivery vehicles with electric trikes in Florida and estimated a reduction in emissions of over 100,000 kilograms of carbon dioxide per year. In North America, we are playing catch-up with much of the rest of the world when it comes to the adoption of electric vehicles. DHL, for instance, already operates 17,000 electric bikes and trikes in German cities.
What are your plans for the future?
Cunnington: Demand and model availability steered us, initially, to focus on the recreational market—the individual rider looking for a personal mobility option. We recognize, however, that there is an enormous commercial/municipal application for this form of electric transport. To date, we have trikes operating in warehouses, greenhouses, municipal yards and city parks.
Globally, electric trikes are becoming more popular for last-mile delivery in many businesses, including Canada. The Royal Mail in London uses electric trikes. Pizza delivery around the world is done using this design. Major courier companies in the U.S. are also trialling electric trikes in pilot programs across various regions.
Early this year, we will be expanding our range to include a series of new cargo-specific models aimed directly at the commercial market. These trikes will have adaptive cargo platforms with greater load capabilities and range, and will have numerous trailer options including a two-seater "taxi."
Sharam: One of the challenges for some recreational riders is how to transport the trike to and from their chosen riding path. If they want to take the trike on vacation with them but don't own a pickup, it can be difficult. The bike racks on the market are not designed for the shape or weight of an electric trike. To address this, we have been working with a fabricator in Manitoba to design and build a trike-specific hitch rack. We expect full production to start in spring 2022, and these will be available for past and future customers.
With representation now in Ontario, Quebec and Vancouver Island, we will be expanding our sales and service team this year. We send demonstration models out to these representatives who then meet with potential customers to explain and demonstrate the advantages of owning a trike.
If you are interested in taking an electric trike for a test ride, we have representatives in Guelph, Ontario; Victoria and Kimberley, B.C., and soon Quebec. We are also actively expanding this network, so keep an eye on our website to find out when we add new locations.
Is there anything else you'd like our readers to know about you or your company?
Last year eTrikes Canada also joined Call2Recycle, a lithium battery recycling program. Our office in Kimberley can accept your used batteries for recycling at no charge. We are also a participating member of the BC Scrap-It program.
We were recently invited to join the KORE initiative, a Kootenay-based, non-profit organization dedicated to makers and creators in the outdoor manufacturing sector.
We are also currently looking for reps in key areas, starting with Ottawa, Vancouver, Calgary and Edmonton.