Finding a way forward with Leduc Biodiesel Energy
Dayna Leduc was looking for a sustainable business that could give back to his community, and he found it through biodiesel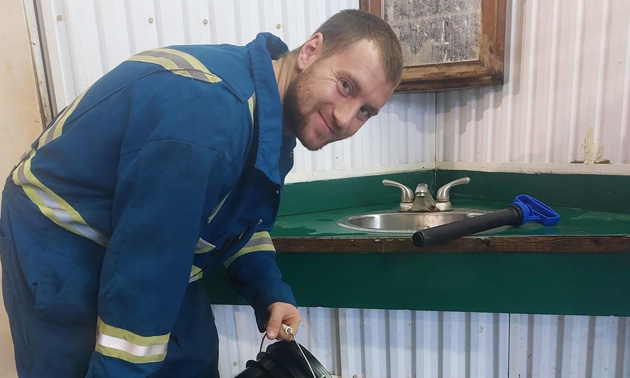 Dayna Leduc knew he had a good idea. He identified a need for sustainable biodiesel products, which he could make from recycled cooking oil. With a knack for chemistry, a desire to contribute to a greener future, and a need to work from his hometown of Creston, the pieces came together.
Leduc didn't complete his post-secondary education. Instead, he started operating heavy equipment up north.
"I dropped out and went straight up to the oil fields in Alberta," he said. "I knew I wanted to get into something with a green motive because of seeing what went on up there. I found a passion for it, and I just decided to start."
Finding a fit through his passions and interests
By now, Leduc was working as an engineer for the railroad. The hours, commute, and being constantly on call was taking its toll. He was married to his high school sweetheart, Jill, and the couple knew they wanted to invest deeper into their life in Creston. It was while still working his demanding career that Leduc built a small plant on his property and started tinkering seriously with biodiesel production.
Now, five years later, Dayna and Jill have had a son and developed an exciting flight of products from their backyard. Although he still holds a full-time job in his dad's local business, Leduc dedicates his evenings and weekends to his passion, Leduc Biodiesel Energy.
Biodiesel—more than just fuel
In his backyard plant, Leduc collects spent cooking oil from restaurants around the Kootenays. It's from this waste product that he produces a high quality biodiesel. The fuel powers all sorts of vehicles from the family's own truck to large farm operations in Alberta—see the sidebar for more of the logistics of using biodiesel.
And while the biodiesel has proven to be an excellent product, Leduc is most excited for some of the recipes he has personally developed to create industry-specific products.
Leduc Biodiesel Industries has moved into selling a concrete release agent, penetrating oil, and an asphalt release agent.
"The chemistry (of creating these products) is very difficult," said Leduc. "It took me about a year to get my penetrating oil right. The asphalt one was very simple. The biodiesel is obviously very similar to diesel chemically, so I didn't have to mess with that one too much. The concrete (release agent) was a little bit more complicated as well, because you're dealing with lime and stuff in concrete. You don't want to mess up the reaction."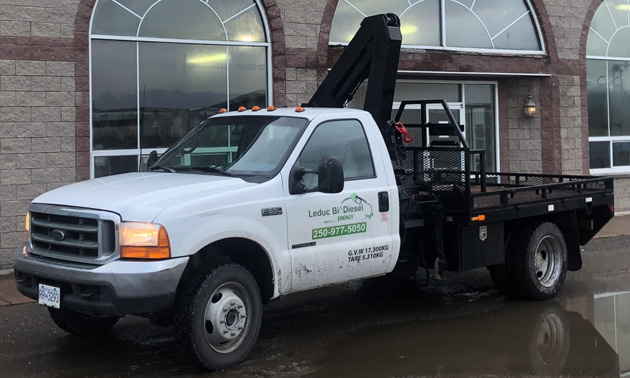 A trio of products
Each product has been exceptionally well received by the industries that have started to use them. The company's penetrating oil, which is used in mechanics among other applications, has recently received food-safe approval, which means it is a safer and greener alternative to most of the competition. Leduc's product doesn't need to be stored in an expensive fireproof cabinet and is being supported by businesses such as Napa and Gilbert Parts.
Asphalt release agent is used to protect and clean equipment from asphalt. Leduc's product is an alternative to spraying diesel into the environment—a practice that is illegal but can still be commonplace in some industries. Leduc's product has found many customers in Ontario, and is also used by Kootenay companies such as Power Paving and Selkirk Paving.
Leduc is, perhaps, most excited about his concrete release agent. This product keeps concrete from sticking to forms used in the industry.
"Sullivan Stone has been a wonderful supporter of ours," said Leduc. "They tried (our concrete release agent), and not only is it greener, but it actually works amazingly. That's all they use now. They're very, very happy with it."
Leduc Biodiesel offers free sample cans to interested companies, and has started to find many larger companies that are interested in the product. As well as being eco-friendly and highly effective, Leduc points out that biodiesel alternatives are actually cheaper than traditional products—a win-win-win.
Education, awareness, and policy
Despite the benefits of biodiesel products, it has proven to be an uphill battle to gain support. In the future, Leduc is hoping that education and policy can make his products more readily accepted. The potential is broad, from public transit and municipal service vehicles to maintenance in buildings and a variety of industries.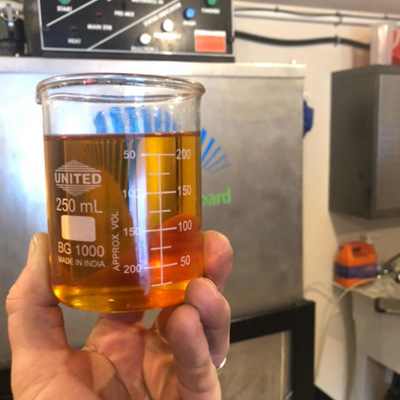 "We recycle (the source material of our biodiesel), so that keeps it out of landfills," said Leduc. "Then when it's actually physically burned it reduces emissions as well. There are no cancer-causing emissions in biodiesel. There are no heavy metals, which there is in diesel and gasoline, so that's a big plus. It's a pretty amazing product."
An exciting future
In the future, Leduc anticipates growing his company. He'd love to move his plant off his property, and establish a larger production in the industrial part of the Creston Valley. After all, he's always called this corner of the Kootenays home, and he can't wait until his passion project is giving back to the community.
"We have a dream of putting in a can line to bring jobs," said Leduc. "I really want to contribute back to the community—Creston has always been my passion. I stayed here—every single kid wants to get out and I didn't. I just wanted to help the town grow in a green way—giving back, recycling, and bringing jobs. That's really important to me, and I hope that one day I can get there."
To contact Leduc Biodiesel Energy you can email [email protected], or visit the company's Facebook page.