Katie Yuris of All Pro Realty in Trail, B.C., has a hockey player's approach to work and life
Passion for work and play defines this Realtor who won the Trail Chamber's Business Person of the Year award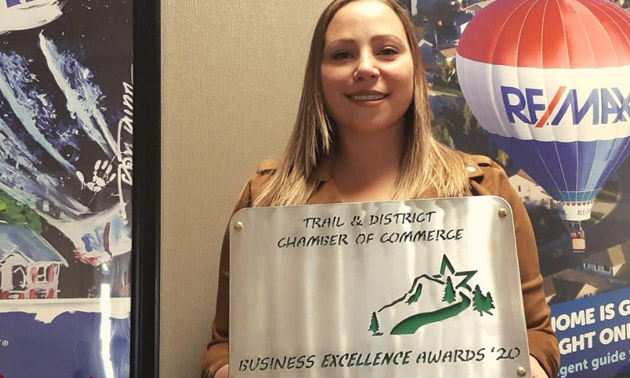 Business awards do make a difference. They increase a business's visibility, bragging rights and credibility. All this can lead to a better bottom line.
Katie Yuris shows us that receiving a business award can go even further by boosting our self-image. Yuris started All Pro Realty in 2017, and in November 2020, she received the Business Person of the Year award given out by the Trail and District Chamber of Commerce. (View the other 11 award winners from Trail and Rossland here.)
Here's our recent interview with Yuris.
Business Person of the Year is quite an impressive award! Why do you think you won this award?
Honestly, this award has shown me a new aspect of myself. I am so humbled to even be next to the other names that were nominated and to have won is a whole new level for me. I think that I won this award because I truly love what I do. It doesn't feel like a job to me—it is a passion and that's what keeps me striving to work harder. All of my clients are so supportive and I'm very lucky to have worked with so many great people.
How has growing up in Trail and being a "local" helped you in your real estate business?
I think the hardest thing about being a Realtor is that every home is different, every transaction is different, and every client is different. Growing up in our area gives me an advantage in a way that I know the locations, communities, builds of the homes, etc. It's very important to have a deep understanding of the market you are dealing with so you can provide your buyers with the most professional experience possible.
What do you like best about working with Re/Max?
What I love most about working with Re/Max is the "team aspect" of our office. It is very important to have a team to support you. We are all very close and have a great work atmosphere to be successful in.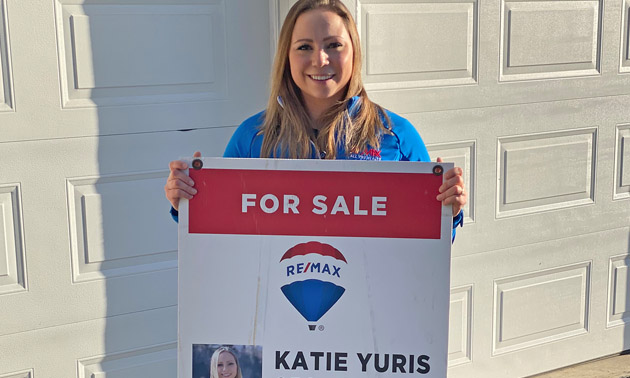 What do you enjoy most about your job?
I enjoy working with the public, creating a relationship with new or old people in our community, and being a part of their next chapter.
What trends do you see in the West Kootenay real estate market? Are you noticing anything related to the COVID-19 pandemic?
This year has been CRAZY! Our market has really noticed a shift of people from the Coast and the Okanagan coming our way to move to more affordable, low-key living.
What advice do you have for other business people?
It makes a huge difference in the day-to-day business when you enjoy what you do. Find passion in your work and work hard everyday to push yourself to new limits. Never stand still—keep learning and adapting.
What volunteer work do you do and why do you do it?
I am the female hockey head coach of the West Kootenay Pee Wee Wildcats and an assistant coach of the Bantam Wildcats.
As a former female hockey player in our area, I volunteer so that I can provide our community with a program that focuses on female hockey players. I want to give the best possible program to the players to be successful not only in hockey but in life by giving them the support and guidance from our coaching staff, from the other players, etc. I like to give back to our community that has given me so much.
My family helps alongside me. My sister, Mckayla Yuris, is head coach of the Bantam Wildcats, my Dad, Terry Yuris, is an assistant coach, and my brother, Jake Yuris, is an assistant coach. And lots of other volunteers make this possible.