A Backwoods Sauna is a perfect experience gift for those you love in the West Kootenay
Enjoy the Kootenay backdrop with a hot sauna and cool dip in a lake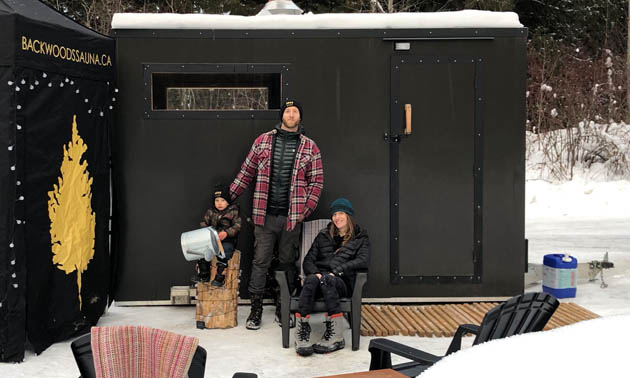 Where does inspiration strike you? For Mason Denis, it was in the mountains in the winter in a sauna:
"I was staying at a backcountry lodge with some friends. We were enjoying the sauna after a big day in the mountains. We reminisced about our day—relaxed and recovered amongst the trees and moonlit mountain peaks. We went from the sauna to the snowy outdoors and back to the sauna. Experiences like that are best shared with others. This was my light-bulb moment: I would like to build a mobile sauna … something I could pull around to my favourite spots in the Kootenays and have awesome experiences with my friends.

"When I got back to the land of the internet, I started researching mobile saunas and realized this could be a great business opportunity. We are a young couple with a one-and-a-half year old making our new home in the Kootenays. I wanted to have something to bring to the table that I honestly believe in. I wanted to give people something more than they could buy in a mall. I want to give them unique experiences that they'll remember forever. So that's what we are aiming to do."
And that moment was the genesis of Backwoods Sauna, a mobile sauna company based out of Salmo, B.C. Mason and his wife, Sophie, created the company in January 2020. But first, the young couple had to get the wanderlust out of their bones. They met in Whistler in 2011.
"A few years later, we moved to Nelson in search of drier powder and a community to settle in," said Mason. "We bounced around doing ski seasons throughout B.C. and Europe. We were able to slowly save up and buy some land here. Our son, Logan, has kept the adventures coming."
The sauna and the sessions
The mobile sauna is built on a custom-fabricated drop-down trailer, transforming it into a mobile building not just a sauna on wheels. Many sustainability features are part of the design:
The LED lighting is powered by a solar panel on the roof
The cedar for the interior of the sauna is locally-sourced Selkirk western red cedar from the Revelstoke area
The heat source is a high-efficiency wood-burning stove from Laampa Kuuma in Minnesota. "They are third-generation sauna stove builders, creating the most efficient wood burn on the market," Mason said.
The company offers two types of sauna sessions.
"Salmo Saturdays and Sauna Sundays are our hosted sauna sessions," Mason said. "We post up on the shores of the Salmo River and Kootenay Lake, taking advantage of our favourite cold-water swimming spots. These sessions are pre-booked, two-hour time slots, restricted to six people in a household pod.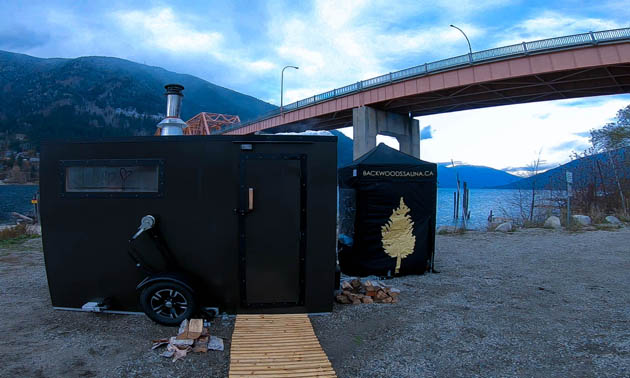 "We also offer private sauna rentals, which includes delivery within 75 kilometres of Salmo (an additional fee for farther distances). We drop the sauna off to your driveway or location of choice, hot and toasty, ready for you to relax in."
Saunas and the Kootenay lifestyle
Mason and Sophie are not the only ones who think saunas fit the Kootenay lifestyle perfectly. Many of their clients were given a sauna rental as an experiential gift from family or friends who are believers.
"To us, being in the Kootenays stands for a healthy, fun, relaxed outdoor lifestyle," Mason said. "We are surrounded by cold crisp waters all year round, and the summer months barely warm them up. This is the perfect pair to the hot and cozy sauna. Authentic wood-fired sauna leaves you with a deep radiating heat inside (lämpömassa). This deep heat allows you to really enjoy a mid-winter ice lake dip—the ideal time when barely anyone else is around.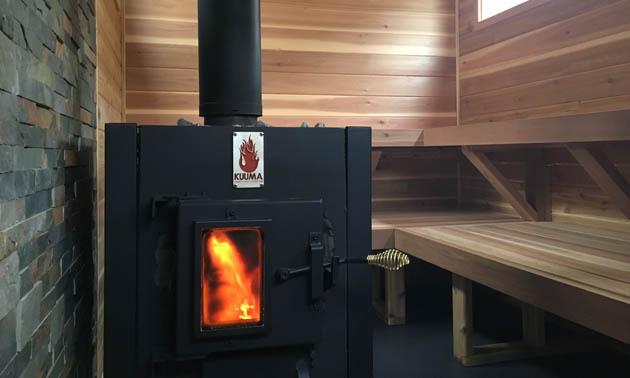 "I love how versatile and adaptable sauna is. The user has control of the temperature, humidity, lighting, air flow and location. It can be a place to listen to your own breath. It can be a place to read with a light on or a dark place to stretch and relax. It can be an intimate place for self reflection or a social place to share stories with others. When people come together to sauna, everyone is the same regardless of their job title or status."
And if you want a sauna of your own, Mason is completing his new workshop and plans to build more mobile saunas for his business as well as custom saunas for customers.