Bundschuh sets the stage
Jimmy Bundschuh exercises his influence from behind the scenes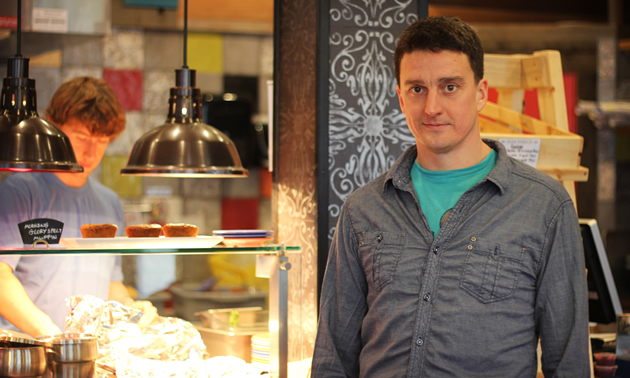 For more than 100 years, the Savoy Hotel has been a landmark in the city of Nelson, B.C. After being badly damaged by fire in 2007, it stood empty until 2013, when it was purchased by Jimmy Bundschuh's Shambhala Music Festival. With the completion of three years of renovations and construction, the Savoy is now a hot new destination for dining, music appreciation and sleepovers.

In the spring of 2017, the Savoy was named Business of the Year by the Nelson & District Chamber of Commerce. About 18 months ago this magazine cited Bundschuh as a regional influencer. Now, the completion of the extensive work of rebuilding the hotel has earned him another nod from us.

Amenities at the new Savoy—Bloom Nightclub, Farm Fresh Café, Falls Music Lounge and Savoy Brewery—employ about 60 people, and the 12 newly completed boutique hotel rooms will require an additional six to eight full-time staff.

"We've been working really hard to get the hotel rooms open early in 2018," Bundschuh said. "We're definitely excited to finish this last stage."

Though he personally prefers to work behind the scenes, Bundschuh acknowledged that, because of the number of people he employs and the fact that his businesses attract and support tourism, it's fair to call him a regional influencer.
Bundschuh was just 18 years old when he organized the first Shambhala Music Festival on the family farm. After 20 successful years, the annual festival is an iconic international event and an important economic driver for the area. The Savoy Hotel project demonstrates more of Bundschuh's business and strategic skills.
"It's always been my goal to create the venues and empower other people to put on events or help with the festival," he said. "We're a big team and I'm just one part of it. I try as much as I can to work with other people who are influencers."

To learn about more Nelson-area influencers, check out these links: The power of art in Nelson, B.C., featuring Joy Barrett; Historic charm meets 2017 tech in Nelson, featuring Deb Kozak, mayor of Nelson; and Influencing Nelson, featuring three more successful business people who are long-time Nelson-area residents.