One-on-one with Tina Knooihuizen, new President of the Nakusp Chamber of Commerce
"Nakusp's island-like location is both a challenge and an asset." — Tina Knooihuizen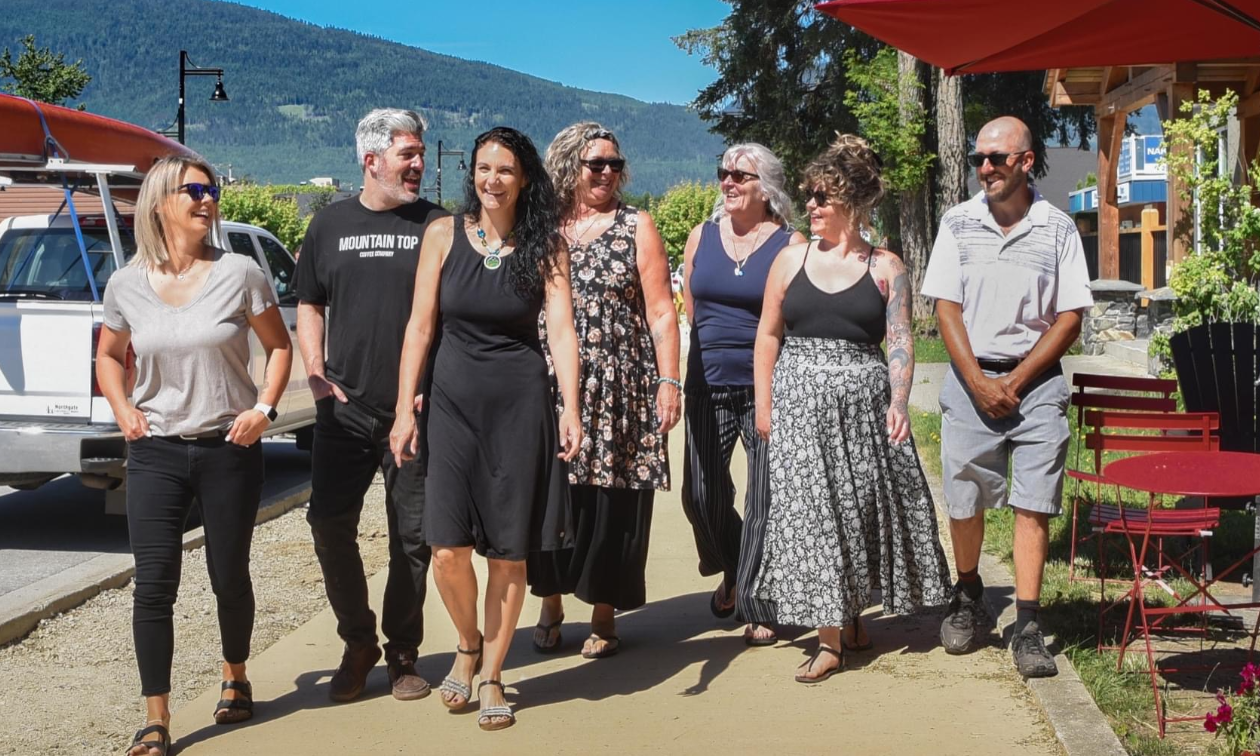 Tina Knooihuizen (Ken-oy-zen) has been the President of the Nakusp Chamber of Commerce for six months now. It's still early going, but things are progressing well for the chamber boss.
Knooihuizen moved to Nakusp last year with her husband and two of their children. Prior to moving to the Kootenays, Knooihuizen worked as community engagement coordinator and art educator for the Lake Country Art Gallery. Tina has a long history with community volunteerism where she particularly enjoyed event planning. Knooihuizen is a professional photographer and artist who enjoys painting, installation art and creating pottery. She even teaches art to children and adults.
Here's what Knooihuizen and the Nakusp Chamber have been up to for the past year, and what to look forward to in the future.
What motivated you to become Chamber President of Nakusp?
I have always been community-oriented. I've spent years volunteering for community-based organizations in Kelowna and Lake Country where we previously lived. A lovely group of ladies explained the need for new directors. I found their enthusiasm inspiring and the cause to be worthy. What better way to immerse oneself into a new community?
What accomplishments has Nakusp seen in the past year?
In my short time of being here, I have seen so many community-benefitting initiatives.
Mayor Tom Zeleznik, also on the Society of Nakusp Community events board, is hard working and community-oriented. We enjoyed taking part in the Canada Day events with him and the community events team.
Main Street is looking absolutely stunning with the revitalization project.
The Economic Development Board, with Aidan McLaren-Caux as development coordinator, has taken on projects such as the Nakusp Signage and wayfinding plan and Rural Business Recovery Program.
We have been impressed with the community programs, schools using grants to support mental health programs, the youth group program, community activities and shop local incentives.
What's on the horizon for Nakusp in the coming year?
After the disconnect that the Covid pandemic created, I foresee community connection and support being of utmost importance. We certainly intend to make that our priority.
What do you love most about living in Nakusp?
The feeling of community I get here. While there is a running joke about when you're actually considered a resident in Nakusp, I've been made to feel very warmly welcomed. I love calling Nakusp home.
What are some challenges unique to Nakusp?
I would say its island-like location is both a challenge and an asset.
If you could do one thing to improve Nakusp regardless of cost, what would you do?
While I have never received better care at a hospital than I did at the Nakusp Hospital, I feel there is a need for more medical professionals in Nakusp.
If money were no object, I would also encourage developers to create more housing and industry.
What is your personal passion project, beyond work?
I am a professional artist and photographer. I would love nothing more than to spend my days and nights creating.
Is there anything else you'd like to mention?
I would definitely like to mention my team! They are an enthusiastic, passionate and hard working set of individuals with a diverse set of skills. I would not wish to be a chamber director without them.