Dan Wiebe: Nakusp influencer
Dan Wiebe feels good about supporting his home community of Nakusp, B.C.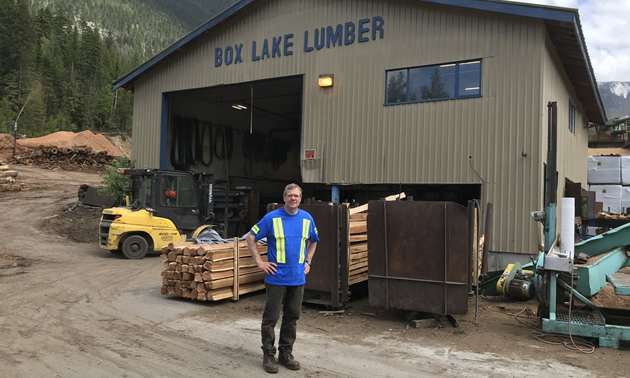 As the employer of about 40 people at Box Lake Lumber, a few kilometres from Nakusp, B.C., Dan Wiebe is a person of some influence in his community—but he is quick to share the designation with others.
"I think there are lots of people who influence Nakusp," Wiebe said, "and we all have our own way of trying to move the economy and the community along. It feels good to be able to contribute our portion to help Nakusp."
Reputation is everything
Box Lake Lumber is a leading producer of split rail cedar fencing in North America, with an international reputation for a consistently high-standard product. Wiebe appreciates much about his employees, especially their aptitudes for the specialized job skills they learn at Box Lake Lumber. The subsequent high quality of their work has enabled the company to maintain its international reputation.
Wiebe himself has a solid reputation as well. An article posted on the Arrow Lake News website on August 19, 2012, said, in part: "...Dan Wiebe was nominated for an Order of B.C. for his innovative, positive and hard-working approach. His nomination was supported by the Village and the Development Board as well as Tom Zeleznik (now the mayor of Nakusp), and the letters they wrote all emphasize the importance of the mill for the Village, as well as Dan's upstanding character. Unfortunately, he wasn't chosen, but that's all right; he's still busy doing good work here in Nakusp …"
In 2013, Wiebe was awarded the Nakusp Rotary Lifetime Achievement Award, and he continues to be active in community causes through his church.
With community in mind
Wiebe supports many community groups including the local hospital, food bank, golf courses and sport teams, with cash donations and gift certificates. (Just FYI, bark mulch is a surprisingly popular gift.) Whenever possible, he also supports Nakusp's economy by patronizing local businesses for the goods and services he needs, and he encourages his employees to do the same.
"I'd like them to do their best to support our local businesses," Wiebe said. "Those businesses—the restaurants and the stores and the golf courses—won't be able to stay in business if we don't."
Wiebe and his company offer work opportunities that are quite rare in forestry-related industries.
For the most part, the skills needed by production employees at Box Lake Lumber are not taught in trade schools—the work is highly specialized, and many of the required skills will be taught on the job. Prospective employees simply need to be teachable, willing to work and physically capable of meeting the demands of the job. A great attitude is an asset as well.