Wellness is at the centre of Revolution Acupuncture
Revolution Acupuncture has been selected as one of the winners in the 2011 Best of Business Awards.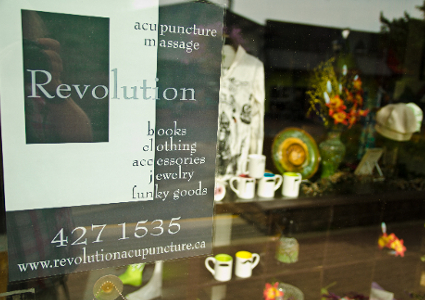 Revolution Acupuncture has been a fixture in the Platzl in Kimberley for five years. Yana Adams and Troy Clamp, owners of the clinic, are specialists in massage and acupuncture and trained in traditional Chinese medicine. Their store features clothing, body-care products, essential oils, jewelry and other funky stuff. We contacted Adams and Clamp when the business won in the 2011 Best of Business Awards. Clamp shared with us a little bit about their business and lives.
Where were you before this?
We lived in Edmonton and both worked in the same clinic there.
Why settle in Kimberley?
We needed a ski hill where we lived. We love the feel of the slowed-down pace here.
To what do you attribute the longevity of your business?
You stand on the shoulders of those before you, so it has not been hard.
What is your favourite thing to do in Kimberley?
Skiing, biking, fishing. We love the lifestyle here.
Do you have a mentor?
Luckily the dean of our school took us under his wing.
What has been your inspiration for the business?
It just sort of evolved and grew as we have.
Any comment on the future?
Take care today to enjoy tomorrow.