The many sides of Green Door Catering
Kimberley's Green Door Catering has built its success on a foundation of customer satisfaction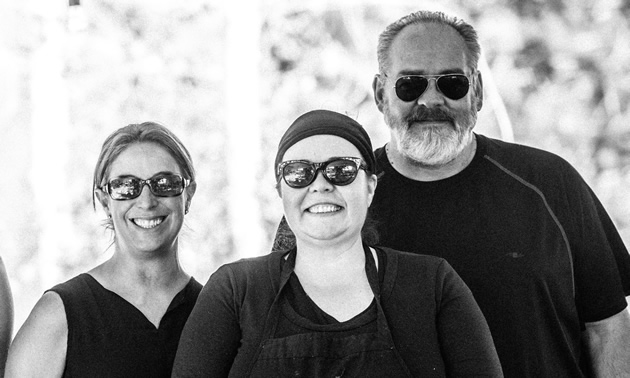 Since it opened in 2011, Green Door Catering in Kimberley has become known for its reliability, versatility and community engagement. What makes this company special is its fearless approach to its commitments. The Green Door is a restaurant (with delivery service), a caterer and an events venue.
"We're really not scared of anything," said chef Jaime Gordon. "We really can do catering in the middle of a field, for hundreds of people, and do it well and not run out of food."
Gordon is one of three partners in the business. Her husband, Duane Funk, takes care of booking live music at the Green Door, and, as Gordon said, "He's also the builder and heavy lifter." The third partner, Tylene Turner, takes care of the front of house. "She's our smiley, fire-putter-outer, finger-on-the-pulse person," Gordon said. "She's the face of Green Door."
As a Red Seal chef, Gordon brings tasty food, creativity and organization to the group. Because the partners have deep roots in Kimberley, they actively support the city's success and sustainability.
We asked Gordon a few other questions about her observations and experiences in the food service business.
What's a recent trend in your business that you've noticed or are excited about?
More and more people are ordering our late-night menu as a second food option for their event. We do a lot of weddings, and we'll do the dinner early in the evening, and later we'll do a taco bar, or a poutine bar or some other fun food—maybe carnival food like mini corn-dogs—to keep the party going.
What is your own favourite product or service, and why?
Again, I'm really enjoying the midnight taco bars, because it's so much fun. It feels at that point like we've met a whole new couple of families worth of friends in one night. We really get close to people and really get to be part of the families for the day.
What would you consider to be your superpower?
My special strength is budgeting. I have fun and I take care of people, and I have budgets in mind for every catering that we do. My partners call me a savant sometimes because I always come in at or slightly under the budget.
(Hmm … Sounds to me like a recipe for success.)