Scott Sommerville, Kimberley CAO
Kimberley's CAO is a family man who loves a challenge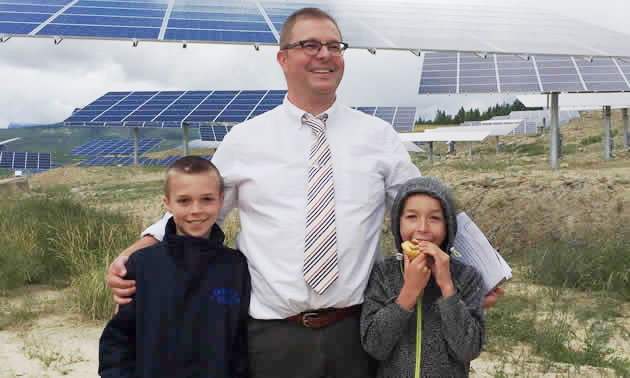 "The SunMine was a part of the reason I wanted to work in Kimberley," said Scott Sommerville, CAO for the small alpine city in southeastern B.C. "When I saw that this community had voted 76 per cent to take this new project on, I knew it was my kind of community."
Nelson-born Sommerville has spent most of his life in the Kootenay region. Before moving to Kimberley in 2013, he spent five-and-one-half years as CAO for the Village of Salmo. He and his wife, Rachelle, bought a little hobby farm near Salmo, sight unseen, and moved there when their second baby was on the way.
"We had chickens and goats and ducks and a big sheepdog to look after everybody," Sommerville said. A lifelong learner, he continues to study local government management online through UVic.
We asked Sommerville for some insight into his priorities, his leadership style and his life in general.
What's something interesting about you that people may not know?
I used to be in a band, and one thing I like to do to relax is plug in my guitar and make a lot of noise. I'm so terrible at it that it completely takes my mind off of managing a city. It's a hobby I share with my kids. My older boy is a drummer and he's got a lot more talent than I do. My younger one is still deciding what his tool of expression will be. Guitar, piano, singing—that's what we do for fun—that and skiing. Our house is a fixer-upper, and I like to putter there—I'm a bit of a homebody.
What's the other part of the reason you moved to Kimberley?
Most of the decisions my wife and I make are based on what's best for our kids. I feel pretty blessed to be able to live in a small town and still have great opportunities for all of us—for education, recreation and careers. We're firmly planted here and I can't think of a better place to live.
I'm more motivated by challenge than by finances, and we do have challenges here in Kimberley. I find it intoxicating to wake up to face challenges and work to make the community a better place.
Please tell us about those challenges.
The SunMine has really taken off, but it was touch-and-go getting it finished. Had this project gone wildly over budget, I would probably be working somewhere else by now (laughing). When it was done, I was happy, of course, but mostly relieved.
Our ongoing challenge is our infrastructure. When we were a mining town, the infrastructure was taken care of by Teck. In fact it was built up to attract residents and workers—there's infrastructure here to support a much bigger population. Two arenas, a conference centre, sports fields—these were all built up during the good times.
Now, the infrastructure is getting old, and the challenge is how we're going to maintain and upgrade it. In the next five years we have to replace the wastewater treatment plant—it's 50 years old and can't go on much longer. With new government granting, we only have to pay 17 per cent of the $36 million we need, but we're nowhere near the $6 million at this point, so we need to be creative about raising the funds.
How do you approach your working relationship with mayor and council?
It's important that we all be on the same page and focus on long-term priorities. At the beginning of the term, we locked ourselves into a room at the conference centre and came out with five strategic priorities. It's a pretty high-level strategic plan that has helped us to stay focused. Council provides the vision and staff takes steps to make the vision come true.
What's the greatest skill that you bring to the table?
I like to work by consensus, and my job is to make council's dreams come true. Being able to interpret and build consensus for council's vision when they're first elected, to put a plan together and then act on the plan, that's my specialty. That and bringing teams together to move in the same direction.
How do you define success?
Having the city management be extremely functional, relying on common sense, and earning and maintaining the trust of the community is my version of success. I want people to understand our decisions and why we do the things we do. That builds trust, and with each project we do, we want to continue to build it.
Can you tell us about your community involvement?
I'd like to do more, but my wife and I organized an autism walk and have done some volunteering for events or projects as we've had time. I feel inspired by the spirit of Stan Salikin's work, to help fill the void of his loss. Maybe if I and 99 others feel the same way, we can pick up where he left off.