Raylen Tress won Young Entrepreneur of the Year from the Kicking Horse Country Chamber
This passionate, young farmer gives us hope for the future of local agriculture and food security
Never doubt the power of mentorship. A mentor led to Raylen Tress of Whisky Hill Farms winning the Young Entrepreneur of the Year award from the Kicking Horse Country Chamber of Commerce on November 19, 2020. (View the other 15 award winners here.)
Tress's grandfather—Raymond Tress—was his muse. Raymond had a collection of antique equipment of all types.
"My grandfather sparked my interest with antique tractors," said Raylen. "This then led to my interest in agriculture. He gave me the background and knowledge, and he's the one who started me down my farming journey."
Raylen started Whiskey Hill Farms in Golden, B.C., in 2015. The 22-year-old farmer runs a purebred registered Texas Longhorn herd for custom meat sales and breeding stock. He also specializes in custom hay sales.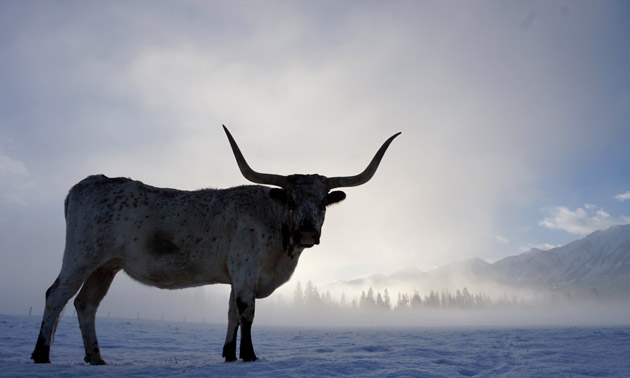 "I like farming because rain or shine I get to work outside doing multiple different tasks," said Raylen. "I like using antique farming equipment when I can because it's simple compared to new technology. You can work on it yourself and you don't have to hire someone to fix it. Most people nowadays don't know how to run antique equipment. With antique equipment, you may have more breakdowns, but with the knowledge and background I got from my Papa, it makes me enjoy spending the time working on the equipment."
Whisky Hill Farms' beef is available in the spring and fall.
"I sell meat directly to the customer either by the half or quarter," he said. "Also the Bear & Bone Burger Co. in Golden is serving burgers made with longhorn beef from our farm."
Raylen acknowledges that it takes hard work and determination to run a farm.
"Everyday there is something different. I am faced with new situations that make me think on the spot and adapt along the way," he said.
And the most challenging is always the weather.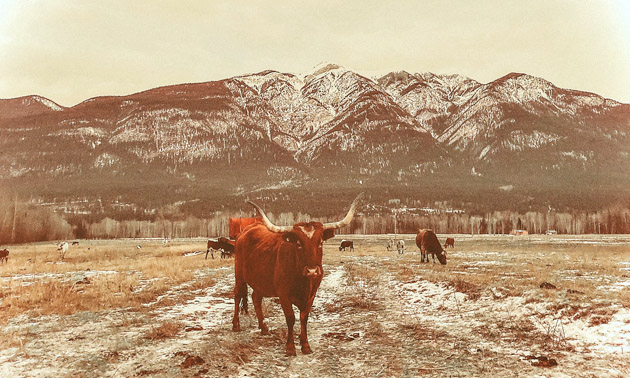 "When it comes to farming, the weather has a big impact when haying. You have to get the hay off the fields before it rains," he said. "The unpredictable winter conditions can make it challenging when dealing with cows."
Raylen's goals include expanding his meat sales to local specialty stores and possibly growing many different crops. He himself is part of the positive trends he sees in local agriculture.
"As of right now, there are more cow-calf operations. People are slowly starting to go into the small-scale market-gardening productions," he said.
What advice does this young entrepreneur have for other business people or aspiring young people?
"Set your goals," he said. "Don't give up and work hard to achieve the things you enjoy."