Golden's polished gem of a crooner emcees Kicking Horse Country Chamber Community Excellence Awards
Well-known and not-so-well-known businesses honoured at Community Excellence Awards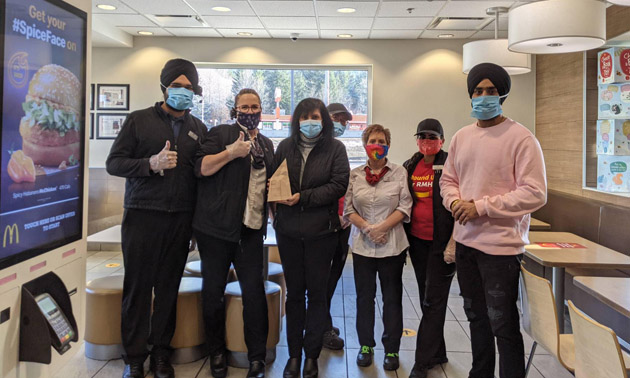 It was a dazzling-in-the-dark virtual celebration as Golden's smooth and suave lounge singer, Ricky Diamonds, took centre stage as emcee of the evening at the annual Golden Community Excellence Awards.
Hosted by the Kicking Horse Country Chamber of Commerce, 16 awards were handed out on November 19, 2020, celebrating the best and brightest of Golden—committed, hard-working and influential businesses, organizations and individuals.
Congratulations to the following winners:
Having a passion for the products your business sells goes a long way—so does freely sharing that knowledge and excitement with customers. In business for a little over a year, Quartz Creek Cannabis has a loyal following of customers who rave about the friendly faces, helpful attitudes and professionalism behind Quartz Creek Cannabis.
Known as Golden's original cannabis store, the shop carries a wealth of products for the recreational user and empowers customers by providing them with education on cannabis choices. Congratulations, guys, on snagging two Community Excellence awards!
Young Entrepreneur of the Year: Raylen Tress
In a society where the majority of us purchase our food from the local grocery store, it's refreshing to see a young person embrace the joys (and trials) of farming and raising food. Raylen Tress founded Whiskey Hill Farms in 2015 and raises Texas Longhorn beef, in addition to custom hay sales.
Congratulations to this inspiring young man on his Young Entrepreneur of the Year win! KootenayBiz chatted with Tress about how his grandpa's collection of antique farm equipment sparked his love of farming - read the story here.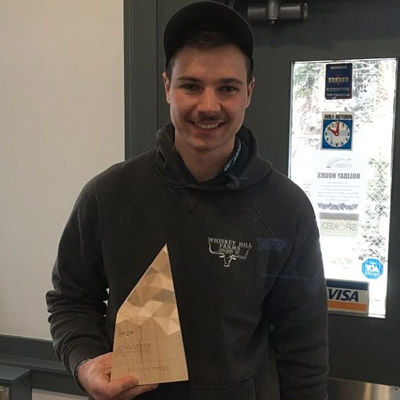 Excellence is a keyword at Kicking Horse Ford. Long-time employee Dan Maisonneuve and his wife, Naomi, bought the company back in 2017 and have since applied the principle of excellence to every aspect of their establishment. The recipient of glowing five-star reviews from customers, the business has also received multiple recognitions including winning the Ford President's Diamond Club award, given to dealerships for outstanding achievements in sales and customer service.
The business has been an active participant in beautifying the town of Golden and also regularly gives back to the community by hosting events and making donations to area non-profit and charitable organizations.
Professional Services Excellence: Knead Wellness
Winners of the Professional Services Excellence award, the team at Knead Wellness provides therapeutic and relaxation massage treatments to Golden and area residents. Together, the group of four registered massage therapists offer a wide range of services including pre- and post-natal massage, injury rehabilitation, sports and deep tissue massage and myofascial release.
Supporting and enhancing the well-being of individuals, families and the community of Golden is the focus of the Golden Family Centre. Through education and advocacy, the winner of this year's Non-Profit of the Year award provides counselling resources, early intervention and support services such as drop-in clinics to area residents in the Columbia Valley.
Hospitality and Tourism Excellence: Tim Hortons
Home of the iconic double-double, apple fritters and Timbits, Tim Hortons is a household name in Canada. Always a welcome sight on a long road trip, the company has franchises all over the country.
Winners of this year's award for Hospitality and Tourism Excellence, the team at the local Golden location serves up the freshly brewed coffee, baked goods and doughnuts that we're all familiar with.
With colourful, stylized graphics that grace their product lines and a tagline that reads "Beers to toast your ultimate moments," the Whitetooth Brewing Company knows how to showcase their craft brews to the best advantage.
Since opening in 2016, the Whitetooth Brewing Company has captured many kudos including a big win at the recent 2020 Canadian Brewing Awards, bringing home three golds, one silver and one bronze medal. KootenayBiz chatted with the owners of the company about what it takes to be successful entrepreneurs—check out the article here.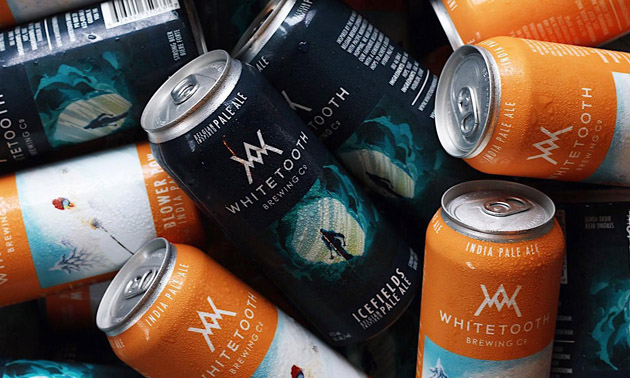 Employer of the Year: Sonya Saujani - McDonald's
Work. It's one of those necessary things in life if you want to pay bills. But it's a lot more pleasant if you can come into work every day with a smile on your face and know that the people you work with are family.
At the local McDonald's in Golden, owner and operator Sonya Saujani has cultivated a tight-knit and happy group of employees who strive everyday to provide the best in professional customer service. Widely considered the "best boss ever" by her workers, Saujani is clearly deserving of her Employer of the Year award. Congratulations to the entire McDonald's team!
"Collective efforts from staff, volunteers, board members and the Golden community made this all possible," was the response from the Golden Food Bank upon winning the COVID-19 Response award, a unique (and hopefully one-off) category for this year.
The success of the Golden Food Bank is always a collaborative effort—from community donations and financial support to the hard-working volunteers and people behind the scenes. Providing for people in need is truly a team effort. This organization dedicated to food solutions and security has made the town of Golden proud.
Community COVID Champion: Jill Dewtie
Congratulations to Jill Dewtie, executive director of the Golden Community Co-op, on winning the award for Community COVID Champion. The mandate of the Golden Community Co-op is to improve the quality of life for residents by providing resources and support systems for individuals and groups in the Columbia Valley. The organization collaborates with non-profit and social service agencies to maximize resources and assist with community projects.
Business Person of the Year: Leslie Dunphy
As owner of the local Pet Valu in Golden, Leslie Dunphy is all about the animals. Besides being busy running the successful pet store, Dunphy also collaborates with local non-profit animal welfare organization Little Mittens Animal Rescue Association by hosting kitten adoption weekends. Dunphy and staff have also been known to temporarily house injured animals at the store until other care can be arranged.
With Dunphy at the helm of Pet Valu, Golden's animal lovers and their pets are in good hands!
Customer Service Excellence: Pet Valu
For any pet owner, their pet is considered part of the family. At Pet Valu in Golden, customers and their animals are considered family. A one-stop shop for all things pet-related, the store carries a wide selection of products and premium food for animals of the feline and canine persuasions, as well as fish, birds, reptiles and small mammals.
Groomingdales Pet Grooming is located inside Pet Valu and there's also a very popular dog-washing station that gets a lot of use. The store is a supporter of many local initiatives and charities.
Arts and Culture Excellence: Ricky Diamonds
Ricky Diamonds, Golden's very own smooth and velvety-voiced crooner of the oldies, charmed away the competition and took the top award for Arts and Culture Excellence.
With his signature slicked-back hair and velveteen lounge jacket, the Freddie Mercury–moustachioed entertainer melts hearts with his cheesy yet charming comedy routines and his parodies to the lounge singers of yesteryear. His recent online fundraiser, A Ricky Diamonds Quarantine Quistmas, raised much-needed funds for the Golden Family Centre and the Golden Food Bank.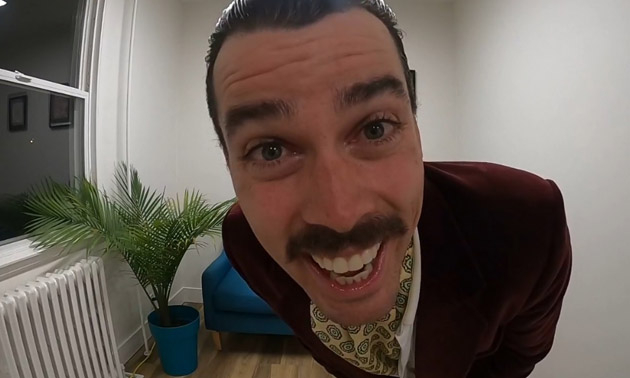 Community Volunteer of the Year: Jim DeBolebec
In every community, there's always a tireless volunteer who selflessly donates their time, knowledge and effort into making their town a better place to live. Jim DeBolebec is one of those people.
Semi-retired, DeBolebec has spent countless hours volunteering with the Golden Seniors Centre, the Golden Community Restorative Justice Program and the high school basketball team at the Golden Senior Secondary School, just to name a few things he's been involved with.
Congratulations to Golden's deserving Community Volunteer of the Year!
Congratulations to CRUX Initiative, winners of this year's Peter Bowle-Evans Award. This award is intended to honour local social innovators who are developing new ideas to address complex social and community issues. The award is given in honour of community volunteer Peter Bowle-Evan who was instrumental in the creation of Golden's Mount 7 hiking and biking trails and paragliding launch site.
Building on Golden's wealth of outdoor pursuits, the CRUX Initiative was founded by local business owner, teacher and outdoor enthusiast David Gagnon. The CRUX Initiative offers quality sports clinics, courses and events and aims to facilitate the pursuits of outdoor recreation through physical, cultural and social mediums.