Higher Ground Sports takes the high road
Lolli and David Gagnon are giving back to the community that welcomed them so warmly in 2010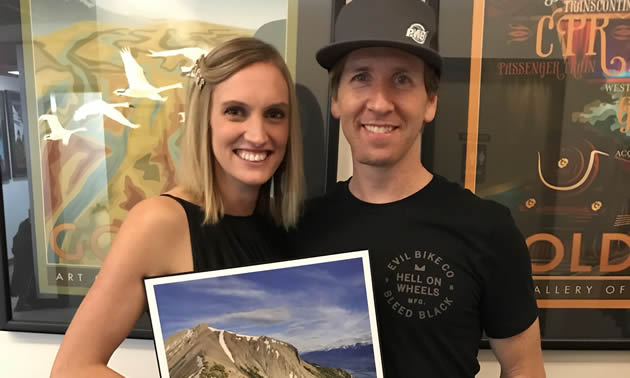 Higher Ground Sports in Golden, B.C., was named 2017 Retail Business of the Year by the Kicking Horse Country Chamber of Commerce. The company also received a Best of Business award from this magazine, based on nominations from the community.
The owners of Higher Ground Sports clearly fit into Kootenay Business magazine's "influencer" category, so we recently contacted Lolli Gagnon, who, with her husband, David, owns and operates the business.
Giving back is natural
"We're really honoured and humbled to receive these awards," Lolli said. "I feel like we've had a lot of support from this great community since we moved here in 2010. We've been so welcomed that it's easy to want to give back."
Along with running their business, the Gagnons founded the Crux Initiative Society in 2015 in order to offer affordable instruction in mountain biking, snowboarding, backcountry recreation and avalanche survival. Plans are in the works for this not-for-profit organization to offer instruction in climbing and road biking in 2018.
Creating their own solution
As parents of four small children, the Gagnons understand the need for low-cost programs, and in 2017 Higher Ground gave away two bikes to families who were nominated by the community, along with three complete sets of winter clothing.
"We're creating these programs for the community so that when our children get older they can join in with all these activities that we've made available," said Lolli. "We understand that there's a need for programs to be low-cost. We want to make the programs available and affordable for families who don't have much money. We get it—we're in a similar situation. All of our programs are as cheap as we can make them, just covering insurance and instruction."
For information about more of Golden's influencers, click on these links: Golden's influential mechanic, featuring Dave Higginson and Juniper Kelly; Top of the timberframe game, featuring Jeff and Stephanie Bowes; Cleaning up in Golden, featuring Parker Vaile and Jordan Peterson; and Influence and administration in Golden, featuring Karen Cathcart.