Top of the timberframe game
Canadian Timberframes Ltd. is a North American success story with its roots in beautiful Golden, B.C.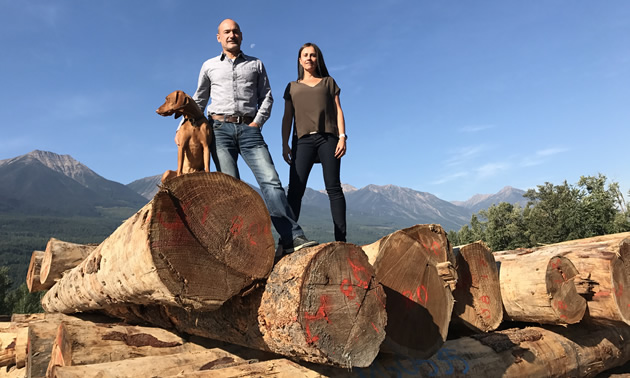 Jeff and Stephanie Bowes of Golden, B.C., are already achieving at least part of their corporate vision and mission: to have their company, Canadian Timberframes Ltd. (CTF), become a leader in its industry across North America; and to employ top talent, providing long-term careers to go with the Golden lifestyle.
The company was founded in 1999, and Jeff became a partner in 2011. He and Stephanie became sole owners of CTF as of January 1, 2017.
"We're able to take on the whole North American market, here in little Golden, B.C.," Jeff said. "We're winning projects in some of the most prestigious areas in North America, and it's our employees and the pride throughout our company that allow us to do that."
The 35-person team at CTF includes in-house designers, specialized tradespeople, production staff and sales, marketing and administrative personnel. CTF is a vertically integrated facility, processing raw logs for a number of uses, from boards and beams through to furniture-grade timberframe structures.
"When we find industry partners who believe in us, and we believe in them, we spend a lot of time, energy and dollars helping them build their business," said Stephanie, whose background is in marketing. "We promote the heck out of them on our website, through social media and in print—that's one of the value-added services that they get from us."
At industry trade shows in the U.S., Canadian Timberframes more than holds its own. Canadian timber has great appeal with U.S. clients, and with a seasoned, heart-of-the-Rockies timberframer heading the company, CTF has the advantage.
"Here in Golden, we have access to some of the highest grade Douglas fir in North America, right in our backyard," Jeff said. "These poor guys that have a manufacturing facility somewhere in Michigan, that are buying wood from a broker in Oregon—they just can't compete. And our clients love that we're willing to travel to them and walk their building site."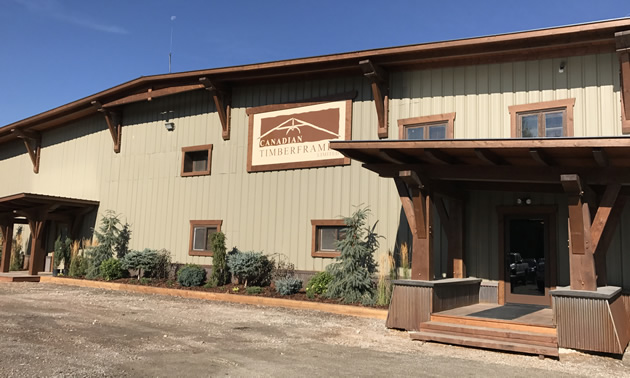 "Our clients wanted one-stop shopping," said Stephanie, "and that's what drove the expansion of our product line a few years ago. We now offer walls and roofs and trim packages and siding and windows and doors.
"Canadian Timberframes started with cutting timberframes only, and we private-labelled for many other timberframe companies. We have opened Canadian Timberframes up to residential clients as well as builders and architects, and are dealing directly with clients."
Jeff said CTF is fortunate to work on exciting projects throughout Canada and the U.S., many of them in resort areas like Colorado and the Lake Tahoe area, along with Texas, the Carolinas, New Hampshire, Vermont and New York. However, the projects are not limited to the grand and glamorous. Gazebos, smaller homes, outdoor kitchens and bunkies—small, freestanding residential structures—are all within their creative scope.
"A lot of our clients have gathered ideas from all over the world, and their expectations are high," said Jeff. "When they hire an architect, often they want something unique. These are often legacy investments, and they want the investment to reflect their personalities and lifestyle choices."
The CTF team is certainly doing something right. The company's sales figures for July 2017 alone match those for the 12-month period before Jeff joined the company, and the growth is set to continue.